Vilsack: Farmers hurt by 'regulatory disconnect' from consumers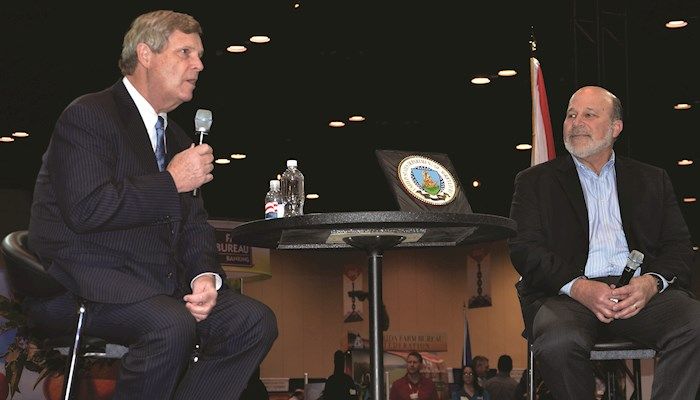 Farmers today face a "re­­gulatory disconnect" because so few Americans are in­­volved in agriculture and food production, U.S. Agriculture Sec­retary Tom Vilsack said last week.
There are so few farmers today and there are so many people who are generations removed from agriculture that the perception of farmers among most Americans is very inaccurate, Vilsack said during a town hall meeting at the 2016 American Farm Bureau Federation (AFBF) annual convention in Orlando and a subsequent press conference.
"That makes it easy to think that farmers are corporate or an industry and should be regulated a certain way," he said. "But the practical application of that on the farm is really hard, if not impossible."
To counteract that, Vilsack urged Farm Bureau and other groups to continue consumer outreach efforts such as the U.S. Farmers and Ranchers Alliance, a group designed to establish dialogues between consumers and those in agriculture. He also highlighted Farm Bureau's Ag in the Classroom program, which helps provide young people an accurate view of today's farming.
An education process
"We need to make sure there is an education process and there is an understanding and appreciation of what farmers do," Vilsack said. "I also think that is important for all federal agencies to think of themselves in terms of customer service."
Vilsack also addressed a variety of other key agriculture issues, including the calls for labeling of foods made with biotech crops, often called GMOs, a proposal to help young farmers with student debt and the potential of agricultural trade with Cuba.
On biotech food labeling, Vilsack said the U.S. Department of Agriculture (USDA) is searching for middle ground and held a meeting on the issue last week. "I can't tell you right now what that (middle ground) is, or if we are going to find it, but we are going to try," he said.
With some companies, such as the Campbell Soup Co., voluntarily adding GMO labels and with the pending law in Vermont that would mandate labels, Vilsack said it was critical to bring opponents and proponents of labeling together to see if there is potential for agreement. The results of the meeting, he said, will be reported to Congressional leaders.
"I recognize that consumers who are interested in the process have a right to know about their food," Vilsack said. "However, I don't want that right to send the wrong message about the safety of food that is produced with genetically modified crops, because we know that there is not a safety issue here."
Public service credits
Vilsack also expressed support for a proposal to help young farmers by giving them public service credits that could help reduce student loans.
"The aging population in agriculture is something that we take very seriously, and we are looking for ways to help," Vilsack said. "The department does not have a position on the proposal, but it is something that makes sense to me."
The U.S. Agriculture Sec­ret­ary said he didn't know how a student loan relief program would be crafted. But he added: "At the end of the day, we have to have multiple strategies to help young people deal with the rising cost of college, and we want to make sure they take advantage of growing opportunities in agriculture."
U.S. agriculture would benefit from a lifting of the long-standing trade embargo against Cuba, Vilsack said. "It would make trade a lot simpler and a lot easier, and I think we would see significant growth in agricultural trade," he said.
Vilsack said he doubted the embargo would be lifted soon because of opposition by some in Congress. Still, he said, as the two countries begin to develop closer commercial ties, the opposition could ease and the embargo will eventually be lifted.
"And then I think that American agriculture will be poised to take advantage of the Cuban market," Vilsack said.
Want more news on this topic? Farm Bureau members may subscribe for a free email news service, featuring the farm and rural topics that interest them most!