USDA awards grant for ISU relay cropping study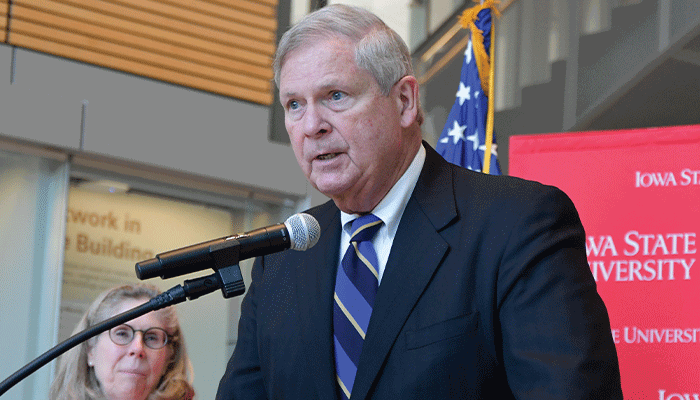 U.S. Agriculture Secretary Tom Vilsack visited Ames last week to award a $540,000 grant to Iowa State University (ISU) to study the ecological, economic and social impacts of relay cropping — the practice of growing and harvesting a crop such as rye or wheat prior to planting corn or soybeans on the same acres.
Specifically, ISU will study the advantages of a relay intercropping system to maintain or enhance productivity and profitability while improving soil health and increasing nutrient reductions.
ISU's Iowa Learning Farms will oversee that project, which will include relay cropping plots on six private farms in Iowa and on three university-owned fields. 
The study will run for three years, gathering data on the rye or wheat crops' impact on nutrient retention, runoff and related conservation concerns, as well as the impact on soybean and corn yields.
The ISU study will also examine the social dynamics surrounding the farmer implementing the practice, particularly family relationships on multigenerational farms and with neighbors who may be skeptical of the practice.
"(We're looking at) whether it is socially accepted by farmers to (introduce) an innovative conservation practice — such as a third cash crop … (and how it can be) complicated by farmers' social identities and the social loss a farmer may experience because of it," said Jacqueline Comito, director of Iowa Learning Farms. "So one of the unique things (about our study) is doing this on-the-ground work, social science research."
In total, Vilsack announced 31 projects will receive USDA grants across the country, worth $40 million, during the event at Sukup Hall April 6.
"It's tough to ask farmers to (invest resources) upfront, and it's important for farmers to be able to see the benefit of that investment before we ask them to essentially spend their own resources," Vilsack said. "So the on-farm program really provides additional resources to make it a little bit easier for farmers to embrace innovation and conservation."
The Iowa Soybean Association and the Iowa Corn Growers Association also received a $900,000 grant from the USDA to examine the ad­option of interconnected cropping systems that increase profitability, reduce nutrient losses and improve soil health.
The project's objectives include charact­erizing profitability and natural resource outcomes for im­proved cropping systems and developing economic insights, natural resource conservation and improved cropping system stability via crop modeling and statistical analysis.
For fiscal year 2022, the USDA set aside targeted funds within this program for proposals that specifically benefit underserved producers, including socially disadvantaged producers, military veterans, be­ginning farmers and limited-resource producers.
Additionally, Vilsack touted two memorandums of understanding the agency recently signed that further its conservation efforts targeted at improving nutrient management. 
The USDA said it will continue to leverage additional partnerships to expand capacity and reach new producers with technical and financial assistance.
"These new projects and ag­reements are working to mitigate climate change, conserve and protect our water, enhance soil health and create economic opportunities for producers," Vilsack said. "We're empowering our partners to develop new tools, technologies and strategies to support next generation conservation efforts on working lands and develop cost-effective solutions to resource challenges."
Want more news on this topic? Farm Bureau members may subscribe for a free email news service, featuring the farm and rural topics that interest them most!