U.S. meat exports on a winning streak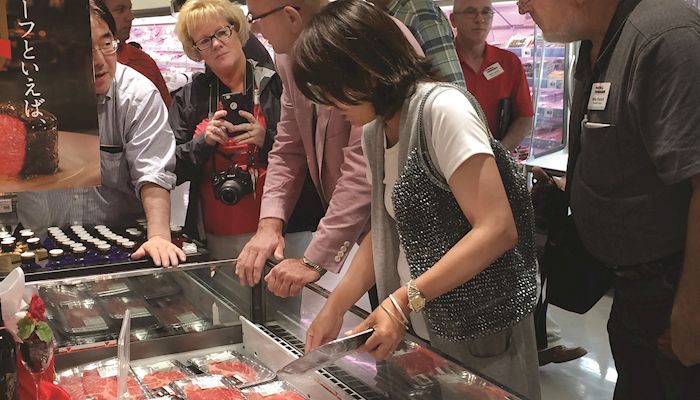 U.S. beef and pork exports are on a winning streak, with the volume and value of overseas sales of red meats setting records through the first 11 months of 2017. It's important that U.S. meat exports remain robust with American livestock farmers expected to expand their herds of hogs and cattle in 2018, according to industry experts.
"We've got to keep exporting to support our domestic livestock markets," said John Hinners, assistant vice president for industry relations at the U.S. Meat Export Federation (USMEF). "Otherwise, farmers would be seeing far lower prices and margins," he said recently during a USMEF session held in conjunction with the American Farm Bureau Federation convention in Nashville.
Tremendous value driver
The export market over the past several years has grown into a tremendous value driver for U.S. livestock farmers, said Dave Miller, director of research and commodity services for the Iowa Farm Bureau Federation (IFBF).
Through the first 11 months of 2017, exports added more than $282 per head to the value of cattle marketed in the United States and boosted the per head value of hogs by more than $53, according to the U.S. Department of Agriculture.
Strong international demand for U.S. pork and beef, Miller said, is supporting livestock prices and helping farmers in Iowa and other states create added value during a period of low grain prices. Farmers who don't raise livestock also benefit from exports because of increased domestic feed grain demand, he said.
"Meat exports are becoming increasingly important to the bottom lines for all farmers," said Miller, who provided the outlook at the USMEF session.
The good news for farmers: The world's consumers definitely want more U.S. pork and beef, and a growing number of them have the incomes to afford it.
The value of U.S. pork exports for the first 11 months of 2017 was $5.9 billion, up 10 percent from the same period a year earlier, the USDA figures showed. U.S. beef exports did even better during that same period, climbing 15 percent to $6.6 billion.
Weaker dollar helping
Some of the surge in demand for U.S. pork and beef can be attributed to the weaker-than-expected value of the U.S. dollar, Miller said. A weaker dollar makes all U.S. products, including beef and pork, more competitive in world markets, he said.
Another big driver is continuing beef and pork demand from traditional Asian customers, such as Japan and South Korea, said the USMEF's Hinners, a native of Carroll County. Added to that has been beef sales to China, which were opened last summer for the first time since 2003.
Japan continues to be the pacesetter for U.S. beef imports and is also a strong buyer of American pork, Hinners noted. For example, the value of exports of U.S. chilled beef to Japan through the first 11 months of 2017 rose 39 percent to a record $1.02 billion.
Sales of U.S. pork and beef to South Korea are also on a roll, propelled by the U.S.-South Korea free trade agreement.
For the first 11 months, the United States shipped $420 million worth of pork to South Korea, up 30 percent from 2016, and beef exports were valued at $1.1 billion, up 19 percent.
Reopening China market
IFBF's Miller said the reopening of the China market is a "terrific story" for U.S. beef exports. "We are just getting started, but we know that there is huge potential as more middle-class people in China improve their diets."
While 2017 was a banner year for U.S. beef and pork exports, both Hinners and Miller cautioned that sales could face more resistance this year. Competitive exporters, including Aus­tralia, Brazil and the European Union, are all trying to grab a bigger share of the market.
Added to that is concern about the future of red meat sales to Mexico if renegotiation of the North American Free Trade Agreement (NAFTA) fails, Hinners said.
"If NAFTA ends, tariffs would rise and we would be opening the door to the Mexican market for our competitors, especially Brazil and the European Union," he said.
Want more news on this topic? Farm Bureau members may subscribe for a free email news service, featuring the farm and rural topics that interest them most!