U.S. and Iowa Ethanol Production and Consumption (7/30/2015)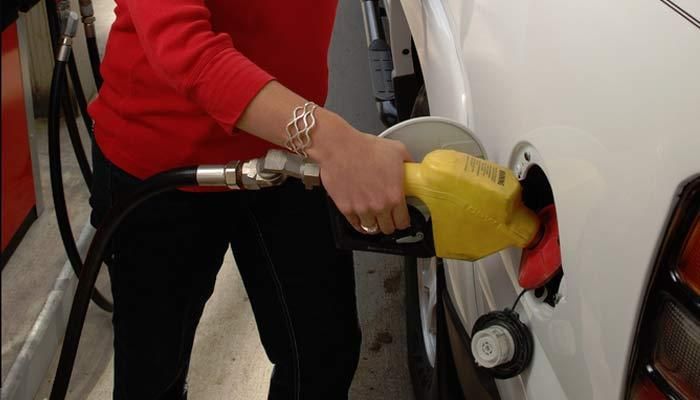 According to the U.S. Energy Information Administration (EIA), Iowa is the largest producer of ethanol in the U.S. Since 2012, Iowa's ethanol production has accounted for 28% of U.S. fuel ethanol production.
As Figure 1 indicates, ethanol production in Iowa has grown significantly (813%), from 0.44 billion gallons in 2001 to 4.02 billion gallons in 2014. Ethanol production in Iowa was about 3.7 billion gallons per year from 2011 to 2013. In 2014, Iowa ethanol production increased 8.5% year-over-year. Production growth was boosted in 2014 by lower corn prices. 2014 U.S. ethanol production, consumption, and exports rose 7.9%, (to 14.3 billion gallons), 1.9% (to 13.5 billion gallons), and 37% (to 847.4 million gallons), respectively, relative to their corresponding volumes in 2013.
Based on the latest (7/6/2015) USDA/Economic Research Service's (ERS) U.S. Bioenergy Statistics data, during the first five months of 2015, U.S. ethanol production reached a volume of 4.8 billion gallons. Using the previous three-year average percentage (28%) of Iowa ethanol production relative to the U.S. production, Iowa ethanol production was estimated at 1.33 billion gallons from January to May 2015.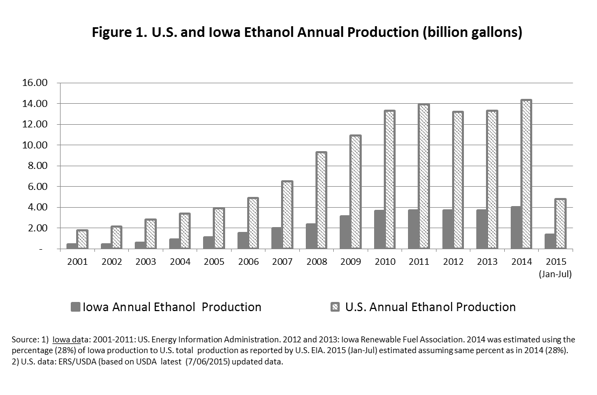 Data from the Iowa Department of Revenue shows that at the beginning of 2002, ethanol-blended gasoline (E10) and gasoline were consumed in Iowa at about the same proportion (see Figure 2). Since 2002, most of the fuel consumed in Iowa is in the form of ethanol-blended gasoline. In May 2015, E10 and gasoline accounted for 76% (104.5 million gallons) and 23% (31.9 million gallons) of the total motor fuel consumed in the state, respectively. The gross volume of ethanol-blended gasoline in Iowa during May 2015 was 261.4 million gallons of which 155.2 million gallons were exported (i.e., Iowa exported more than half (59.4%) of the E10 produced in the state).
The domestic market growth for E15 blends (15% ethanol blend) is limited by infrastructural and other constraints. Higher levels of blends such as E85 (85% ethanol) can be used only in flex-fuel vehicles (FFV); however, there are expectations of future expansion in these markets. The USDA announced on May 29, 2015 its commitment to invest up to $100 million to help fund infrastructure for renewable fuel use. With this investment, the USDA intends to double the number of non E10 fuel pumps.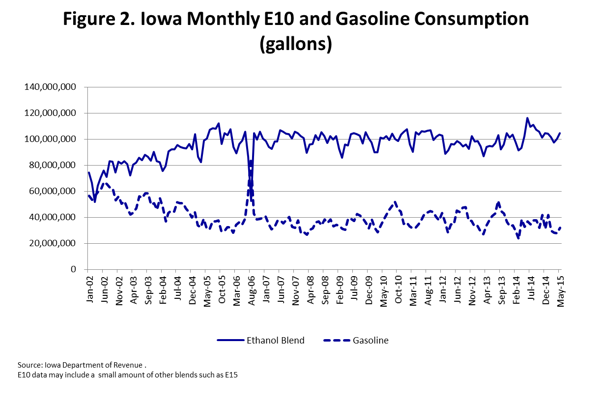 On November 30, 2015, the Environmental Protection Agency (EPA) will take final action on its proposed regulation about renewable fuel volume requirements and related percentage standards that would apply under the Renewable Fuel Standard (RFS) program in calendar years 2014, 2015, and 2016. EPA has indicated that the proposed volumes would increase renewable fuel use in the U.S. above previous levels. However, compared to the volumes originally set by Congress, the proposed regulation indicates a reduction in the overall amount of ethanol blended into gasoline in the next years. These proposed volumes would allow volumes of conventional (non-advanced) renewable fuel of up to 13.25, 13.40, and 14.00 billion gallons to be used to meet the total renewable fuel requirements for years 2014, 2015, and 2016, respectively. The renewable (non-advanced) mandate for 2014, 2015, and 2016 were originally set at 14.4 billion gallons for 2014, and 15 billion gallons for 2015 and 2016, accordingly.
The July 7, 2015 edition of the EIA's Short-Term Energy Outlook (STO), contains forecasts based on EPA's proposed rule. EIA's Ethanol average daily production forecasts for 2015 (938,430 barrels/day) and 2016 (939,399 barrels/day) will remain about the same as in 2014 (935,211 barrels/day). U.S. Ethanol consumption in 2015 and 2016 are projected to average 894,087 barrels/day and 901,726 barrels/day, respectively, which when compared to the level of U.S. ethanol consumption achieved in 2014 (878,425 barrels/day), represent an increase of 1.8% in 2015 and 2.7% in 2016. The forecasted U.S. ethanol consumption for 2015 and 2016 result in an average of 9.9% ethanol share of the projected U.S. gasoline average consumption for 2015 (9,089,516 barrels/day) and 2016 (9,068,731 barrels/day). EIA indicated that the RFS proposed targets are expected to spur sugarcane ethanol imports from Brazil. Last year's ethanol imports from Brazil were about 3,000 barrels per day. Due to the expected growth in ethanol imports, EIA projects U.S. net exports of ethanol to decrease from 51,000 barrels/day in 2014, to 44,000 barrels/day in 2015, and 36,000 barrels/day in 2016. Following EIA projected growth in gasoline consumption in 2015 and 2016, USDA's July 2015 World Agricultural Supply and Demand Estimates (WASDE) report indicated an increase in the projected 2015/16 corn use for ethanol of 25 million bushels to 5,225 million bushels.
It has been reported that over 200,000 signatures from people requesting the EPA to support renewable fuel were delivered to the EPA on July 27, 2015, which was the last day for public comments about the proposed regulation. Under current EPA proposed regulations, continued ethanol growth opportunities may come from expansion and diversification of export markets.
Want more news on this topic? Farm Bureau members may subscribe for a free email news service, featuring the farm and rural topics that interest them most!