Traveling billboards promote agriculture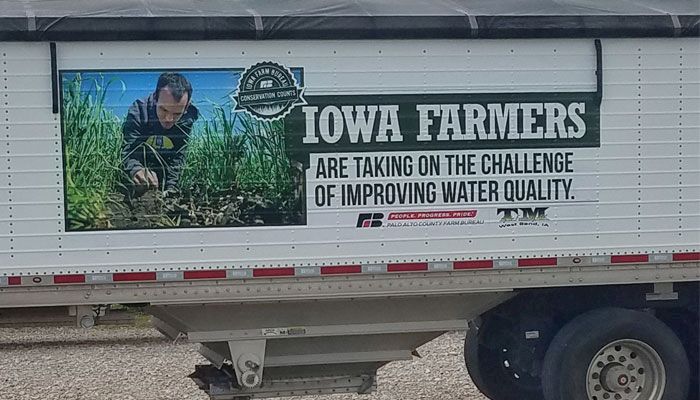 Working with local co-ops, four Farm Bureaus in western Iowa are wrapping grain trailers with "traveling billboards," promoting the value of agriculture and conservation progress to local communities.
Farm Bureaus from Palo Alto, Calhoun, Humboldt and Wright counties collaborated with co-ops in the region to place promotional signs on grain-hauling trailers. Each trailer features a different local farmer or farm family highlighting conservation efforts and the economic impact of agriculture on the local economy.
"We're out here not just to promote agriculture, but also educate the consumer and the community on what we're doing as farmers," said Austin Charlson, president of the Wright County Farm Bureau and one of the farmers featured on a trailer.
Charlson's message specifically focuses on the conservation efforts he's undertaken.
"I farm next to three publicly accessible bodies of water," he said. "Part of my job as a farmer is to keep that water clean."
On his operation, Charlson uses a mixture of no-till, cover crops and precision application of chemicals. He also built waterways to reduce pooling and runoff.
Two dozen trailer wraps
Within the next few months, six trailers from each county will be on the road (24 total). Palo Alto was the first to try out this marketing idea, installing the signs on trailers late last year.
Gary Moritz, communications director with NEW Cooperative in Fort Dodge, said efforts like this become all the more important as fewer people are involved with agriculture every year.
"This is letting the community know how much impact agriculture has on the counties in Iowa," Moritz said. "By partnering with our county Farm Bureaus, we're able to bring local information on a traveling billboard. The value to us is in the educational aspect of the trailers."
NEW Co-op has six trailers being wrapped. Moritz said they will be on the road soon.
The campaign was made possible with the help of the Iowa Farm Bureau SHARE Grant program, which offers funding to county Farm Bureaus for ag-focused education efforts.
Terry Seehusen, Iowa Farm Bur­­eau Region 3 manager, said the trailers already on the road have drawn a lot of attention.
"Because of the local flavor of the promotion, it really gets peoples' attention," he said. "This has been a great partnership. It's really wonderful for the communities to see folks they know represented in these pictures."
Want more news on this topic? Farm Bureau members may subscribe for a free email news service, featuring the farm and rural topics that interest them most!