Trade missions reveal opportunities to boost agricultural exports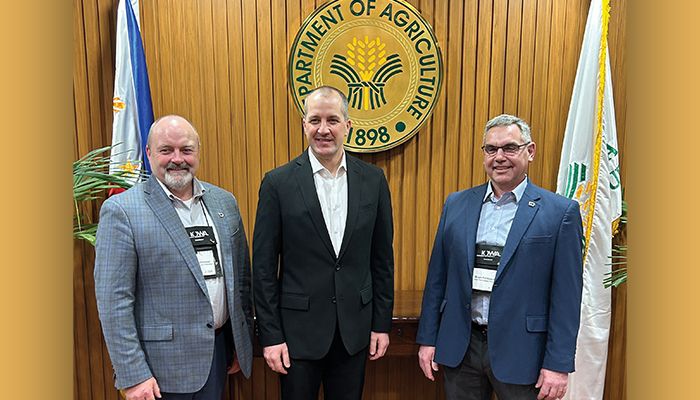 A trade mission last month revealed exciting opportunities for U.S. farmers to satisfy demand from growing middle-class populations in Vietnam and the Philippines, according to Iowa Farm Bureau Federation (IFBF) President Brent Johnson.
"Those countries are emerging markets economically and socially. As they have an increasing number of people entering the middle class, their ability to purchase higher protein levels of food really paints an opportunity for the United States to become a dependent, reliable supplier in the coming years," he said.
Johnson and IFBF Vice President Brian Feldpausch were part of a 15-member trade delegation coordinated by the Iowa Economic Development Authority (IEDA) to encourage trade development, bolster partnerships and identify opportunities to expand export markets.
The Iowa ag delegation visited areas in and around Ho Chi Minh, Vietnam, and Manila, Philippines, from March 24–April 1. The business meetings included trade policy updates, information sessions on Iowa agriculture and business development discussions. 
"They were all looking to the United States to provide more stability in their growing economies," said Johnson. "They're very excited for future opportunities to continue trade so that they can continue their aggressive growth."
Key export partners
Vietnam and the Philippines both ranked among the top 10 U.S. agricultural export markets in 2022. 
Vietnam was the second largest soybean meal market for U.S. exports in 2022 and is recognized as one of the fastest growing feed markets in the world. The Philippines ranked as the ninth largest U.S. ethanol importer in 2021 and, as the region's second most populous country, has a need for consistent food access.
Beef and pork exports are seen as a key segment as the region's animal protein consumption is expected to increase by 20% over the next five years. 
"Pork is their number one protein, and it's in almost every meal that is served," Johnson noted. 
However, he observed that consumers there prefer cuts with more fat compared to the United States, so meat exporters need to source products differently than they do for domestic markets. 
"The processors here in the United States trim a lot of the back fat off the pork chop, for example. That creates a challenge in the Philippines, where they want the full half inch of fat on their pork chop," he said. "They want to see those extra trimmings. It's part of the way they identify quality in their foods."
One barrier to increased U.S. trade with Vietnam is the lack of a free trade agreement between the two countries, a benefit enjoyed by all of the nation's other major trading partners, Johnson said. 
"Those tariffs that are in place now are a real burden. If we can get to a place where we can develop a free trade agreement with them, that's certainly going to open doors," he said.
Another challenge in the Philippines involves logistics in moving goods among the country's thousands of islands covering more than 100,000 square miles, Johnson noted. 
"The total transportation costs to get to the Philippines is equal to the amount to distribute food within the Philippines," he said. "You've got a massive logistical nightmare when it comes to (food distribution). Transportation costs are essentially doubled in a country like that."
South Korea and Japan
In February, Iowa Farm Bureau board members Rick Plowman and Matt Schuiteman took part in an IEDA ag- and food-focused trade mission to South Korea and Japan. 
Japan is Iowa's third largest export destination and the second leading export market for pork and beef products. Iowa companies exported $551 million in meat products to Japan in 2022. In addition, Japan is the second largest destination for Iowa corn, importing $500 million in Iowa corn in 2022. 
South Korea is the fourth largest destination for Iowa pork and beef ($348 million) and sixth largest destination for Iowa corn ($87 million). South Korea is also Iowa's second largest international market for ethanol ($71.2 million), and trade analysts say there is significant potential for growth of biofuel exports to both Japan and South Korea.
"South Korea and Japan are very different markets than Vietnam and the Philippines," Johnson pointed out. "They've been long time trading partners with the U.S. The average age in those countries is a lot older than Vietnam and the Philippines, so you've got mature markets, both economically as well as socially."
Continuing to increase trade in Asia and worldwide will depend on maintaining and growing market access opportunities, Johnson emphasized. 
"We need to make sure that our federal government pays attention to our opportunities for trade," he said. "It creates not only stability for those countries that are emerging, but it also solidifies market opportunities for our farmers. Trade is always good within the agriculture sector, and we're doing everything that we can to try to find those opportunities and cultivate those relationships."
Want more news on this topic? Farm Bureau members may subscribe for a free email news service, featuring the farm and rural topics that interest them most!