Thirst for knowledge drives Hill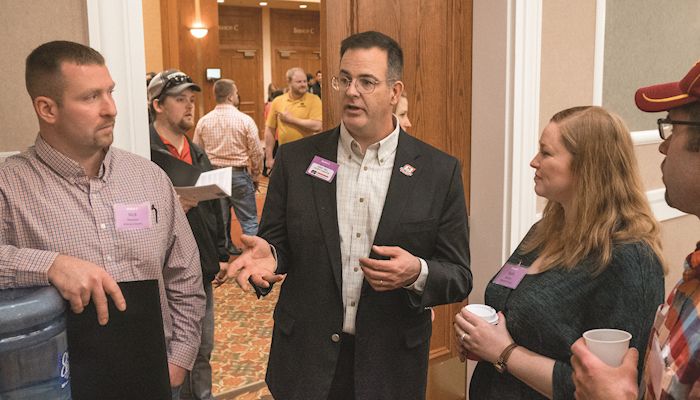 Andy Hill sees nearly every situation he encounters as an opportunity to learn, educate or — in many cases — do a little of both. The Worth County farmer said he's been on the learning end a lot since being elected in December to represent District 2 on the Iowa Farm Bureau (IFBF) board of directors.
"I'm a rookie," said Hill, who won the seat that opened with the retirement of 21-year board veteran Charlie Norris of Mason City. "It's been a lot of fun already."
Hill said his goal since joining the board has been to meet as many county Farm Bureau leaders as possible across the 11-county north-central Iowa district to learn about their issues and concerns, either in person or by phone, text, e-mail or some other form of communication.
"Every month, I'm trying to talk to these county leaders," he said. "They all have different needs and wants. I'm looking forward to them sharing with me that which they want."
Hill may be a newcomer to the state board, but he's a seasoned Farm Bureau veteran in many aspects. He joined the Worth County Farm Bureau board in 1992, a year after graduating from Iowa State University (ISU) with bachelor of science degrees in ag business and ag studies/farm operation.
"I was there for education. I enjoyed school," said Hill, who added an agronomy minor while also staying active in music —another one of his passions — as a member of the ISU marching and pep bands.
His hunger for education was instilled as a youngster coming of age during the rough 1980s farm economy, he said.
"I was constantly surrounded with education and knowledge being part of the toolbox you used to get ahead in agriculture," Hill explained. "I enjoy gathering in­formation. The more you know, the more you realize you don't know."
Whether it's his own work or that of others, Hill said he evaluates projects with a similar mantra — "What is good? What could be better?" — a phrase he uses so often it makes his teenage daughters roll their eyes.
Hill served four years as Worth County Farm Bureau president and two terms as voting delegate. He's in his fourth year serving as chairman of the American Farm Bureau budget issue advisory committee, researching many of the topics that were part of the tax reform overhaul passed by Congress in December.
"We drilled deep on tax topics. It's been a joy to gain that information as well as get the perspective of people across the nation," he said.
Working together
Hill's history with Farm Bureau stretches even further back ­— all the way to 1981 when as a 13-year-old he won the Farm Bureau Cookout Contest at the Iowa State Fair. He places much of the credit for that triumph with a 4-H leader who used the contest as a means to teach cooking skills and a team of friends and family members who supported his efforts.
"It was teamwork. Even though I was the quarterback on that given day, there was a whole team around me," Hill explained.
That same concept of teamwork also applies within Farm Bureau's grassroots structure, he observed.
"On any given day, we're going to have different people who are going to serve as the quarterback, running back or tackle. It just depends on the day," he said.
Hill's appetite for learning carries over to his farm near Manly, where he raises 700 acres of corn and soybeans with his wife Michelle, and daughters, Hannah, 16, and Cecelia, 13. He's "dabbling" in cover crops and looking for ways to reduce tillage and use less nitrogen per bushel of corn produced.
"There is a steady evaluation of what is good and what could be better," he said. "I think there's a place for cover crops. I've got to figure out how to do it 15 miles from the Minnesota border."
The farm is also a vehicle for education, where Hill eagerly welcomes anyone who wants to learn a little about farming.
"Every time I can possibly expose people to what's truly happening on my farm, I do it," he said. "We need to fling our doors open as much as possible and practical so we can not only tell them, we can show them. It's all about sharing what we know and why we do things with someone who is interested."
He leaned on his Farm Bureau connections to organize a tour of local hog barns of different sizes and styles for local officials two years ago when Prestage Farms was considering locating its hog processing plant nearby in Mason City.
"It took 15 minutes to organize a tour that took 8 hours to conduct," he said. "It was the Farm Bureau community that made it easy."
He's also served in several leadership positions outside of Farm Bureau, including the Worth County ISU Extension Council, 4-H committee and fair board, among many others. His extensive community service re­­cord fits another one of his catchphrases — "Get involved. Be involved."
That's why he's excited about a youth movement underway in Worth County, noting that six members under age 30 have joined the county Farm Bureau board in the last few years.
"It's made my absence from the (county) board irrelevant," he said. "We need to bring people like that into the organization."
Want more news on this topic? Farm Bureau members may subscribe for a free email news service, featuring the farm and rural topics that interest them most!