The sweetest gift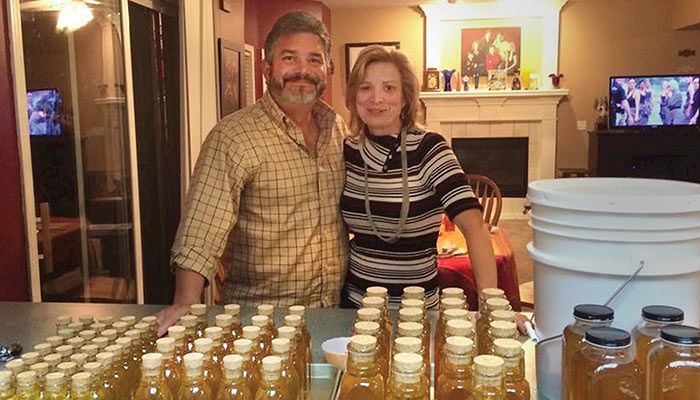 At the Iowa Honey Comp­any, the Taylor family has fully embraced the benefits of beekeeping and honey harvesting, but are also enthusiastic ambassadors for the industry and anxious to share the story of how they built a family-owned business along the way.
"We wanted to do something to connect our kids to agriculture and learn what it was like to start a business and keep it going," says Farm Bureau member Rob Taylor, who along with his family runs the Iowa Honey Company out of their home in West Des Moines. "Our whole family has really been involved, and I have especially enjoyed seeing what our kids have gotten out of it."
The Taylors launched their business four years ago after attending a six-week "Beekeeping 101" course offered by Iowa State University Extension and Outreach in Ames.
Rob and his wife, Christi, purchased the course for the whole family as a Christmas present. Needless to say, their four kids were skeptical at first, but they started getting interested as they heard more about it and learned from other beekeepers.
Next thing you know, the whole family was building hives and preparing for the arrival of their first bees in April 2014. That first year, they had four hives. Today, they have almost 30 hives and hope to add more as their business grows.
Rob, who is a former state legislator and grew up in Des Moines, has a background in the auto industry, but regularly worked on a family-owned farm near Osceola. Beekeeping, though, wasn't part of his earlier ag experience; and Christi, who is a doctor, readily admits beekeeping and harvesting honey isn't something she had any exposure to prior to starting the company.
You wouldn't know this, though, when talking to them. Even their youngest son, 13-year-old Will, is well-versed in all the ins and outs of beekeeping and has played a big role in the company. "Bee geeks" comes to mind in a very respectful way.
"The neighbors think we are crazy," jokes Rob, who says they maintain two hives at their home in West Des Moines, while the rest of the hives are spread across four or five other locations. "Our neighbors have been great and very understanding about what we are doing. They ask questions and wonder how the bees are doing."
Last year alone, they harvested more than 800 pounds of honey — all of which was extracted, filtered and bottled at their home. According to Christi, it takes about two days to gather all of the boxes and harvest the honey. Bottling then takes one day, and this is all accomplished over Labor Day weekend.
"I really enjoy harvest time. It is hard work, but we do it together as a family and everyone pitches in," explains Christi. "It started as a family hobby, but we have now turned it into a business that the whole family plays a part in."
As a self-described "boutique honey company," Rob and Christi say they don't want to be on every retail shelf. Instead, they want to continue growing the business very deliberately and strategically. This includes focusing on producing quality honey, which they market in different flavor profiles based on the floral sources their bees have visited.
Their all-natural, unpasteurized honey is currently for sale online (www.iowahoneycompany.com), but can also be purchased at the Botanical Center in Des Moines and Mayberry's Coffee House & Eatery in Osceola.
Word-of-mouth sales are also a big part of their current business model, but bigger plans are definitely in the works, as the Taylors hope to soon make the Iowa Honey Company a feeder business for another new venture they are working on.
"Our plan is to open a new distillery and winery in August 2019 at Honey Hill, which is an event center we own in Osceola. We will make a full range of spirits, including honey whiskey and honey vodka that utilizes the honey we produce," says Rob. "We will also source everything locally and market our spent mash to local farmers for feed, so it will truly be a no-waste, farm-to-market business located right off of Interstate 35 at the Osceola exit."
The honey the Taylors produce will be put to good use at the new distillery, but Rob and Christi both agree there is room for more people to become a part of the state's beekeeping community because the state can always use more pollinators.
"The barriers to entry are really pretty low. A willingness to do it and overcome any fear of bees might be two of the biggest barriers," Rob says.
Yontz is a freelance writer from Urbandale.
Want more news on this topic? Farm Bureau members may subscribe for a free email news service, featuring the farm and rural topics that interest them most!