The future burns bright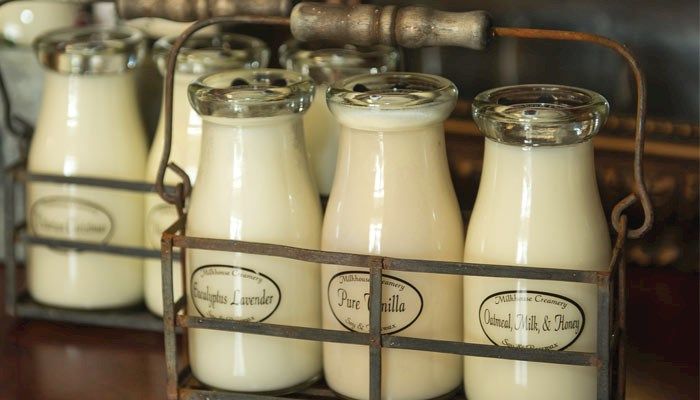 Eric and Janet Sparrow aren't the first Iowans to be inspired by the endless fields of corn and soybeans just outside their front door. But they are leading the way in making practical and profitable use of that obsession.
The Sparrows own and operate Milkhouse Candle Co. Based in Osage, the enterprise has become a leader in the candle industry, utilizing Iowa soybeans to create a clean, healthy product.
Traditional candles are made from paraffin, a byproduct of crude oil refinement. Research has shown paraffin can contain carcinogens. Further research by the Environmental Protection Agency has exposed risk from lead wick cores in candles imported from less regulated parts of the world.
"We wanted to make better candles, healthier candles," says Eric Sparrow.
To accomplish that, they use a mix of food-grade soy wax and beeswax. Free of chemical additives, soy oil is extracted from the hull of the soybean and hydrogenated to be solid at room temperature. It is then mixed with the beeswax, which has a higher melting point. When the Sparrows add low-emission wicks and essential oils, the result is a candle that burns clean.
"The message isn't anti-paraffin," says Eric. "The message is that soy can provide healthy, sustainable candles."
Using soy wax does create challenges. "The fragrance and color stick to the impurities in paraffin," Eric explains. That makes achieving consistent results from adding fragrance and color to soy wax difficult. "It doesn't hold color. And you don't always get the same fragrance."
Paraffin melts at 160 degrees, then color is added. With soy, the wax must be cooled below melting temperature, and held there for a time, before the elements are added. "It takes extra time, finesse and care," says Eric. And it makes it difficult to produce wax in large batches.
A recent expansion into a new facility with sophisticated equipment designed for the peculiarities of soy wax is enabling Milkhouse Candle Co. to create a more consistent product. In less than two decades, the Sparrows have gone from making candles in their kitchen and selling them to co-workers at their day jobs to large-scale production in an abandoned plant in nearby New Hampton.
The move doubled their workforce to 34 employees, reinstating jobs lost when the plant was vacated. Creating jobs sweetens the pot, according to Eric.
"Taking soy from a neighbor's fields and distributing a product to the world is a great feeling," says Eric. "On top of that, we get to create a healthy product and create jobs. And live the small town rural life. That's as good as it gets."
Milkhouse Candle Co. is primarily a wholesale distributor. Its sales geography has expanded from Iowa and Minnesota to all across the U.S. and several foreign countries, including Australia, the United Kingdom, Japan, Qatar and Mexico.
"I have to admit, that feels pretty satisfying," says Janet, who named the enterprise after the dairy farm where she grew up.
They began selling at the major wholesale markets, but felt they were ineffective. "There are 8,000 vendors there," says Eric. "Many just walk past your booth. Other times you're too busy to talk with buyers who might be interested." In addition, they saw attendance at the markets dropping. "The landscape of how retailers buy products has changed."
The Sparrows chose instead to focus on increasing sales to existing customers through word of mouth and direct marketing. Now, limited edition products are distributed, and the response assessed. Those products that perform are made part of the permanent line. Those that don't are discontinued.
Twice a year, three new fragrances are introduced, and the three poorest performing fragrances are dropped to keep offerings fresh. This January, Salted Caramel, Blueberry Basil, and Gratitude (Janet says it smells "happy") hit shelves.
The new scents join the line-up of 52 fragrances making nearly 700 combinations of fragrance and packaging in the Milkhouse catalogue.
Milkhouse Candle Co. also sells bulk soy wax and candle-making supplies to a growing audience of do-it-yourself candle enthusiasts, helping soy gain a foothold in the $2 billion dollar U.S. candle industry.
Soy candle manufacturers like Milkhouse face challenges from the big box candle market. It is permissible to label a candle "soy" even though it contains 80 percent paraffin. "That's a tough battle," says Eric, who doesn't promote the idea of stricter regulation to fix the problem. Instead, the Sparrows highlight "100 percent paraffin free" guarantee in their marketing. "We want people to know our candles are made from soy wax, not primarily paraffin with a little soy."
On the upside, major U.S. retailers are finding a marketing edge in soy-based claims, making the future look all the brighter for Milkhouse Candle Company, as consumers express their interest in healthy products.
"We're still trying to make the best product we can," says Eric. "We have access to the highest quality soy there is, a 100 percent renewable ag product. We have an enthusiastic team of employees, and a swelling of consumers who want a clean, healthy product. We have an opportunity to use our entrepreneurial spirit to leave this world a better place. That's the American dream."
To purchase Milkhouse Candles online, visit
www.milkhousecandles.com
.
Queck-Matzie is a freelance writer from Fontanelle.
Want more news on this topic? Farm Bureau members may subscribe for a free email news service, featuring the farm and rural topics that interest them most!