The Groenendyk farmhouse is full of laughter and love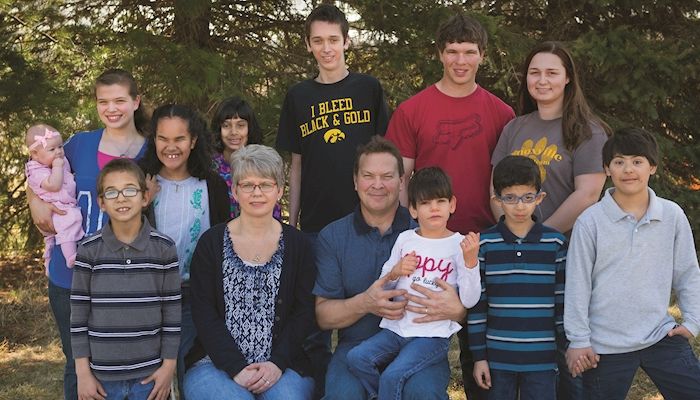 The Mark and Tammy Groenendyk house is filled with laughter. And hugs.
It's also filled with coats and boots and chairs and beds and there's a neat row of bicycles lined up out front.
There are seven children living in the house. Four more have grown and moved into their own homes nearby, one with a daughter of her own.
The number doesn't matter. There's plenty of love to go around.
Nine of the Groenendyk children are adopted. Most have special needs. One is from Hawaii. Five are from Bulgaria.
"It's not always easy, but we wouldn't have it any other way," says Mark. "This is our family. And we love every one of them."
The Groenendyks began their journey nearly 20 years ago. With two small children, they adopted two more. Sabrina and husband Max have six-month-old Hadassah, Mark and Tammy's first grandchild; Bryant and wife Abbi live five miles away on the family's Century Farm. Anthony and Ralissa also live in the Oskaloosa area.
Lydia, now age 12, was the next to join the family as a nine-day-old infant. Then came Jesiah, now 13. Trey (12), Tianna (10), Shane (10), Victory (8), and Donovan (8) came by way of a wave of red tape from a Bulgarian orphanage in two separate trips in 2010 and 2012.
A complex process
"It's a complex process," Mark explains. Even with adoption agreements in place between the two countries, there is a mass of paperwork and background checks. Passports must be obtained for all the kids, who now carry dual citizenship.
First there was a five-day visit at the orphanage filled with photos and stories to acquaint the kids with their new family. Then, four months later, Mark and Tammy returned to make the 24-hour journey home—through customs and immigration—with small children just out of the orphanage in a foreign land.
Once at home on the farm, the real work began.
"We had to teach them how a family functions," says Tammy. "They only knew institutional life." The kids were, and to some degree still are, fascinated by everyday tasks like food preparation. They had never seen that before.
"Mostly they needed time to heal," says Mark, "time to catch up." The children had faced varying degrees of neglect, abuse, and abandonment leading to anger and security issues as well as nutritional and cognitive disabilities.
"I used to have to make a point of telling Trey I was coming back every time I left the house," says Tammy. "He would panic that I might not return."
A sense of security
Mark says not taking it personally when the kids lash out can be difficult, but is imperative. "It's hard, when they're screaming and kicking and spitting to remember it's not you they are angry with. It's what they've been through."
Those incidents happen less often now, as the kids gain a sense of security. They're at home, and they're comfortable there. Special physical needs issues are primarily evidenced by the string of medical appointments. Hearing aids, eye glasses, corrective surgeries are all part of life.
Tammy admits one of her greatest fears is cold and flu season. "We try to be proactive with natural health measures. It doesn't hit often, but when it does, it's memorable," she says.
Tammy home-schools the children with Sabrina's help. The day begins at 6:30 a.m. with breakfast, then lessons. After lunch is time outside "and then an hour of quiet time," Tammy adds with a sigh. The afternoon is for more school lessons, piano lessons, chores and outside consultations. Lydia receives services through the Iowa School for the Blind. All the kids are learning Braille.
"I'm able to tailor the education to their particular needs and levels," Tammy says of the home-schooling, "and it helps with the attachment issues."
The goal is for each family member to reach their optimal level of independence. "They want, and we want for them, what any person wants — meaningful work, independence, the satisfaction of earning an income, the pain when the money has to go out. It's about being a help to society and not a hindrance," Mark says.
For all the obvious chaos, the home is impeccably organized. It's Tammy's doing according to Mark. Toothbrushes, coat hooks, even cups and towels are color-coded. Each child has a colored mat in the garage for their shoes.
"These things are especially important for Lydia, who has to always have things in the same place in order to function independently," explains Tammy. Even the refrigerator has a set spot for every item.
A farm is a perfect place
Aside from school, the kids keep busy on the farm. Jesiah likes to help chop corn and can't wait to learn to drive the tractor. The younger kids like to ride along in the combine and help care for the animals. They all benefit from having easy access to a large yard with plenty of room to run and play.
"The farm is the perfect place for them," says Mark. "I can load them in the wagon and go down the road to Bryant's to see the calves. Or take them along on errands."
The Groenendyk farm is typical for Iowa. They raise corn and soybeans. Bryant has a cow-calf operation and a small feedlot. Mark supplements with dirt work.
"The kids get to watch things grow — from seeds to harvest," continues Mark. "And learn about soil types as earth is moved."
The family also benefits from being part of a rural Iowa community. Friends and neighbors take the kids fishing and canoeing. Neighborhood teenagers babysit.
"That's what comes from being in the local area for more than 100 years," says Mark. "People learn what's fun about each other's lives."
Raising the kids on the family farm is important to Mark and Tammy. "It feels good to know I can give them roots," Mark says. He includes trips to the family cemetery in their outings, where they learn about long-gone relatives.
Important to belong
"These kids don't come with baby pictures, or family ties. Even though we talk frequently about their journeys, they don't really have a sense of their history. But, we can make them part of ours. We can give them a sense of belonging."
Both Mark and Tammy admit not every day is easy. "I'm no saint," says Tammy. "I have my hard days. That's when I have to let God take over." Mark says it is faith and hope that gets them through the trials.
"We're really just like all other families," says Mark. "Everyone faces challenges; ours are maybe just a little different."
The Groenendyks have no plans to bring more children into the family. "It's a bit sad, but that door is closed," says Tammy. "Now, we will find other ways to advocate."
They encourage others to consider the adventure. "Give it a try," Mark says.
"The nicest sound," he continues, "is on a Sunday afternoon, when all the kids are here for dinner, and they're all hanging out in the yard. There is nothing that can replace the laughter that comes from the kids all having fun together."
Queck-Matzie is a freelance writer in Fontanelle.
Want more news on this topic? Farm Bureau members may subscribe for a free email news service, featuring the farm and rural topics that interest them most!