Struthers' involvement reaches well beyond the farm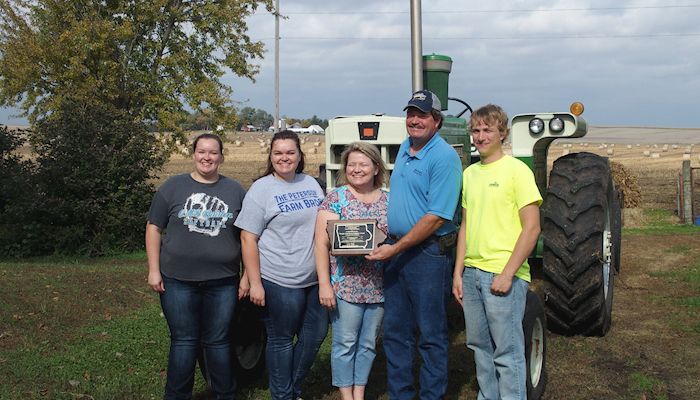 Dave Struthers started farming when he was just 17 years old. He bought his first 120 acres and started raising livestock to pay for the acres. Since 1985, when he first started farming, he hasn't just been raising crops, livestock and a family, he's also been an important part of his community.
Struthers and his family were recognized last week with the Gary Wergin Good Farm Neighbor Award. The award recognizes livestock farmers who go above and beyond in caring for their livestock and their community.
Jamie Waddingham, ag instructor and FFA advisor at Collins-Maxwell High School, nominated Dave and his family for the award.
"It was one of those things that I always thought Dave was recognized with the Good Farm Neighbor Award, but never was. So it was a natural thing to go ahead and nominate him," Waddingham said.
The Struthers family has op­­ened up their farm to 4-H and FFA members in the area, helping members understand modern agriculture. They've helped with field test plots, made pigs available for judging competition practice and assisted the members when they wanted to participate in community parades. They've also donated proceeds from a tractor ride they organize to help the local 4-H and FFA chapters.
In addition to raising crops, the Struthers family raises pigs in a farrow-to-finish system and markets between 5,000 and 6,000 head per year.
Struthers has also been very active in the Iowa Farm Bureau, serving on various county, state and even national boards. Dave has served the pork industry in various ways, most recently as the Iowa Pork Producers' president. Through his involvement in the pork industry, he's traveled around the world promoting U.S. pork and has hosted international leaders on his farm in rural Collins.
The Struthers family has also been very active in supporting young people in the community as church youth group leaders.
"I'm not doing this to get awards," Struthers said as he accepted the award last week. "I'm doing this because I care about our community and the kids in the community."
Struthers said it was an honor to receive the award.
"It means a lot to me. It means that somebody thinks I'm doing something worthy of an award. I'm just doing what I enjoy doing and being involved in my community and helping out when I can. I figure if I have a resource to help out the FFA or the 4-H or whatever group it may be, why shouldn't I share it? It's part of my belief system," Struthers said.
His family has invested in the youth in the community because he said that's the future of the community. "This land needs to be taken care of and farmed, and there's young people that don't know where their food comes from," Struthers said. "If I can help them get exposed to some production agriculture — be it crops or livestock — and help educate them … I want to do that," he said.
Wayne Clinton, a Story County supervisor, said the Struthers family sets a good example not only for other livestock farmers in the county, but people in communities throughout the state.
"They're always looking at ways by which they can demonstrate some of the best practices not only in the pork industry, but also in terms of making it better for future generations of young farmers and so forth," Clinton said.
Dave and Elaine, along with their three children Darren, Steph­anie and Taylor, accepted the award last week. Elaine's daughter, Hailey McLemore, and her family live in Texas.
Want more news on this topic? Farm Bureau members may subscribe for a free email news service, featuring the farm and rural topics that interest them most!