State looking at ways to add value to Iowa farm products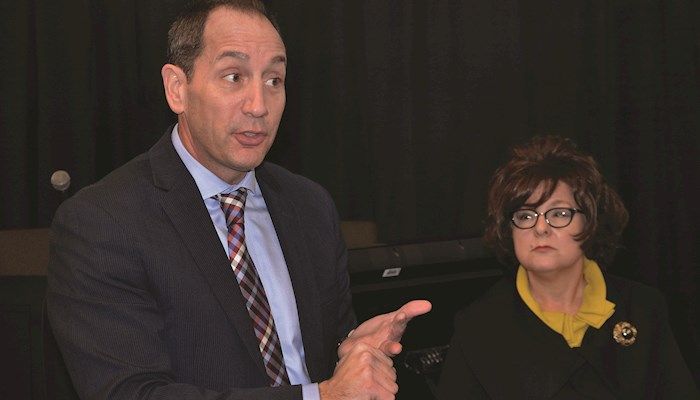 Iowa's ethanol and biodiesel refineries could be the launching point for producing renewable chemicals that can be used to make plastics, textiles and other higher value products typically made from petroleum, Iowa Economic Development Authority Director Debi Durham (pictured right) said last week at the Iowa Farm Bureau annual meeting in Des Moines.
The production of such biochemicals is one of the fastest growing segments of the bioscience industry and represents one of Iowa's best opportunities for development of a high-density industry cluster such as Silicon Valley.
"We see this as something that continues to add value to those ethanol and biodiesel plants we already have," she said. "Wherever we produce biofuels, we can also produce building block chemicals. We should own that space."
To help incentivize renewable chemical production, the state of Iowa is proposing a tax credit for companies that turn ethanol and biodiesel byproducts into new high value "building block" chemicals, Durham said.
Companies that have been in business for less than five years would be eligible for a $1 million tax credit. Established companies that produce a new biochemical product would be eligible for a $500,000 credit.
Incentives to help existing businesses expand are just as important as recruiting new industries in creating jobs in Iowa, especially for rural communities, Durham said.
"It's all about taking care of our own first," she said.
Iowa's agriculture-based economy makes renewable chemical production a natural fit, Durham pointed out. Iowa leads the nation in ethanol production with 43 facilities that account for more than 27 percent of total U.S. ethanol production. The state ranks second in biodiesel with 12 refineries manufacturing over 16 percent of U.S. production. Iowa also has the second largest supply of available biomass with the ability to harvest 14.4 million dry tons of biomass annually.
Transportation logistics
Transportation infrastructure is also critical to growing Iowa's economy by providing the ability to move products to markets both inside and outside of the state, said Paul Trombino, director of the Iowa Department of Transportation (DOT) (pictured left).
He said the department has been able to move forward on many much-needed projects since the Iowa Legislature approved raising the fuel tax earlier this year. The department is tracking where the additional money generated by the fuel tax is being spent and plans to provide a report next year, he said.
Congressional passage of the federal highway transportation bill will also provide 3 to 4 percent more funding for Iowa DOT projects, he said.
"It's going to put us in very good position for investments," he said.
The DOT has also undertaken a freight network optimization project to study how commodities and manufacturing goods are moved across the state's highways and rail systems. The project will allow the DOT to prioritize projects for the most high-demand areas and could also help private businesses connect to reduce costs by consolidating shipments.
"It allows us to make better decisions about the investments we make," Trombino said. "It's not how much money you have, it's how well you spend it."
One goal of the study is to identify potential locations for crossdock or intermodal facilities where truck or rail shipments can be consolidated and shipped more efficiently, Trombino said. Research shows such facilities could save Iowa businesses nearly $1 billion in shipping costs.
"It has huge cost benefits and sustainability benefits," he said.
Freight costs currently represent 21 percent of the gross state product, a number that Trombino says is relatively high compared to other states. That's especially important for agriculture, which relies heavily on exports, he noted.
"We think there's a real opportunity for us to help improve the cost effectiveness of movement of products," he said.
Want more news on this topic? Farm Bureau members may subscribe for a free email news service, featuring the farm and rural topics that interest them most!