Stallman: It's been an honor to serve America's farmers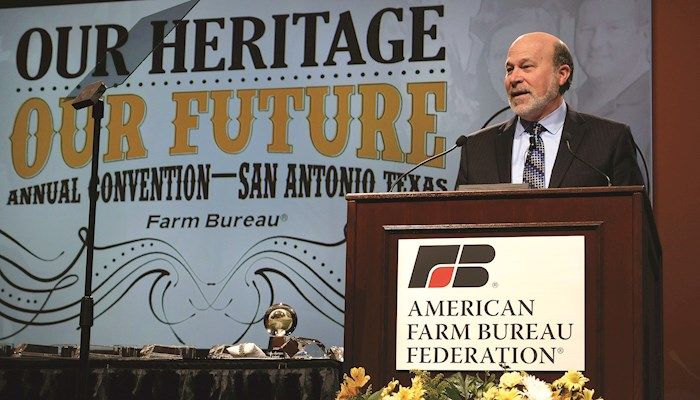 This month, I'll be passing the gavel to the new president of the American Farm Bureau Federation (AFBF). It's the final item on my agenda. As I look back on the last 16 years, I am proud of the hard work we've done to strengthen agriculture and make the voice of America's farmers and ranchers heard.
Staying ahead of issues
Farmers and ranchers know how to get things done. We aren't afraid of a challenge. Markets are up and down; weather turns unexpectedly.
Yet farmers face these twists and turns with resilience. In that same spirit, we began the work of honing our strategic focus here at AFBF when I started my first term. We switched to offense and brought the whole team to Washington, D.C., to get out in front of the issues facing agriculture.
Today, Farm Bureau staff and members are on the front lines making sure our voices are heard and protecting the business of agriculture.
When you run into a problem on the farm, you don't wish it away: You find a solution and fix it. You don't ignore a broken fence or stop irrigating dry land. Wishful thinking doesn't get things done, and it's not good business.
"Strategic" and "action" are familiar terms here at AFBF. We established a Strategic Action Team in D.C. not just to monitor key issues but to anticipate policy battles and find solutions.
As a direct result of that effort, we are supporting our state Farm Bureaus like never before in their efforts to gain grassroots support for our national policy priorities. We are also using enhanced training and social media communications to empower farm and ranch families to advocate for their businesses and rural communities.
Standing together
Together we've won a lot of victories by sharing our stories with lawmakers and the public. When the Department of Labor tried to stand in the way of families working together on their farms, we took action and showed that we can protect our kids while training them to run the family business.
Likewise, when efforts were afoot in Congress in 2010 to unilaterally tax the fuel that powers American agriculture, we linked arms in the call: "Don't Cap Our Future."
Sometimes, getting things done means bringing new solutions to the table. That's just what we did with farm bills in 2002, 2008 and 2014.
Most recently, we worked with Congress to update the way risk on the farm is managed. New market-focused crop insurance programs brought the program into the new century while safeguarding farmers' peace of mind.
The success of U.S. agriculture is fueling industries in communities across the country. We've worked with lawmakers from both sides of the aisle to open up trade around the world. And U.S agricultural exports are booming, bringing in $152 billion in 2014. With new trade agreements under way, we are poised for more growth still.
Keeping up the fight
Our work is far from over. We continue to raise our voices in our call to Ditch The Rule, informing lawmakers and the courts about the far-reaching impacts of the Environmental Protection Agency's onerous Waters of the U.S. rule on productive farm and grazing land.
It's not just lawmakers who need to understand the importance of what we do on our farms and ranches, but also consumers who are being fed misinformation about agriculture. Toward that goal, I am proud of the roles that AFBF played in the formation of the U.S. Farmers and Ranchers Alliance and our long track record of support for the Center for Food Integrity — two efforts that help amplify our voice in national discussions about food issues.
There have been a lot of changes since I was elected to serve as AFBF president back in 2000. I have no doubt that the new leader who takes up the gavel will have AFBF primed to capitalize on opportunities and address any challenges related to the prosperity of your farms and ranches, the quality of life you want for your families and the vitality of your rural communities.
It's truly been my honor to serve you and the agricultural industry we treasure.
Stallman is president of the American Farm Bureau Fed­eration.
Want more news on this topic? Farm Bureau members may subscribe for a free email news service, featuring the farm and rural topics that interest them most!