Spring brings life to the farm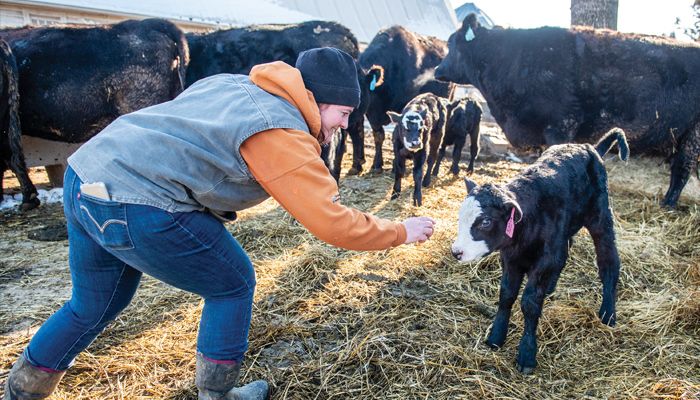 Calving season is a busy time for farmers like Tama County Farm Bureau Rebecca Dostal who keep a watchful eye on their animals as they bring new life to the farm.
As of last week, Dostal had 35 new calves on the ground from her herd of 80 mostly Black Baldy cows, a Hereford-Angus cross known for good mothering abilities. 
"We had three new ones last night," Dostal said on Wednesday.
Dostal has been taking care of cows since a young age, beginning on her family's farm in Decatur County. 
"My dad gave me a heifer my first year of 4-H when I was nine, and they've just kind of grown with me," she said. "He helped me get my herd size to where it is now."
She continued to grow her herd through high school and college with her dad's help. After finishing college, Dostal brought her 22 cows with her when she moved to Tama County and started her own farm.
These days, Dostal is passing her knowledge of livestock down to her three sons, who are active with 4-H livestock projects along with sports and other school activities. Her oldest son plays football at Morningside College, and the younger two are a sophomore and a freshman in high school.
Passion for cows
Along with the cowherd, Dostal and her husband, Calvin, grow corn, soybeans, alfalfa and pasture. They also raise Berkshire hogs, but Dostal makes no secret that her passion belongs to the cows, which come looking for her attention whenever she enters their pen.
"I love the baby calves and being able to watch them grow up," she said. "They're pretty easy to take care of once they're on the ground. They're not really a high maintenance thing through the summer."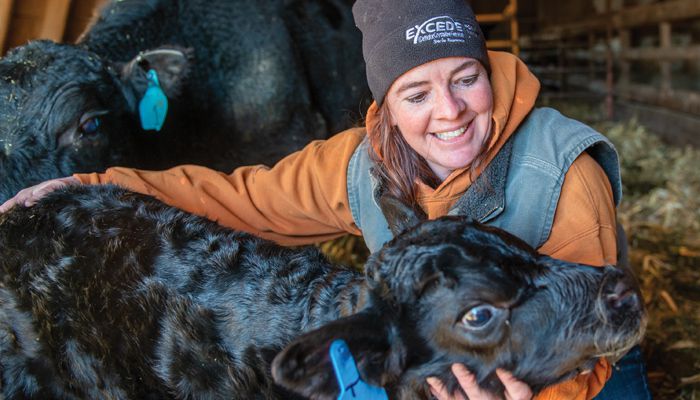 (Photo above: Calving season means spending a lot of time in the barn caring for newborn animals, says Tama County Farm Bureau member Rebecca Dostal. PHOTO / CONRAD SCHMIDT)
She said spring calving can be difficult some years, but this year's weather hasn't been as tough. 
"It hasn't been too bad, knock on wood. We haven't had the snow cover, so that's made the lots a little bit drier," she said. "The cold is a kind of a pain, but we have facilities we can get the cows in to keep them warm. It's kind of nice that we haven't had a long stretch of cold weather. It's been kind of up and down." 
Dostal uses rotational grazing to keep pastures fresh during the summer grazing season. 
She sells most of her calves at the Tama sale barn in November after they reach around 700 pounds, keeping back a few replacement heifers to grow her herd.
"I've had some of these cows in my herd for a long time," she said. "It just kind of grew with me, trying to keep back good heifers and build my herd that way." 
Cow condition important 
As spring calving season progresses, Chris Clark, Iowa State University Extension beef specialist, says it's important for farmers to analyze their herd's body condition scores. 
Good body condition at calving and adequate post-calving nutrition is critical to support not only lactation and growth of the calf but also the health and reproductive performance of the dam, he said. Pasture forage quantity is usually the limiting factor before spring growth takes off, Clark observed.
Want more news on this topic? Farm Bureau members may subscribe for a free email news service, featuring the farm and rural topics that interest them most!