Sisters in Cheese perfects the art of the meal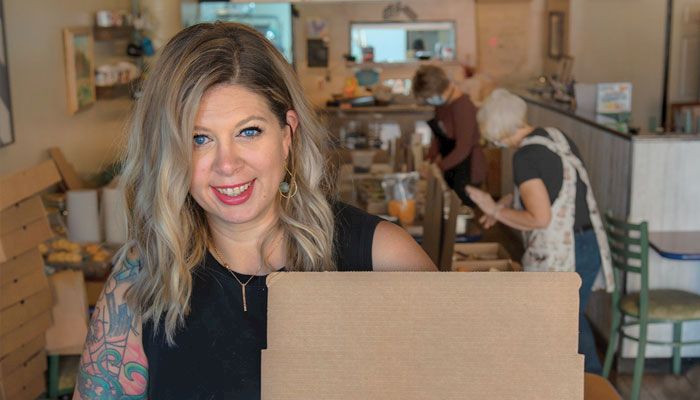 Iowans love their meat and cheese trays at the holiday table. Now a central Iowa restaurant creates cheese boards so pretty they serve as a centerpiece.
For Chelsea Johnsen of Mad­rid, her dining establishment Sisters In Cheese is, literally, a dream come true.
"One night I had a dream that my sister-in-law and I opened a cheese board shop," says Johnsen. It seemed a joke at first. But it soon became reality. Johnsen eventually went it alone without her sister-in-law, but Sisters In Cheese was born.
Sisters In Cheese offers grazing boards — decorative boards loaded with cheeses, meats, fruits, vegetables and condiments. They come in all sizes and varieties. There are grazing boxes and tiles that feed anywhere from one to 20 or 30 people, depending on it being served as a meal or appetizer. A typical board includes a selection of baguette, olives, hummus, brie, blue cheese, sharp cheddar, smoked gouda, goat cheese, cucumbers, sweet peppers, cherry tomatoes, strawberries, blueberries, grapes, summer sausage, sal­ami, spicy salami, mixed nuts, premium crackers and chocolates.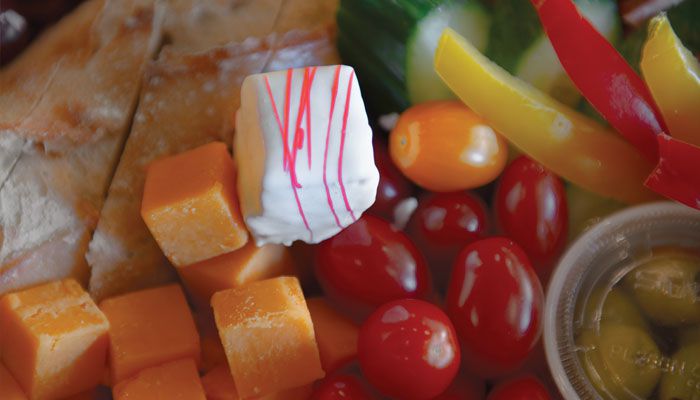 (Photo above: Chocolates and petit fours are tucked into the healthy cheese boards prepared by Sisters In Cheese in Madrid — because we all deserve a little sweet.)
The popular Essential Grazing Box comes in a 12-inch-by-16-inch flip top box and feeds four to six as a meal, twice that as an appetizer.
The Mini Grazer is designed for an individual snack or light meal. At $13 it comes with brie, smoked gouda, cheddar, a bonus cheese, grapes, cherry tomatoes, hummus, chocolate, crackers, summer sausage, salami, mixed nuts and olives.
There is also a Midway, and a Gigantor.
For a more formal presentation, grazers can be served on a ceramic tile with ceramic serving bowls for dips.
Johnsen also caters large events, with a couple of options. Multiple ingredient-specific tiles can be ordered, offering cheese on one, meats on one, and so forth. Or you can get a Grazing Table, an entire table-sized work of art filled with grazing goodness.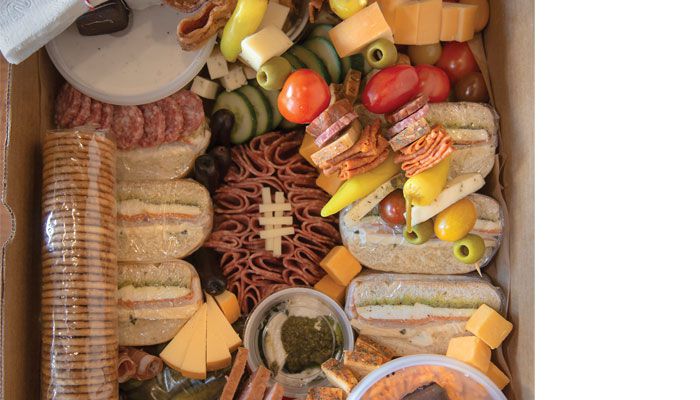 (Photo above: Sisters In Cheese offers a tailgater cheese board (notice the cute football in the middle) for socially distanced celebrating.)
"Is there anything better than standing around a beautifully crafted pile of delicious food, talking, laughing with friends and family?" asks Johnsen.
She says people have come up with creative COVID era alternatives to the traditional buffet approach. At one stop, wedding guests were given their own personalized food-selecting tongs as a gift; at another, Johnsen served individual grazing boards.
She has even provided personalized mini-grazers for Zoom parties.
Johnsen's start down the grazing road was simple enough.
Her last stint in years of restaurant work (she began in the 4-H campgrounds kitchen at age 16) was at an Italian place, where she often found herself eating the antipasto plate as a full meal. She started making them at home, then spread out to creating them for social and family gatherings.
Her simple cheesescapes, as she called them, caught on and were soon frequently requested.
She gradually refined her ingredients and put her artistic talents to work.
"I come from an artistic background," says Johnsen. Both of her parents are artists. "This is my medium. Food is gorgeous."
It was while researching similar efforts on Instagram that she fell into what she describes as "rabbit hole of cheese/antipasto/charcuterie board viewing."
"It was on that hashtag spiral that I found the incredible world of Australian Grazing Tables," says Johnsen. "The things I was putting together weren't called cheesescapes, they had a real name. Grazing boards."
In time, she outgrew her kitchen and moved into a building in downtown Madrid. There, in addition to being a full-service catering company, she began serving breakfast and lunch, until COVID interfered.
"At first we did take out," says Johnsen, "but I was wearing myself ragged."
She temporarily dropped the meal menu to concentrate on grazing boards for pick-up. A partnership with nearby Snus Hill Winery simplified the process.
Buyers order their boxes or tiles via an online order form posted every Sunday on the Sisters In Cheese website and Facebook page. Johnsen processes orders, collects online payment and creates the delicacies for pick-up throughout the weekend at the winery.
"It's been a fantastic partnership," says Chris Hudnall, co-owner and general manager of Snus Hill Winery. "It saves Chelsea money and keeps her staff healthy, and has brought us countless customers and business."
People can pre-order a bottle of wine for pick-up with their grazing boards, but Hudnall says most, around 75% of those making a Sisters in Cheese pick-up, come into the store to make their selection.
"It's one of the best things we've done. It pays to think outside the box and work together," he adds.
It's one of many ways Johnsen seizes the opportunity to work with others.
She sources local produce whenever possible, uses Maytag and Milton Creamery cheeses, local honey, and is in conversation with a local dairy goat producer.
"I love collaborating with other local businesses," says Johnsen. "I like the networking and that someone else is benefitting."
Located just off the High Trestle Trail, Madrid and the surrounding area are growing. "The trail has changed things here," says Johnsen, "in wonderful ways." The dining potential is only one of them. "It's been critical for growth."
At age 36, Johnsen is poised to seize the opportunities.
She was recently named one of 40 Women to Watch in the Hospitality Industry by the Iowa Restaurant Association.
"I was taught to be humble, and even promoting myself on social media is sometimes hard for me. Luckily, if your presentation is photographically pleasing, the customers will post and do some of that for you," says Johnsen. "I guess this type of recognition tells me it is OK to be proud."
She's proud of her staff and their dedication to Sisters In Cheese. She believes in good customer service, in "overdoing, not underdoing." She's excited about her product, her lifestyle, and she's determined to work through any challenges COVID and its "adapt or die" environment might bring.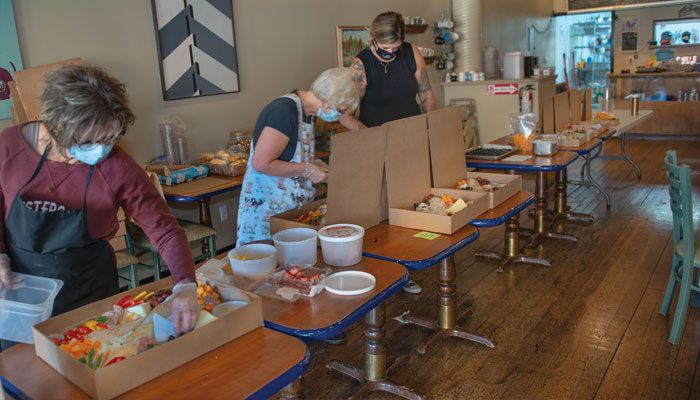 (Photo above: The staff at Sisters In Cheese assemble cheese boards for an upcoming event at nearby Snus Winery in Madrid.)
"There's more than one way to handle things," says Johnsen. "We don't have to give in to the sense of impending doom. There are solutions if we stay positive and work together."
Queck-Matzie is a freelance writer from Greenfield.
Want more news on this topic? Farm Bureau members may subscribe for a free email news service, featuring the farm and rural topics that interest them most!