Sharing the beauty of Iowa on a visit to Poland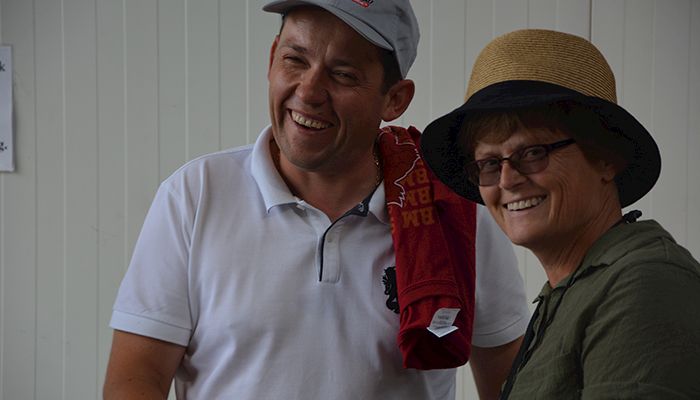 25 members and staff are participating in Iowa Farm Bureau's 2017 Market Study Tour of Poland, June 26 - July 6. Follow the action on the tour's Facebook page and our Farm Fresh Blog!
Iowa Farm Bureau members on the organization's tour to study agriculture and potential markets in Poland are leaving their hosts more than just warm greetings and a hearty thank you.
They are also giving their hosts pieces of Iowa: gifts which reflect their farms, their communities and the beauty of rural Iowa. It works like this: After each presentation, an Iowa visitor steps up with a red & black Farm Bureau bag stuffed with gifts. Each bag contains a Farm Bureau hat and a t-shirt showing the Iowa State University Farm Strong campaign or Farm Bureau's America Needs Farmers effort. And, most importantly, the travelers give their Polish hosts a special gift that represents something about their farm. The Iowans have presented miniature tractors (both the red and green varieties, of course), tiny wind turbines, Iowa-shaped cutting boards, photo albums and many more heartfelt items.
The gift giving, says tour organizer Dave Miller, is designed to give the Polish host a feel for the diversity of agriculture in Iowa and of the pride the farmers take in growing quality food and fuel, building their communities and caring for the land. The gift from each farmer helps provide a personal touch, he says.
And from the looks on the beaming faces of the thankful hosts, the Iowa-themed gifts are going over very, very well.
In Poland, folks may not understand the fierce rivalry of Cyclone and Hawkeye fans or Iowa farmers' dedication to either red or green tractors. But they can clearly see the pride that Iowa farmers have in their farms, their state and helping to sustainably feed, clothe and fuel the world.
By Dirck Steimel. Dirck is the Spokesman Editor and News Services Manager for the Iowa Farm Bureau Federation.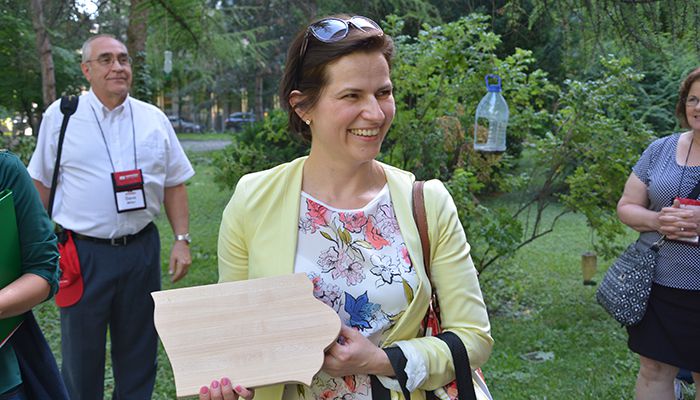 Photo Caption: Katrazyna Skrzymonka, of the Polsus pork organization in Poland, reacts to her new Iowa-shaped cutting board.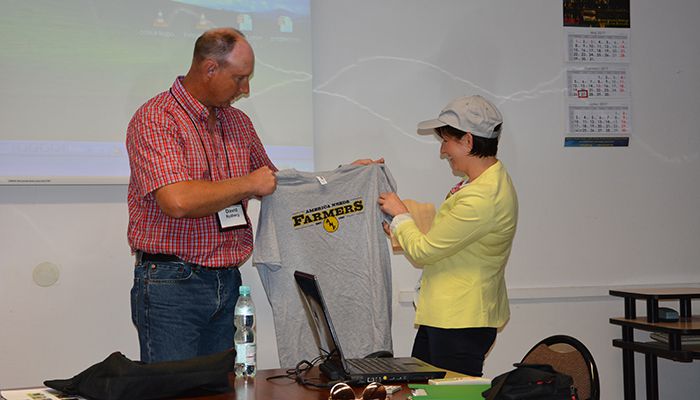 Photo Caption: David Rydberg, a Page County Farm Bureau member, presents an America Needs Farmers t-shirt to Katrazyna Skrzymonka, of the Polsus pork organization in Poland.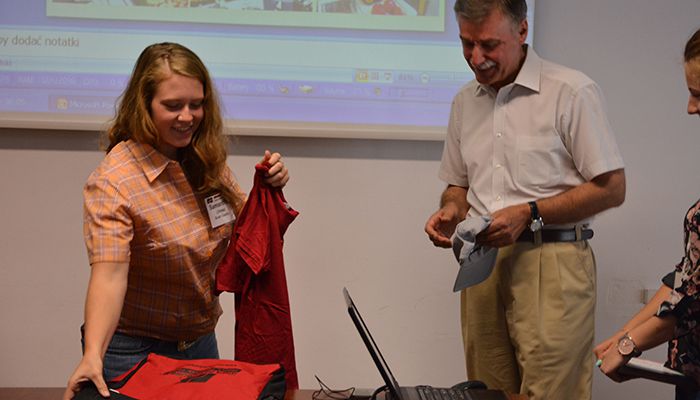 Photo Caption: Samantha Urmie, a Scott County Farm Bureau member, presents an ISU Farm Strong t-shirt to the head of Poland's fruit growers association.