Severe windstorm devastates Iowa crops; farmsteads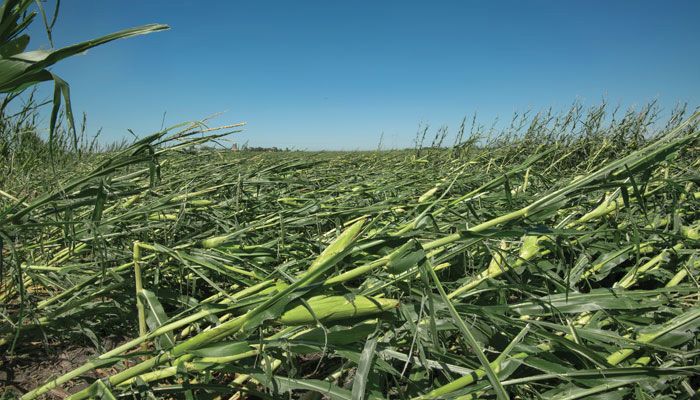 The derecho which tore across Iowa last week mixed more upheaval into an already challenging year for the state's farmers, damaging more than 6 million acres of crops, destroying tens of millions bushels of grain storage and peeling the roofs off livestock barns and machine sheds as it roared across the state with winds that exceeded 100 miles per hour.
"We were already looking at a challenging year. We just added a new dynamic to that situation," said Iowa Agriculture Secretary Mike Naig.
"When you lay this all out, the potential for significant yield loss, the challenge in setting the combines, grain-quality issues and storing grain after a loss of storage, you start to get a sense of the headache for producers. There's a lot of compounding issues," Naig said.
Shonda Hahn, a Johnson County Farm Bureau member, said the derecho blew down trees and mangled corn and soybean fields all around her area.
"Every field has some damage. Some are worse than others," said Hahn, who farms near Tiffin and also runs a seed business. "There's pockets of fields in our neighborhood that are flat."
She was still assessing the damage late last week while waiting for an appraisal from her crop insurance adjuster. The extent of the damage will depend on whether the fierce winds broke off corn stalks or simply pushed them over, Hahn said.
"We'll know more next week. By then we'll be able to figure out if the corn had green snap and is dead, or if it's alive out there," she said.
Soybeans were twisted up by the storm but fared better than the corn, Hahn said.
The storm knocked out power to her farm for more than two days, which she spent shuttling a generator back and forth between her farm and her mom's place trying to keep a freezer full of beef and other food from spoiling.
Snapping utility poles
The storm snapped power poles across hundreds of miles in rural areas and left more than 400,000 Iowans without electricity. Utility companies said it could take more than a week before power is restored to some farms.
The derecho started building in southeast South Dakota and increased in intensity as it carved its path across Iowa before losing steam as it continued all the way to Ohio, reported Justin Glisan, climatologist at the Iowa Department of Agriculture and Land Stewardship. In all, it trekked across 770 miles over 14 hours with top winds speeds of 90 to 106 miles per hour.
Iowa bore the brunt of the damage for the derecho, Naig observed.
Based on MODIS satellite imagery and Storm Prediction Center preliminary storm reports, the Iowa Department of Agriculture and Land Stewardship believes 36 counties in Iowa were hardest hit by the derecho. Within those 36 counties, the storm likely had the greatest impact on 3.57 million acres of corn and 2.5 million acres of soybeans, it said.
Iowa Gov. Kim Reynolds issued a disaster proclamation for 23 counties following the derecho, which allows counties to use state resources to help with recovery efforts.
Hahn said she hoped to get a better handle on the damages to her farm after flying a drone over her fields to capture aerial imagery. "That'll at least give us a good idea of do we have 50 acres down or do we have 300 acres down," she said.
Meaghan Anderson, an Iowa State University Extension field agronomist in central Iowa, said damage was worse than she thought after inspecting a field in Boone County, where she estimated 30% of the field was pinched or broken off.
"The damage is really remarkable," she said. "Nearly every acre of corn is affected in some way or another."
Boone County Farm Bureau member Jeff Westrum said the corn laid down 25% to 70% of corn in his fields. He bought a corn reel attachment for his combine last week to help pick up some of the downed corn.
Too mature to recover
Damage to corn this close to harvest means there are minimal chances for plants to recover, said ISU Cropping Systems Specialist Mark Licht.
"Lodged corn will continue to fill the grain, but at a much lower rate. If it's broken off below the ear, that's going to dry up at the stage it's at now," he said.
With crops laying on the ground, reduced airflow in the crop canopy also heightens the potential of other problems like stalk rots or ear molds, Licht said. Depending on the extent of the damage, farmers will have to start making decisions on whether to attempt harvesting their corn for grain or chopping it for silage, he said.
A storage crisis
Handing and storing crops this fall will be another challenge after the storm crumpled hundreds of grain bins on individual farms as well as at cooperatives and other commercial grain locations.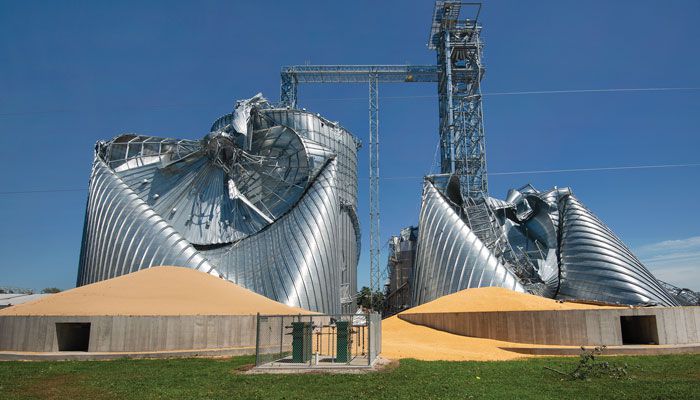 (Photo above: Grain bins at a farm co-op in Luther were destroyed by the derecho. The severe damage to on-farm and commercial grain bins could cause a storage crunch during the fall harvest. PHOTO / GARY FANDEL)
Heartland Co-op said it sustained serious damage at 21 of its locations in central and eastern Iowa. "Several locations are rendered inoperable, and we are making contingency plans for managing the fall harvest," the co-op said on its website.
Mid-Iowa Cooperative said it plans to start demolition and reconstruction this week at its Midway location, which sustained 80% damage. The site, located 10 miles north of Tama, had a storage capacity of nearly 4.8 million bushels.
Farmers who lost bins will likely have to look at temporary options such as converting buildings into grain storage or using grain bags, Naig said. "In six to eight weeks, you've got to go somewhere with that corn and those soybeans. That will create a challenge for the whole system because this is not an isolated incident," he said.
Want more news on this topic? Farm Bureau members may subscribe for a free email news service, featuring the farm and rural topics that interest them most!