Rowe's meat market adds value to Dallas Center farm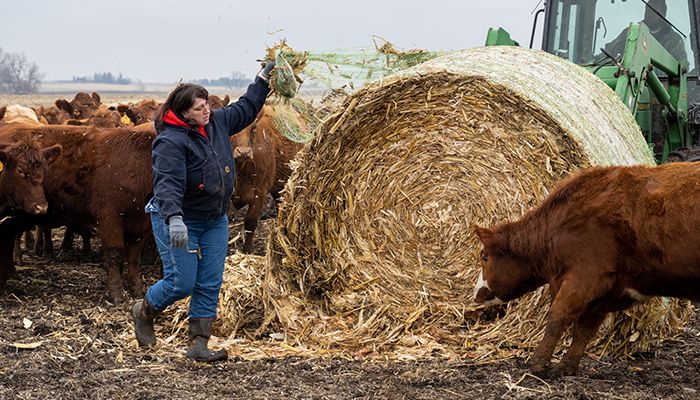 By the red barn, near the red milk house turned retail red meat shop, lives a herd of crossed Red Angus cattle — Rowe's Red Cows as they're lovingly known by the Rowe family of Dallas County.

Justin and Corinne Rowe started Rowe's Meat Market in 2021, as another revenue source for their farm, located just north of Dallas Center. From the old milk house on their farm, they sell a variety of beef and pork cuts, all sourced from their cattle and a small hog herd they also raise.

The idea to launch the meat market occurred to Justin early in 2020.

"I was thinking about ways to get more out of our cattle, something to add value to what we were already raising," he said.
Adding value

For years, the couple had privately sold freezer beef to friends and family, like a lot of cattlemen. Their main business is a cow-calf herd, selling cattle to be fed out elsewhere. But they always held back a few head for processing.

The Rowe family raise what they call their red cows, a crossed Red Angus.  Justin said he always liked the look of the Red Angus cattle, so when he started his own herd, separate from his dad's Black Angus, he stuck with red.

"It was an easy way to tell them apart," he joked.

During the early days of the pandemic, as supply chains broke down and meat sometimes became scarce on grocery store shelves, customers started looking to farmers and local vendors to fill their animal protein needs. Rowe's Meat Market blossomed out of that situation.


A lot of research
Starting early in 2020, the couple researched and built their meat business, working with the Iowa Department of Agriculture and Land Stewardship (IDALS) on labeling requirements, food safety rules and prepping for inspection.

The business opened its doors in May 2021, during Beef Month, and offers both home-raised beef and pork. They partnered with Milo Locker, located southeast of Des Moines, for processing and labeling.

They sell quarter, half and whole beef and pork, along with ground meats, cuts, snack sticks and four varieties of pork sausage.


A family effort
Justin's family has been in cattle in Dallas County since 1902. The fifth-generation cattleman married a dairy girl. Corinne's family raised dairy cows near DeWitt in eastern Iowa.

Justin and Corinne have two kids, Charlie, 12, and Anna, 9. Justin said Charlie is a lot of help around the farm and has a knack for mechanics and animal care.

"If he could skip seventh grade and just farm, I think he would in a heartbeat," Corinne said. "But his momma won't let him."

But school has also opened marketing opportunities for the business. Corinne said both kids have told their teachers and classmates about Rowe's Meat Market. She said more than once, teachers have stopped to buy meat, which is embarrassing for Charlie.
"I think he'd like to leave school at school," Corinne said.

They also promote their products on Facebook and Instagram, as well as flyers around the area.


Open to the public
The shop is located at 20525 Quinlan Ave. in Dallas Center. They are open for walk-in business each Saturday from 9 a.m. to 3 p.m.

In May, during Beef Month and in honor of the business' anniversary, the Rowes will hold an open house.

Corinne said this gives customers and the community a chance to see a working farm in action, learn more about where their protein comes from and show off Charlie's 4-H calves.

"We're always open to answer questions," she said.

For more information about Rowe's Meat Market, search Rowe's Red Cows on Facebook or Instagram.

Want more news on this topic? Farm Bureau members may subscribe for a free email news service, featuring the farm and rural topics that interest them most!