Rivers' historic lows creating barge traffic issues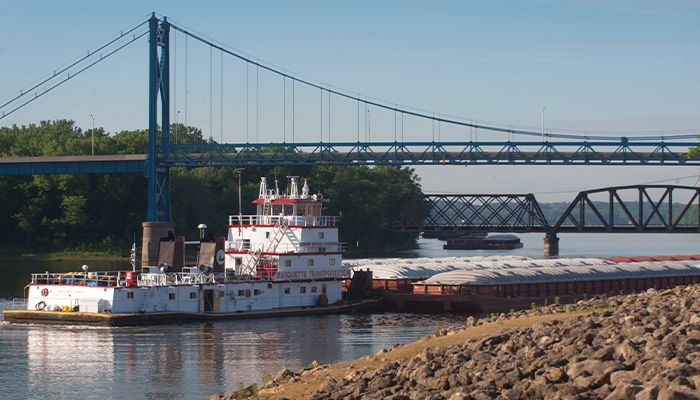 As Iowa farmers work to harvest the 2022 crop, ongoing drought in portions of the Midwest and West have brought Missouri and Mississippi River levels to historic lows, limiting the transport of crops and inputs in both directions.
Most of the movement issues are occurring downstream, especially in Louisiana where, according to Reuters, "around 100 tow boats hauling some 1,600 barges were lined up for miles waiting to pass through one trouble spot near Lake Providence, Louisiana, that has been largely closed since late last week."
In Iowa, and other areas of the Midwest, the inability to move grain downriver will likely mean lower prices for both corn and soybeans as the new crop comes in.
"I think we're likely to see some depressed prices because of this," said Chad Hart, Iowa State University associate professor of economics and Extension crop markets specialist. 
"This is a situation where you will have opposite effects depending on what side you're on," he continued. "Since we will have more supply staying here, that will likely cause lower prices. On the other hand, export markets will see less supplies available, which means higher prices for them."
Prices for November soybeans and December corn in southeast Iowa saw their basis slip last week. Corn was trading about 30 cents below the Chicago Board of Trade (CBOT) price, averaging $6.53 per bushel. Soybeans were more than 65 cents below CBOT, at $13.04 per bushel. By comparison, basis levels in northwest Iowa last week were 12 cents below CBOT for corn and 47 cents below for soybeans. 
Hart noted that though traffic is slowed and limited on the lower Mississippi, barges are still moving.
"Barges are still available to move products, just at a slower pace," he said.
News reports noted that shippers have been loading less cargo per barge so vessels sit higher on the water, and towing companies have reduced the number of barges per tow by nearly 40% as the low water conditions narrowed the navigable channel.
The low river levels are jeopardizing movement of U.S. grain exports. 
While there is still some movement along the waterways, the Wall Street Journal reported last week that, "gulf exporters have pulled offers for corn and soybeans loading in October and November as it is unclear if they can source enough grain."
In 2021, 42% of U.S. soybean exports to China from October to December left from the Gulf, Reuters noted. On an annual basis, it is estimated about 60% of all corn, soybean and wheat exports are shipped from U.S. Gulf Coast export terminals.
Movement of ag inputs up the river could also be a concern if dry conditions persist into the spring, Hart noted.
"We saw an impact on the fertilizer market last year because we couldn't move enough up the river in a timely manner," he said. "We could see the same thing happen going into next year."
Want more news on this topic? Farm Bureau members may subscribe for a free email news service, featuring the farm and rural topics that interest them most!