Rising rates, input costs challenge young farmers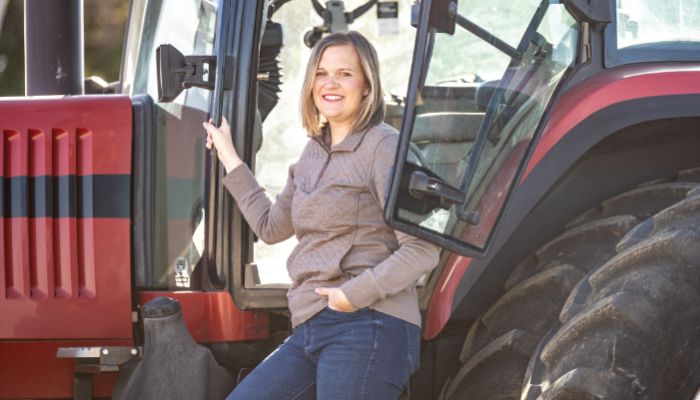 Rising costs are weighing on the minds of young farmers as they start to pencil out budgets for the upcoming year, according to Megan Hansen, chair of the Iowa Farm Bureau Young Farmer Advisory Committee. 
Hansen and her husband, Dan, grow corn and soybeans on their farm near Avoca and own Ag Decision Services, an ag consulting business that offers fertility management, seeding prescriptions and soil sampling.
"One thing we're thinking about now is what are interest rates going to do," she says. "Dan and I have regular conversations on how we can prepare for and manage these interest rates, and also fertilizer prices."
She notes that access to capital is another big obstacle facing young farmers. And then there's the issue of balancing family time with the demands of running their own business in addition to their farm. The Hansens have four children ranging from ages 3 months to 8 years old.
"Time can be a really constraining factor," Hansen ad­mits. "We're busy with football, we're getting kids to school, we have homework. We have all the things that we want to make sure we're doing to raise great kids, but also have the time for the farm and the business."
RETURN TO THE FARM
Despite their busy schedules, the Hansens have no regrets about returning to farm in southwest Iowa. Megan grew up on a farm near Minden, and Dan near Elk Horn. They both landed jobs with Pioneer in central Iowa after graduating from Iowa State University but felt pulled back to the farm, moving back to southwest Iowa in 2015.   
"I think raising our kids on the farm was always a long term goal, and over time that has become an opportunity that we've been able to pursue and enjoy," Hansen says. "Raising kids on the farm is something that we value, and we see the pride that comes from that." 
Hansen says her involvement in Farm Bureau began after attending the annual Iowa Farm Bureau Young Farmer Conference in 2011, a year after she graduated from college. 
"We enjoyed seeing friends from college at the conference, but also found value in the workshops that were there," she said. "It's a great time to catch up, but then also have the opportunity to learn more through workshops and speakers at the conference as well." 
She and Dan won the state Farm Bureau young farmer discussion meet in back-to-back years and represented Iowa at the American Farm Bureau competition, where Megan finished in the top four in 2015. 
Their involvement continued by serving on county Farm Bureau boards, and they were selected to the state Young Farmer Advisory Committee in 2020. 
In addition to making plans for the 2023 Young Farmer Conference, Hansen says the committee is working to provide local networking opportunities at district events for young farmers and others involved in agriculture.
"One thing that we've had some discussion around is making sure that we're encompassing not only individuals that are on the farm (as well as) individuals that don't have the opportunity to farm or aren't home on the farm yet … really broadening our horizon to everyone in the ag industry," she says.
SHARING THEIR STORY
It's also important for farmers to reach out beyond ag circles to explain to consumers how food is grown and raised, Hansen says. The grassroots policy aspects of Farm Bureau are also key to helping lawmakers understand how their decisions affect farmers.
"I always tell people, I'm a consumer too. I'm a mom. I'm the one that's doing our grocery shopping and oftentimes can have the same questions that any other consumer may have," Hansen says. 
"As fewer and fewer people are involved with production agriculture, we have to make sure we have a strong voice at the table because ultimately those conversations are not only driving what we're going to see at the grocery store, but they're going to be driving what's happening on our farms. So we just need to make sure we're having conversations, communicating what we're doing and why we're doing it."
Those conversations offer the opportunity for farmers to explain how they're using technology and adopting new innovations to become more efficient and improve their environmental sustainability, she notes. 
For example, the Hansens are using technology to write seed and fertilizer prescriptions down to the acre based on yield potential and soil samples on their own farm as well as for customers. 
They also use a biological product called Pivot Bio, which replaces a portion of the synthetic nitrogen needed to grow corn by taking nitrogen from the air. Biologicals derived from naturally occurring organisms are one of the fastest-growing segments in agricultural inputs. 
"Farmers are very innovative. That's something that I don't think is always communicated," Hansen says. 
"We are critical thinkers, and we're willing to try new things. We just need to share the things that we're doing on our farm to improve our environmental impact."
Want more news on this topic? Farm Bureau members may subscribe for a free email news service, featuring the farm and rural topics that interest them most!