Resident Deer Hunting Rule to be Finalized June 10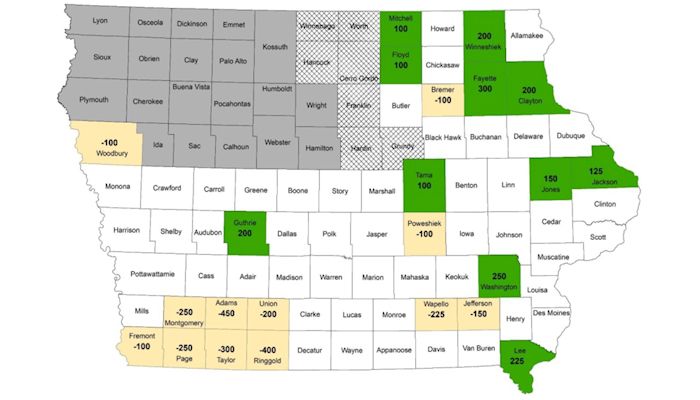 The Iowa DNR has proposed a 2020-21 resident deer hunting rule that reestablishes general deer licenses in seven counties, rescinds the January antlerless-deer-only season for all counties, and adjusts antlerless-deer license quotas in 23 counties with a net increase of 125 tags. The final proposal will be considered by the Natural Resource Commission at its June 10 meeting.
At the Iowa DNR NEC meeting March 17, commissioners approved a notice of intended action (pages 20-23) that reestablishes general deer hunting for all seasons once again in seven north-central counties (Cerro Gordo, Franklin, Grundy, Hardin, Hancock, Winnebago and Worth). It plans to allow an early muzzleloader season again in 20 northwest Iowa counties (Buena Vista, Calhoun, Cherokee, Clay, Dickinson, Emmet, Hamilton, Humboldt, Ida, Kossuth, Lyon, O'Brien, Osceola, Palo Alto, Pocahontas, Plymouth, Sac, Sioux, Webster and Wright). Deer populations have been steadily increasing in the northwest, allowing for these increased recreational opportunities, the DNR says.
Also, the DNR is proposing to rescind the January antlerless-deer-only season for all counties. Due to a widespread outbreak of Epizootic Hemorrhagic Disease (EHD) last summer in some 60 counties, particularly in central, south-central, southeast, and east-central Iowa, deer numbers and the harvest were down in the state. The total deer harvest last season was 93,964, a decrease of more than 12 percent compared with 107,857 the previous season.
A total of 23 counties are having their respective resident county antlerless-deer license quotas modified. Quotas are being increased in 11 counties (Clayton, Fayette, Floyd, Guthrie, Jackson, Jones, Lee, Mitchell, Tama, Washington, and Winneshiek) to reduce deer densities for disease control or to alleviate negative human-deer interactions, the DNR says, and quotas are being decreased in 12 counties (Adams, Bremer, Fremont, Jefferson, Montgomery, Page, Poweshiek, Ringgold, Taylor, Union, Wapello, and Woodbury) to stabilize a healthy local population. Statewide, the overall proposed county quota change is an increase of 125 antlerless tags.
A link to a DNR slide-set detailing the proposed rule changes and other deer population trends can be found here. (The last two slides have incorrect years, listed as "2019-2020," and should be "2020-2021.") Free landowner-tenant general deer licenses remain valid for taking deer of either sex only on eligible farm units in the season/seasons selected at the time the license is obtained.
A public comment on the proposal was held through April 28. Questions can be dirrcted to: Tyler Harms, Wildlife Biometrician, Iowa Department of Natural Resources, Wallace State Office Building, 502 East Ninth Street, Des Moines, Iowa 50319-0034; Tyler.Harms@dnr.iowa.gov.
Want more news on this topic? Farm Bureau members may subscribe for a free email news service, featuring the farm and rural topics that interest them most!