Research finds many benefits for farmers planting cover crops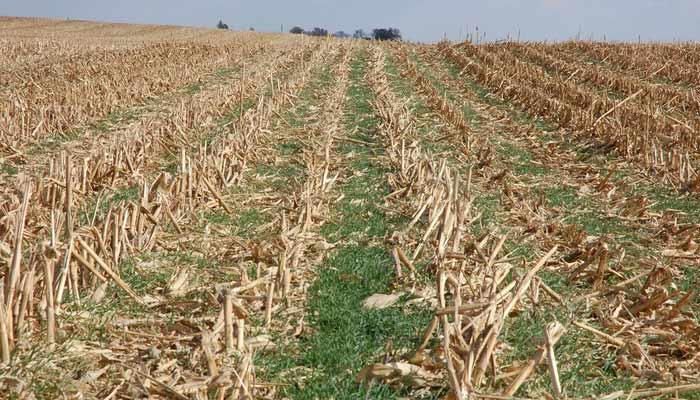 Iowa cover crop acres grew by approximately 32 percent to 623,700 acres, according to the newly-released Iowa Learning Farms 2016 Field Day Evaluation Report.
"Cover crops are a key practice in the Iowa Nutrient Reduction Strategy, a scientific and technology based approach to reducing the loss of nitrogen and phosphorus," said Elizabeth Juchems, events coordinator and educator, Iowa Learning Farms. "As a voluntary approach, cover crops are one of the few practices that help address both nitrogen and phosphorus and are a relatively easy entry point for farmers and landowners to help meet those goals."
Benefits of cover crops
The benefits can be grouped into two categories — short term and long term.
"The short-term benefits include reduced soil erosion, nutrient recycling and, for livestock producers, forage/grazing potential," said Juchems. "Longer term benefits include improved water quality and soil health, as well as increased water infiltration and soil organic matter."
Cover crops also help improve soil structure, which improves water infiltration, reducing water runoff while enabling the soil to allow excess water to drain down through the soil profile.
"This is important because roots need air, and so they will not grow in saturated soil conditions," said Mark Johnson, Iowa State Extension and Outreach field agronomist. "This becomes even more important during wet spells."
Cover crops also help improve available water holding capacity, which means that there is more water for the cash crop to obtain and use for growth and development. This becomes even more important during dry spells, Johnson said. Cover crops also enable cash crop roots to explore deeper into the soil to obtain water and nutrients. Below the top 8 to 12 inches, most of the roots are in worm or old root channels. Those channels make it possible for roots to penetrate to the deeper levels, he said.
In addition, cover crops reduce wind erosion, capture nitrate nitrogen and convert to organic nitrogen which does not leach to ground water, and help control winter annual weeds.
Overwintering cover crops, like cereal rye, take up free nitrate nitrogen as a nutrient for their growth, thus it becomes organic nitrogen.
When the cover crops are terminated, soil microbes decompose the plant material and convert the organic nitrogen to ammonium. Neither of these two forms are subject to leaching or denitrifying, thus are not lost. Microbes continue to work on these forms and they eventually end up as the nitrate form. The new cash crop utilizes both ammonium and nitrate nitrogen.
Iowa Learning Farms Highlights
To promote water quality and conservation, Iowa Learning Farms brings together farmers, landowners, agribusiness, researchers and state and federal agency partners for field days and workshops. 2016 was a record-setting year for the Iowa Learning Farms (and sister program Water Rocks!) with 248 total outreach events that reached 34,726 people. 2016 saw a 22 percent increase in number of events on top of two already record-breaking years in 2014 and 2015.
89 percent of field day/workshop attendees were farmers/operators and landowners.
Respondents who attended an Iowa Learning Farms field day in 2016 planted 38,258 acres of cover crops, 32 percent of which were new acres of cover crops.
Iowa Learning Farms continues to draw an audience that is both experienced with conservation practices as well as just starting to consider the idea. An estimated 38 percent of Iowa Learning Farms field day attendees have never planted cover crops and 50 percent reported no current acres in strip-till or no-till.
More respondents reported using prairie strips as a conservation practice than any other year – up from 9 percent in 2015 to 13 percent in 2016.
Farmers with six or more years of experience with cover crops reported significantly less concern over yield impacts and the knowledge required to implement conservation practices compared to farmers just getting started with cover crops.
Want more news on this topic? Farm Bureau members may subscribe for a free email news service, featuring the farm and rural topics that interest them most!