Remaking your community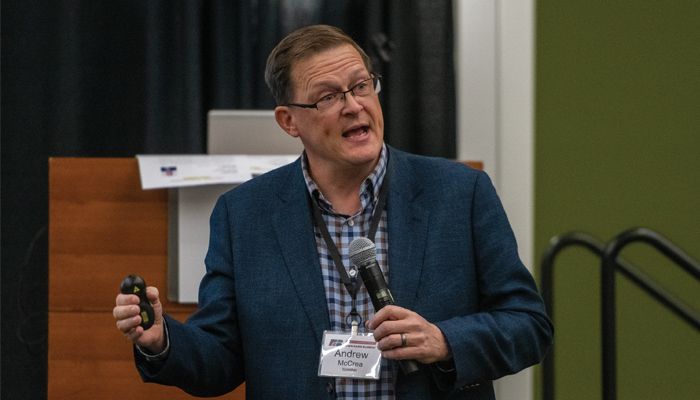 The ability to create vibrant rural communities — ones that can attract new residents, lure visitors and provide jobs — depends largely on the attitude of the town's residents, according to Andrew McCrea, a Missouri farmer, broadcaster and author who has studied successful small towns across America.
"It often comes down to a question of why or why not," McCrea said last month during an educational seminar at the Iowa Farm Bureau annual meeting in Des Moines. "And many times, it's folks like you and I banding with others and saying, here's something we can do. Here's a place we could start."
For his book, "Total Town Makeover," McCrea studied why some rural towns thrived and others withered. He found many rural towns and counties where the residents are resigned to their towns shrinking and believe they have no control over that. But there are other communities around the country whose residents have decided to take actions to revitalize their hometowns. 
What sets them apart 
"I wanted to know what sets them apart and what they are doing to make a difference," McCrea said. 
One key to building a successful small town, McCrea said, is finding something that makes your community unique. That could be a restaurant or stores that draw people from other towns. It could be an attraction, such as an interesting museum or group of local artists. Or it could be an oddity, such as a town in Illinois where a local resident built the world's largest wind chimes and other outsized items and displayed them around town.
"It could be something quirky and something that you totally dismiss, but I'm here to tell you that having that thing that makes us uniquely special," McCrea said. "What's painted on your water tower that really can drive a community to do some unique things."
When visitors start visiting these communities, restaurants, shops and other service businesses tend to spring up, McCrea said. "These things are small, just ripples, but in a small town they can make a big difference." 
McCrea cited several examples of towns that have been revived, and are now thriving, when locals took advantage of a unique characteristic. 
An artistic restroom
The town of Lucas, Kansas, had already begun to draw visitors to its grassroots artworks and shops, but needed a public restroom. Instead of a simple restroom, the town gathered funds and commissioned an unique outhouse that's also a work of art. The restroom itself, McCrea noted, is now drawing its own visitors.
Another example is Hamilton, Missouri, which was the birthplace of the J.C. Penney department store chain. It's now a center of quilting with a dozen or more shops that attract thousands of visitors each year to its Main Street shops.
Other communities have add­ed attractions, such as water parks, science centers and museums. 
Making a difference
Nearly all the success stories, he said, have a common thread: citizens who are interested in saving and building the community and are willing to invest their time to work on it. The successful communities have also worked to secure funding from individuals, business, foundations and others to help finance improvements, McCrea said.
Agriculture often plays a very important role in a town's revitalization, McCrea said. Farmers are often the leaders in the community and want to invest time, energy and funds to improve their communities.
In addition, he said, the people in the successful communities were willing to make the effort overcome the inevitable naysayers who point out everything wrong with the plan. 
"What I have found is that there is a separation between the communities that are asking why and those that are asking why not," McCrea said. "And, I think, we all want to create a place where we'd like live and work."
For more information on Total Town Makeover go to https://totaltownmakeover.com.
Want more news on this topic? Farm Bureau members may subscribe for a free email news service, featuring the farm and rural topics that interest them most!