Ramsey's Market, a grocery store unlike any other, earns Iowa Farm Bureau's Renew Rural Iowa Entrepreneur Award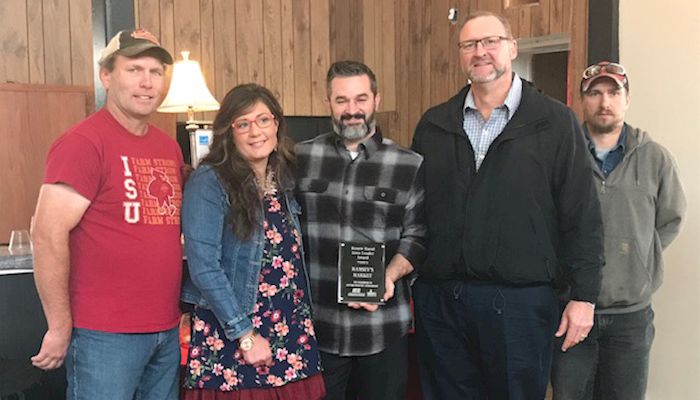 Family-Owned Grocery Store and Entertainment Spot Celebrated as Heart of the Community 
Ramsey's Market in Lenox offers traditional grocery store staples including a deli counter, fresh produce selection, and a bakery, but local residents know this grocery store and the shopping experience are unlike any other, because they also offer exciting musical entertainment throughout the store.  The unique shopping experience and the store's impact on the community have earned Bonnie and Theo Ramsey the Iowa Farm Bureau Renew Rural Iowa Entrepreneur Award. 
The Ramseys were nominated by Bruce Hanson, vice president of Business Development for the Iowa Area Development Group, who says, "Theo and Bonnie are just so entrepreneurial.  Looking at everything they've done with the grocery store and the rehab of the building next door to expand into an event center and multi-purpose venue is so unique for a rural community.  It's a major asset and very exciting for Lenox and the region."
"In a town of 1,400, a grocery story is key to keeping a community thriving," says Michelle Tollberg, executive director of the Lenox Chamber of Commerce.  "The Ramseys have done fantastic work for the store and the community as a whole, and their expansion plans will only help grow the community and present more opportunities."  Other community members share the appreciation for a full-service, rural grocery store that goes above and beyond the bare basics. 
It's been a winding path back home to Iowa for Bonnie who grew up on a Taylor County family farm and joined the United States Air Force (USAF), earned a marketing degree, and performed as a female vocalist in the USAF, where she met her husband, Theo, who is also a musician and is from the Seattle, Washington, area.   
Through their travels, the Ramseys found a unique appreciation for grocery stores while touring across the country.  When a family-owned grocery store with roots dating back 100 years became available near Bonnie's hometown, the couple jumped at the opportunity to return home and start their unique business in Lenox.    
While the Ramseys studied retail marketing and the grocery store business, the main component of their store is entertainment.  On any given day, Bonnie says shoppers may see a musician on the stage, located right inside the front door, singing and playing a guitar.  Shoppers will even hear the staff singing out songs behind the deli counter while slicing meat. 
"I've been in communities that have lost their grocery store or convenience store, and it forces rural residents to drive 20 or 30 miles just for a gallon of milk, and even farther for other grocery items," says Taylor County Farm Bureau President Gary Rankin.  "There's no doubt, Ramsey's Market is a vital part of the Lenox community; it's the only grocery store we have.  They've increased their selection and offerings to appeal to our growing and changing population, and they are a great asset for the whole community." 
Bonnie explains how their mission is to provide a unique experience to customers that gives a wonderful, warm feeling right when they walk in the door and while they shop at Ramsey's Market.  To the Ramseys, the market is about more than just groceries.  With expansion plans underway, Ramsey's Market is bound to be a major asset for the community looking ahead. 
The Ramseys are often asked why they started such a unique store in Lenox, Iowa, of all places, and Bonnie's response is always the same.  "I'm an Iowa girl through-and-through," Bonnie says.  "I've traveled all over this beautiful country from sea to sea, and it's all beautiful, but there is no place like Iowa.  The people in Iowa are wonderful, and I wanted to plant my roots here and raise my family in Iowa and find a way to give back to the community that gave so much to me."
RRI is an Iowa Farm Bureau Federation (IFBF) initiative supporting new and existing businesses through education, mentoring, and financial resources.  Since its inception, RRI has helped create $125M in economic impact for rural communities. 
For more information about RRI and the next RRI Business Success Seminar, "The Journey to Your Vision," and the RRI Pathways, a searchable technology that connects entrepreneurs with resources, go to http://programs.iowafarmbureau.com/RRI/.                                                                
Want more news on this topic? Farm Bureau members may subscribe for a free email news service, featuring the farm and rural topics that interest them most!