Raising their own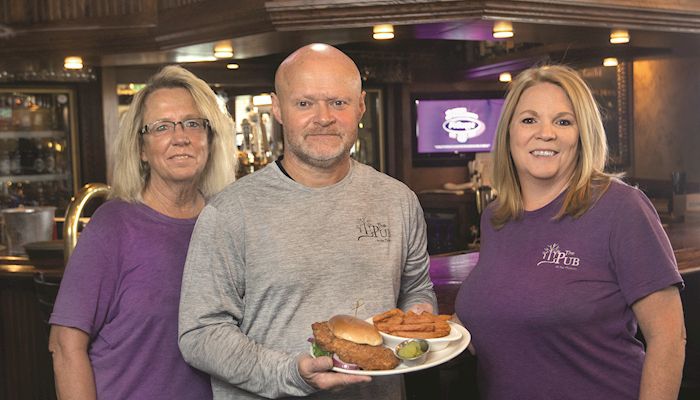 One thing Iowans know, if you want to make a good pork tenderloin sandwich, you better start with good meat.
At The Pub at the Pinicon in New Hampton, winners of the 2019 Best Breaded Pork Tenderloin in Iowa contest, they know their pork quality is high because they raised it themselves.
Restaurant co-owners Dale and Laura Reicks and Phil Zwanziger serve loins and chops raised by Dale's company, Reicks View Farms in Chickasaw County and processed by Tyson in Waterloo.
According to Dale, one of the secrets to the quality of pork served at The Pub is the infusion of a distinct flavor profile. This process is exclusive to pork from Reicks View Farms Quality Meats. This pork is used in the restaurant's boneless chops and tenderloins.
Dale and Laura Reicks, Chickasaw County Farm Bureau members, have been farming together since 1979. They started out with 240 acres of corn along with 200 sows and built the herd and their acres slowly from there.
It wasn't until the 1990s that things really started taking off for the entrepreneurial couple.
Today, the Reicks View Farms family raises approximately 1.5 million market hogs annually, contracts with more than 100 finishing barns, many built by the Reicks' own construction company, all in northeast Iowa. They employ about 325 people across the businesses and grow row crops on more than 10,000 acres.
Supporting community
The family prides itself on helping support the whole region, said Brady, Dale and Laura's son.
"A lot of what we do is aimed at keeping opportunities available in rural Iowa, especially for young people," Brady said. "We build our own barns, hire local contractors for that, and work with local farmers to raise our hogs."
Brady is the sixth generation of his family to be in hog farming. He is now a co-owner in the Reicks View Farms business and manages a lot of the day-to-day operations on the farm, after returning to the operation in 2014. His sister, Kaylie, also works on the farm, managing human resources and marketing.
"We really love being able to provide good paying jobs here in the place we live," Brady said.
They also focus on environmental and ecological stewardship. Brady pointed out that by growing corn and raising hogs themselves, they're able to create a self-sustained ecosystem. They fertilize their fields with manure from their own barns, and raise the corn to feed the hogs.
"The natural resources in this part of the world are geared toward hog farming," he said. "Anywhere you can raise high quality corn, you can raise hogs."
Launching the pub
The Pub is a relatively new addition to the Reicks business portfolio. They bought and remodeled the restaurant in 2008.
The facility also includes an event center that can accommodate more than 300 people. It serves as a meeting spot in a rural community lacking large gathering spaces.
According to co-owner and facility manager Zwanziger, they often welcome wedding receptions, business meetings, large family gatherings and community events. "I think we are of value to the area," Zwanziger said. "People can come out here, eat a nice meal without driving a great distance. We're helping the local economy, supporting it, with this space and the restaurant."
Quality meats
The pork loins, offered breaded or grilled, are cut to half a pound each.
The boneless pork chops, which also come from the Reicks View Farms pork, are cut an inch and a quarter thick.
"The chops are our best seller," Zwanziger said, "but the loins have been catching up lately."
One day last week, in one room at the restaurant, of the 12 people enjoying lunch, nine ordered the breaded tenderloin.
Since the award was announced at the start of October, the sandwich has become so popular that the wait staff starts off taking orders by asking if the customer wants the tenderloin or something else.
"Being recognized is a pretty great honor," Zwanziger said. "When you're in Iowa, we're all about pork here, so you better do it right."
Want more news on this topic? Farm Bureau members may subscribe for a free email news service, featuring the farm and rural topics that interest them most!