Promoting conservation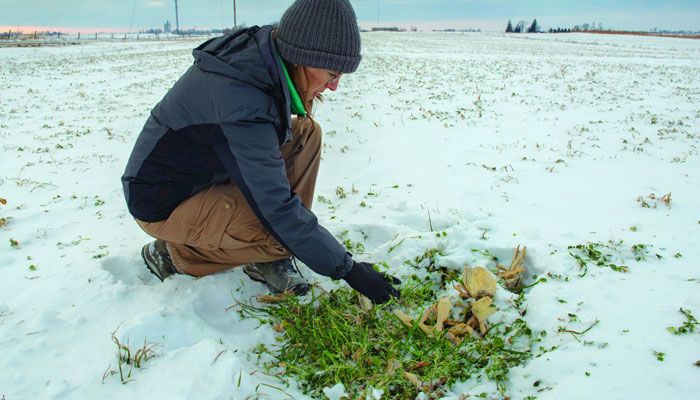 Heartland Co-op has launched a conservation agronomy service to advise and assist growers who want to plant cover crops or adopt other conservation practices that can improve soil health, reduce soil erosion and improve water quality.
The West Des Moines-based co-op which operates in more than 70 locations around Iowa, Nebraska and Texas used a grant from Iowa Soybean Association (ISA) to establish the conservation program and has hired two conservation agronomists, Michael Fritch and Ruth McCabe. The ISA grant is part of the group's work to advance conservation adoption on farms.
The co-op's conservation agronomists are focusing their efforts in two priority watersheds, the North Raccoon in central Iowa and the Middle Cedar in the east. But they are also working with growers and with the co-op's sales agronomists throughout Heartland's trade area, said Thomas Fawcett, Heartland's director of environmental resources and precision agriculture.
In addition, Fritch and McCabe are helping farmers sort through several federal, state and private conservation funding programs available to help offset the cost of implementing conservation practices.
"The new program has been working well for us because we have relationships with the wide spectrum of farmers and landowners," Fawcett said. "We can offer full-service conservation packages to help growers get everything that they need to plant cover crops or adopt other conservation practices."
Promoting conservation
Heartland's conservation agronomy program is part of a wider effort by Iowa co-ops and other farm suppliers to promote conservation practices among their clients, said Harry Ahrenholtz, chairman of Agriculture's Clean Water Alliance (ACWA). A coalition of Iowa ag retailers that includes Heartland Co-op, ACWA has a more than 20-year history of working to build adoption of conservation practices and improve water quality.
As part of its Farm to River Partnership, a nearly $3 million water quality initiative started in 2018, ACWA established a conservation agronomist position to work with farmers, cooperatives and other farm suppliers in the critical North Raccoon watershed.
ACWA is now working to expand the program and build its roster of conservation agronomists, Ahrenholtz said. "It's all part of our effort to promote as much conservation work as we possibly can here in Iowa," he said.
Heartland's conservation agronomy program has the same goal, Fawcett said. The co-op wants to spread the adoption of conservation practices beyond the group of early adopters to a much wider group of farmers, he said.
Plenty of interest
Both McCabe and Fritch say there's plenty of interest in adopting conservation practices among farmers. "Since I started in late August, I've been keeping pretty busy talking with farmers about planting cover crops and installing edge-of-field practices, like saturated buffers and bioreactors," said Fritch, who focuses on the North Raccoon River watershed.
McCabe, who concentrates her work in the Middle Cedar watershed, said that working for a leading co-op, like Heartland, helps assure growers who have questions and concerns about planting cover crops or implementing other conservation practices.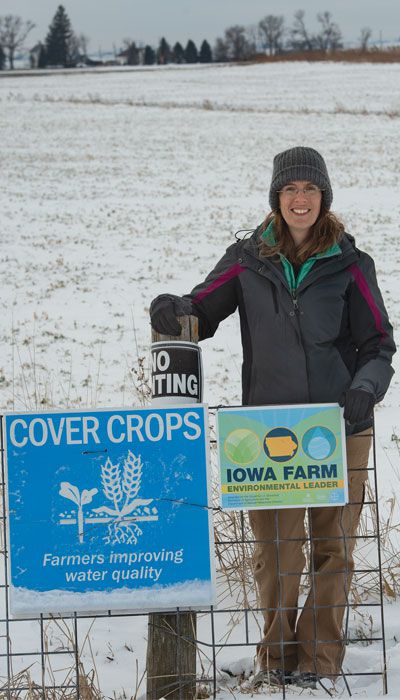 (Photo above: Ruth McCabe, a conservation agronomist for Heartland Co-op, stands near a snowy central Iowa field planted to cover crops. PHOTO/GARY FANDEL)
Building trust
"Because I'm a Heartland employee, I think it helps to build trust with both growers and with sales agronomists about conservation practices," she said. "It also helps to have someone they know is dedicated to conservation."
Most farmers, McCabe said, have some very specific questions such as whether cover crops could hurt yields or if edge-of-field practices could affect drainage. "We are able to explain the agronomics and management and help them through the funding process," she said.
Fritch, who until recently farmed with his father near Mitchellville in central Iowa, also has the advantage of experience of growing cover crops and implementing other conservation practices on his own acres. "I think that growers feel comfortable working with someone who has already tried these practices," he said.
As well as interest from farmers, the conservation agronomists are also in high demand from among Heartland's sales agronomists. "They have been incredibly enthusiastic about having a conservation agronomist on board," McCabe said. "They all seem to have five farmers who have questions on conservation."
Establishing the conservation agronomy program using a grant from the Iowa Soybean Association is Heartland's first step to building a self-sustaining conservation program, Fawcett said. The co-op's overall goal is to establish a conservation agronomy program which can serve as an industry standard for ag retailers in Iowa and around the country, he said.
"That's really how we'll be able to increase the adoption of conservation among a wide range of growers in the state, Fawcett said."
Want more news on this topic? Farm Bureau members may subscribe for a free email news service, featuring the farm and rural topics that interest them most!