Pork's economic power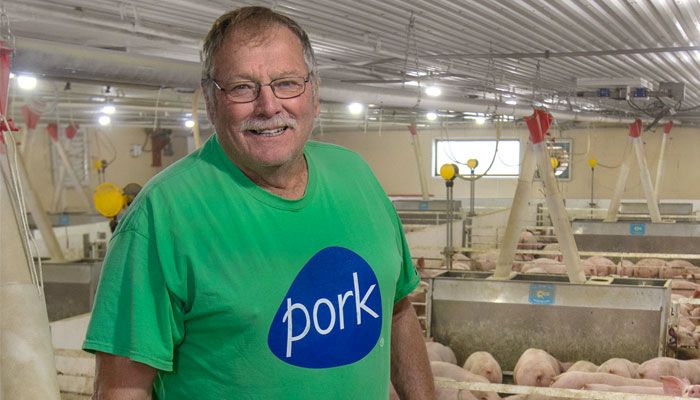 Iowa's pork production sector continues to be a vital part of the state's ag economy, so much so that it now ranks only behind corn production as Iowa's most valuable commodity.
According to Iowa's 2018 gross domestic product results by business type from the U.S. Bureau of Economic Analysis (BEA), pork production was valued at $7.6 billion, compared to $8 billion generated through corn harvest and processing.
In May, the Iowa Pork Producers Association (IPPA) released its every-other-year deep dive into pork's impact on the state. Like the results shown in BEA's report, it showed the broad positive impact the pork industry has on the state and also looked at the impacts on a county-by-county level.
Statewide, the study found the pork industry produced more than $40 billion in sales activity in 2019, including al­most $14 billion from production, more than $22 billion from slaughter and about
$5 billion through processing.
Pork production also accounted for almost 150,000 jobs in the state last year. Anyway you cut it, pork really brings home the bacon for a lot of people and a lot of businesses in Iowa.

Safe and nutritious
Bill Tentinger has been farming in Plymouth County for more than 50 years, and for much of that time, he's had hogs on his farm.
"I've seen a lot of change with the industry over the years," he said last week. "I guess for starters, back when I started, it wasn't really an industry. You either had hogs on your farm, or you didn't."
He noted pork production has become a lot more professional in recent decades, with farmers taking responsibility for properly caring for the animals and producing extremely safe, nutritious products.
Plymouth County is one of the top five pork producing counties in Iowa, along with Washington, Sioux, Lyon and Hamilton. According to the IPPA study, Plymouth is home to 180 hog farmers and over 1 million hogs.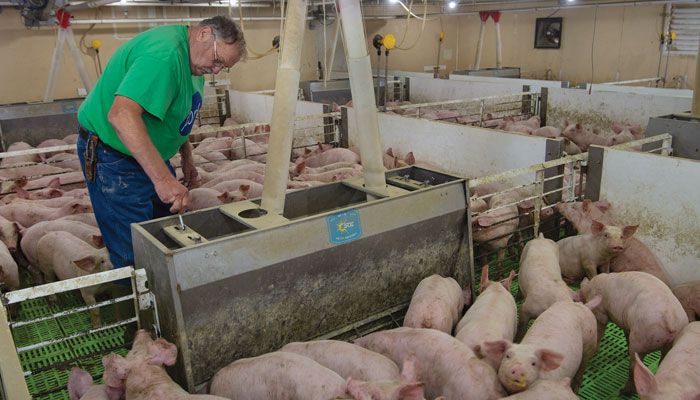 (Photo above: Bill Tentinger checks a feeder in his Plymouth County hog barn. Pig farming in Plymouth County, one of the top five pork producing counties in the state, annually produces $415 million in sales and supports 1,550 jobs. PHOTO / GARY FANDEL)
Creating Jobs
Pork production provides more than 1,550 jobs to county residents and produces almost $415 million in sales, annually.
For his part, Tentinger works with about a dozen contract growers in the region, raising an estimated 50,000 head annually.
In addition to providing income to the family farms he contracts with, Tentinger also works with a variety of local businesses that benefit from his farming activities, including veterinarians, an­­imal transport and the Gengler Feedmill in Remsen.
Gengler co-owner Todd Ten­tinger (a distant relation to Bill), has seen his business grow over the last 15 years, going from just five employees in the early 2000s to 12 full-time staff today. Five years ago, when Todd, and his partner, Dale Schroeder, bought the business, they also built a new mill in Remsen and significantly upped their daily output of feed.
"We grind about 400 tons of corn a day. That revenue plus our staff really impacts the town," Todd said. "This business has been very good to us. And we bend over backwards to help the farmers out."
The IPPA estimates in Plymouth County, feed for hogs creates demand for an average of 112,000 acres of corn and 82,000 acres of soybeans.
To produce the animal feed, Gengler works closely with local farmers for corn and soybeans, area ethanol plants for distiller's grains and feed companies like Kent and Purina for vitamin additives and supplements.
Gengler sells exclusively to independent producers, like Bill, which has helped them develop a loyal customer base over the years.
"This summer was a struggle, for sure," Todd said. "We lowered rates as much as we could to help guys push through the (packing) plant closures."
He said loyalty goes both ways, explaining that Gengler has a responsibility to help out its customers and, in turn, those customers keep coming back to them for their feed needs.
"You treat them right, they'll treat you right," Todd said.
Want more news on this topic? Farm Bureau members may subscribe for a free email news service, featuring the farm and rural topics that interest them most!