Polk Co. farmer doubles up to improve water quality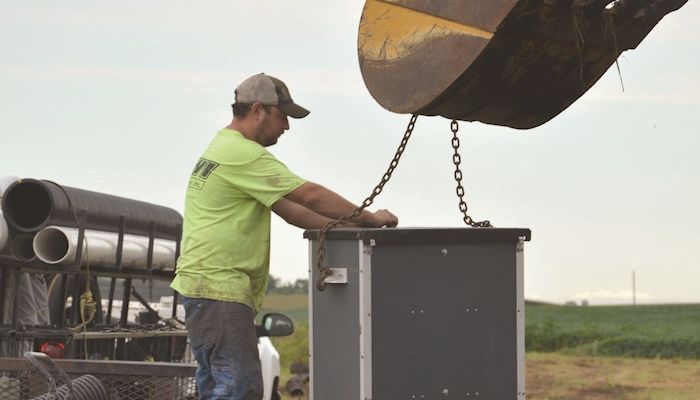 Polk County farmer Kurt Lehman, collaborating with others in the central Iowa research and conservation community, made a big investment in water quality last week. He had contractors install a bioreactor and a saturated buffer side-by-side on one of his fields north of Ankeny.
"I think these technologies really show a lot of promise in improving water quality while still allowing us to farm," said Lehman, a Polk County Farm Bureau member. "So I'm ex­­cited to have them installed."
Now that they are installed and operating, both the bioreactor and saturated buffer strip are removing nitrates from the water flowing through tile lines on Lehman's land, said Amanda Brown, project coordinator for the water quality initiative at the Polk County Soil and Water Conservation District. That will help reduce the nitrates that reach the nearby Four Mile Creek, she said.
In the project, Lehman is collaborating with the U.S. De­­part­­ment of Agriculture's Nat­ural Resources Conservation Serv­ice (NRCS), the Iowa De­­partment of Agriculture and Land Stewardship, Iowa State University (ISU), the Four Mile Creek Watershed project and the Iowa Soybean Association.
By installing the two water quality improvement structures side-by-side and at the same time, researchers at ISU and other entities will be able to compare their effectiveness in different conditions, Brown said. The two structures were installed on different tile lines, but they drain essentially the same amount of land, so they will provide a good research tool, she said.
Both bioreactors and saturated buffers have proven to significantly reduce nitrate levels in tile drainage, but they accomplish the removal differently.
A bioreactor is es­­sentially a buried trench that is typically filled with wood chips. As water from a tile line flows through the trench, the microorganisms that use wood chips as a food source break down nitrates and expel them as a gas into the atmosphere.
Each bioreactor is constructed to meet the needs of the drainage area, said Jason Foss of the NRCS office in Ankeny. On Lehman's farm, the bioreactor, installed by Earth Works Inc. of Sully, will be 80 feet long and 20 feet wide, he said.
A saturated buffer enhances the work of an existing buffer strip.
To create the saturated buffer, contractors rerouted one of Lehman's tile lines so a portion of the water flows from the tile line the through the buffer strip, instead of directly into a drainage ditch.
Intercepting nitrates
Research has shown that by intercepting a portion of the water flow, a saturated buffer can significantly reduce nitrate levels that reach drainage ditches and streams.
Lehman is especially excited about the saturated buffer. "I really like the concept of it. It requires zero maintenance, and it's going to enhance the prairie grasses and wildlife, which I really enjoy having here," he said.
Brown said Lehman should be commended for making the investment in the two structures to improve water quality.
"It's all voluntary on his part, and really there are no in-field benefits for him from higher yields or anything," she said. "But like most farmers, Kurt wants to do his part to improve water quality and help the environment."
Want more news on this topic? Farm Bureau members may subscribe for a free email news service, featuring the farm and rural topics that interest them most!