Playing the long game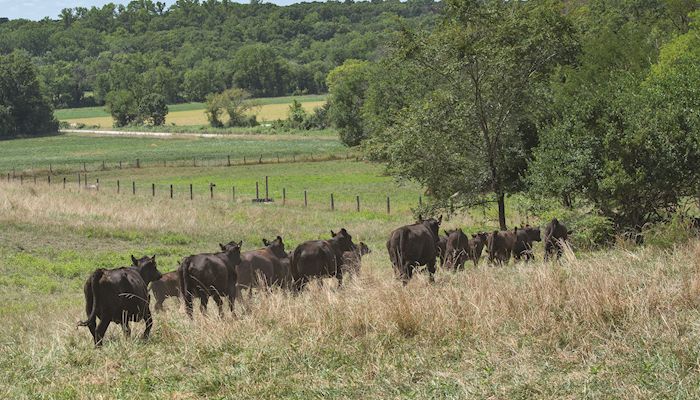 Farmers are about the long game. Responsible agriculture takes time, from tending crops and caring for livestock to growing trees and vines.
Farming doesn't come easy, but we love the land and want to pass that legacy on to the next generation. And thanks to modern farming practices and in­­novative technologies, our future is greener and brighter.
Tremendous results
As farmers, we don't get caught up in what's trending, but we are committed to doing what's right and best for our families, our land and our animals. That commitment has yielded tremendous results.
I hear the phrase "climate-smart" farming used a lot these days as stakeholders gather to talk about what's next for keeping agriculture sustainable. I'd wager that most of us back home just call it "smart farming." We do what's good for the land, our resources, our families, our communities and our businesses, and we are eager to adopt new tools and practices that help us do that even better.
We have learned and im­­proved. Today, American farmers are growing more with less, thanks to smarter farm equipment and better seeds. In the last 70 years, our farms have nearly tripled production while the amount of resources used, such as land, energy and fertilizer, have remained steady. Not many industries can boast those kinds of results. In fact, when you stack us up against other U.S. industries, agriculture is responsible for just 9% of greenhouse gas (GHG) emissions.
My cows get a lot of undeserved celebrity for their environmental impact, but the general public has overestimated that impact and ignored animal agriculture's important role in the ecosystem.

Altogether, U.S. cows have been responsible for less than 3% of greenhouse gas emissions in the last 30 years. What's more, cows and other livestock play a key role in the green cycle. They make food out of plants that are unsuitable to those of us with just one stomach, and they graze lands that can be preserved from commercial development. Their added feed is grown on cropland that absorbs carbon and keeps it there.
Renewable energy
Not only is U.S. agriculture low in emissions, but farmers and ranchers are also taking active steps to make our footprint even smaller. We're producing and using renewable energy, and even turning waste into energy through methane digesters. Thanks to home-grown fuel like ethanol and biodiesel, in 2018, the U.S. reduced GHG emissions to the equivalent of taking 17 million cars off the road.
Our country and our world can't have a sustainable environment without farmland. Carbon is life for plants, and America's farms and ranches are essential to a healthy, balanced climate. Today, more than 140 million acres of U.S. farmland are being used for conservation efforts and wildlife habitats — that's equal to the states of California and New York combined.
But for U.S. agriculture to continue to lead the way in sustainability, our nation must prioritize investments in ag research and innovation. As I look back at how far we have come in the last several decades, I am proud of what we have accomplished together and excited for what's next. Let's share our great story, and let's keep innovating to give our children an even better story to share in the next 30 years.
Duvall is president of the American Farm Bureau Federation.
Want more news on this topic? Farm Bureau members may subscribe for a free email news service, featuring the farm and rural topics that interest them most!