Planting the seeds of conservation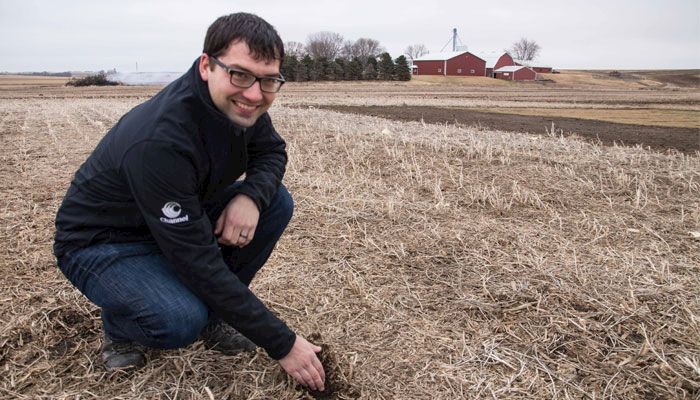 Even though Craig Moss knows there are a lot of great reasons to plant cover crops, he understands the challenges of trying something new, especially when profit margins are tight. 
"Growing cover crops is a paradigm shift," said Moss, who plants rye after harvesting corn silage on his Hull-area farm, which includes corn, soybeans, cattle and hogs. "It's easy to stay the same and just keep doing what you've always done." 
Moss appreciates the cover crop advice he gets from Micah and Josh Rensink, who own Pivotal Seeds and Farm Services near Sioux Center. "They're a great resource," said Moss, who serves on the board of the Iowa Cattlemen's Association. "They try a lot of different things on their own acres and know what works." 
This practical approach reflects the Rensink brothers' background as farmers, agribusiness professionals and conservationists. "An older agronomist once told me that you never make a mistake; you just conduct agronomic trials," said Micah Rensink, 28, a fifth-generation farmer and Sioux County Farm Bureau board member. 
One-stop solutions
A love of the land grew from Rensink's childhood experiences on his family's farm east of Sioux Center. His memories include playing in a creek that flows into the west branch of the Floyd River. 
"I'd wade in that creek and build bridges from old fence posts. Farmers have made huge strides in conservation since then, because the creek water doesn't look like chocolate milk like it did when I played in it." 
Rensink attributes this to more no-till and cover crops that help hold soil in place. "We don't do any fall tillage," added Rensink, who noted that his father, Mark, switched to spring tillage in the early 2000s and went to no-till soybeans in recent years.  
After graduating with an ag business degree from South Dakota State University in 2014, Rensink began his career with Pioneer Hi-Bred, where he participated in the company's Emerging Leaders program. 
A pivotal moment came, however, when he received an emergency phone call in the fall of 2016. His father had broken his neck when a driver rear-ended his pickup at an intersection near the family's farm. 
"My brother and I had always planned on coming back to the farm, but Dad's accident put everything on fast forward," said Rensink, whose brother was in Yankton, South Dakota, working as a grain merchandiser at the time. 
By the spring of 2017, the Rensink brothers weren't only managing the family's 550-acre corn and soybean farm, but they launched Pivotal Seeds and Farm Services, which specializes in cover crops and includes a Channel seed dealership. 
A holistic approach
The company offers one-stop service for farmers across Iowa and beyond. They share advice on which cover crops work well for each client's unique needs, in addition to providing the seed and offering planting services, whether clients want the seed drilled, applied with a broadcast spreader or flown on with an airplane. 
Rensink also encourages clients to learn more about cover crops and conservation by following his company's Facebook page, following the "Everything Cover Crops" Facebook group and gleaning information from Iowa Learning Farms and Practical Farmers of Iowa. 
Start small then add
"Start small," Rensink said. "Try one new thing on at least 20 acres, see how it works and then add more." 
Taking a holistic approach and focusing on continuous improvement can help farmers control soil erosion, improve soil health and protect water quality to benefit people today and future generations, Rensink said. "My wife, Heather, and I are expecting our first baby in June. I want to help our kids develop the same love for the land that we share." 
Maulsby is a freelance writer in Lake City.
Want more news on this topic? Farm Bureau members may subscribe for a free email news service, featuring the farm and rural topics that interest them most!