Pitching in to create monarch habitat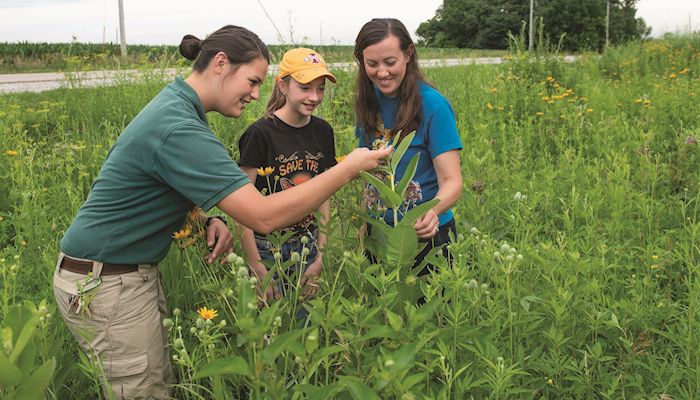 Twelve-year-old Halle Heyer has long admired monarch butterflies. So when the Boone County 4-H member heard the monarch butterfly population was diminishing, she wanted to do something about it. She's turned that into a volunteer project that is raising money to provide and distribute seed to create butterfly habitats across the state.
She was at a meeting where Chuck Gipp, former director of the Iowa Department of Natural Resources, explained that the monarch butterfly could end up on the endangered species list.
"I was really sad because I love to see the butterflies in my yard and at Reiman Gardens and stuff. So I wanted to do something about it," Heyer said.
Working in the community
She approached businesses and individuals in her county, explained her project and gave a presentation about the importance of the monarch butterfly. She gathered $600 from those businesses and individuals, and her local Pheasants Forever donated $1,000 in seed for her pollinator project.
She then worked with Matt O'Connor, a habitat team coordinator with the Iowa DNR, to find a pollinator seed mix that would work best in the Iowa landscape. The 28-pound bag of seed mix was divided up into several sizes for distribution: smaller bags of seeds meant for flower gardens and homes and larger allotments set aside for parks and projects.
Now, she's been distributing those seeds through Iowa State University (ISU) Extension and Outreach offices throughout the state.
Seeding at a park
She's working with Katie Healy, a conservationist with Boone County Conservation who plans to seed 2 acres of the pollinator mix at Don Williams Lake, where the family likes to camp and photograph wildlife.
"We've got a lot of bluegrass mowed turf areas up here at Don Williams (Lake) that we'll go ahead and convert back to prairie," Healy said. "This seed is awesome for that because there's not a single seed in (this mix) that isn't native."
They're still mapping out the areas where they'll plant the seed, but hope to plant them in September, which Healy says is the best time.
"Seeds generally need to have a stratification period where they get frozen or cooled off. Better to plant in the fall before you get hard, heavy snow or ground cover, and then in the spring, they'll thaw, and the outside seed covering will break open," she said.
Planting at ledges
Heyer is also working with Ledges State Park to plant smaller pollinator habitats there. She's excited about the projects and hopes to help grow the monarch population.
"I've loved monarchs and butterflies since I was little," she said. "It's sad to see them dying down, because everyone knows about the monarch butterfly. But if nobody does something about it, then nobody's going to be able to see them as much."
Follow Heyer's butterfly project on her Facebook page: My Iowa Coalition Save the Monarchs.
Want more news on this topic? Farm Bureau members may subscribe for a free email news service, featuring the farm and rural topics that interest them most!