Pitching in for conservation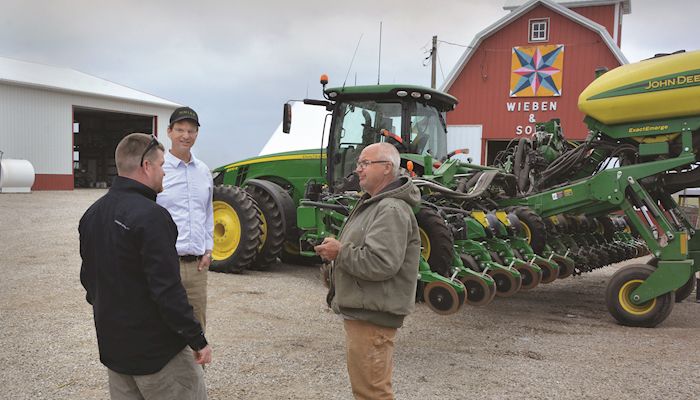 As Iowa farmers take on the challenge of improving water quality and reducing soil loss, they can count on assistance from a range of experts, including researchers at Iowa State University, conservationists at government agencies and representatives from ag retailers.
Also pitching into the state's conservation effort are several private agronomy advisors, including North Iowa Agronomy Partners (NIAP). The private agronomy service, based in Janesville just north of Cedar Falls, helps farmers develop and implement conservation plans in the Middle and Upper Cedar River watersheds, as well as other areas of east central Iowa.
"We work directly with farmers to help them look at all of their options on inputs and how to minimize nutrient loss," said Jason Gomes, founder of the private agronomy service. "Because we work so closely with farmers and know their operations, we are able to find the conservation practices and government conservation programs that fit the best for them."
Gomes, along with his associates Jeremy Sills and Bailey Klein, provide one-on-one assistance to help farmers develop and implement agronomic and conservation plans. All three are certified crop advisors (CCAs) and technical services providers for the U.S. Department of Agriculture's Natural Resources Conservation Service (NRCS).
Spurring interest
That assistance, Gomes said, helps spur more interest in conservation practices and more implementation in priority watersheds, such as the Middle and Upper Cedar. "We try to bring the hands-on help that results in a lot more conservation to the countryside."
A portion of NIAP's work has been funded through an agreement with the Iowa Department of Agriculture and Land Stewardship (IDALS). The effort was in support of a $47 million Regional Conservation Partnership program that is funded by NRCS and is administered by IDALS and the Iowa Agricultural Water Alliance.
The agreement, announced in the fall of 2017, was designed to leverage private partners to help scale up the state's water quality efforts by working in cooperation with conservationists at local NRCS and Soil and Water Conservation District offices. The private agronomists reach out to farmers, help them develop conservation plans and help get the plans through the process to approval. Farmers can access this assistance free of charge.
Since the project started in 2017, NIAP has completed more than 105 conservation plans covering over 27,000 acres in the Middle and Upper Cedar watersheds, said Matt Lechtenberg, water quality coordinator for IDALS. Many of these plans have helped farmers install practices like nutrient management, cover crops, no-till or strip-till, as well as edge-of-field practices like bioreactors and saturated buffers, he said.
In addition, NIAP has also worked with farmers to develop several wetland projects, Lechtenberg said.
Navigating paperwork
Mitch Wieben, who raises seed corn and row crops near Clutier, said Gomes and his associates have been very helpful at finding the right government conservation programs and navigating the paperwork required to enroll.
"They really do a great job for us," said Wieben, a Tama County Farm Bureau member. "It really helps to have someone looking out to make sure you are doing all the right things to comply with the conservation programs, especially when you have so much else going on."
Ross Monroe, who farms near Dysart, agrees that working with consultants, like those at NIAP, helps keep conservation plans on track. "It's hard to keep up with all of conservation paperwork with everything else you've got going on," he said. "So it's good to have somebody else who is keeping an eye on it for you."
Conservation success
NIAP's goal, Gomes added, is helping farmers do well and succeed at their conservation practices. "That's what we all are really after, getting more of these practices on the ground and working."
Along with conservation planning, NIAP offers a wide range of services, including crop scouting, soil sampling, data analytics and drone services. The company can be reached at 319-230-5495 or www.niagronomy.com.

Want more news on this topic? Farm Bureau members may subscribe for a free email news service, featuring the farm and rural topics that interest them most!