Perfection on a bun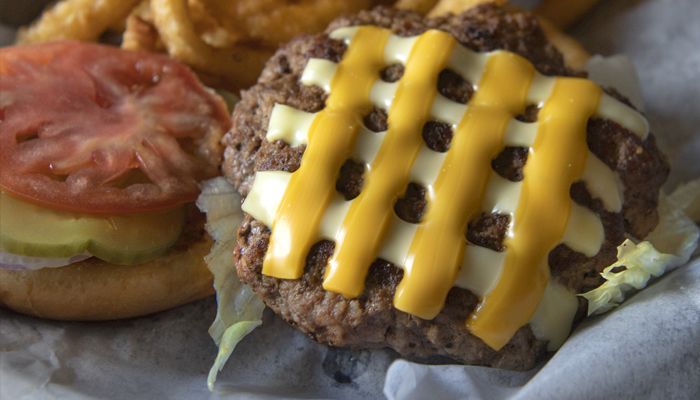 Long-time Ossian restaurant Bambino's earns the 2021 Iowa's Best Burger contest with its Angus beef patties.
Iowa's Best Burger in 2021 comes with whatever toppings you want. It's all about the beef.
Bambino's in Ossian boasts the honors in the annual contest sponsored by the Iowa Beef Council through the Iowa State Beef Checkoff and the Iowa Cattlemen's Association.
The establishment's signature Bino Burger is hand pattied to order from 7 ounces of fresh, never frozen, 80/20 ground beef cooked to 160 degrees and served on a freshly baked KwikStar bun. The most popular variation is the "Veggie Burger" — the ground beef patty topped with garden fresh lettuce, tomato, onion and pickle. "It's not to be confused with a vegan burger," says Bambino's owner Sue Lienau. "It's beef. Our customers are beef people."
Burgers at Bambino's are cooked by Sue and her husband, Ron. Given the name Bambino's in honor of Ron's college nickname, the classic small town bar and grill opened in 1983. "Thirty-eight years later, we're still here," says Sue. They raised four boys in the place; one of them is still in the restaurant business on the East Coast. Their oldest grandson is learning the ropes washing glasses, waiting tables, getting to know customers, learning people skills.
Most food is made from scratch at Bambinos. Daily noon specials feature hamburger steaks, chicken dishes, roast beef dinners and BBQ meatballs. Potatoes are hand peeled and hand mashed. Gravy is made from pan drippings and potato water. Homemade pasta salad, pea and macaroni salad and coleslaw are consistent fare. "I don't mean to brag, but my potato salad is kicka--," says Sue. It's so good it caused a recent customer to comment, "I don't know about best burger, but this is the best potato salad I've ever had!"
Due to the increase in burger traffic since the Best Burger announcement, Ron and Sue have trimmed the menu to concentrate on the delicacy.
Bambino's will continue to offer its regular noon specials and regular menu on Monday, Tuesday and Wednesday. Thursday, Friday and Saturday will offer a revised short order menu featuring the award-winning burger.
Also a full-service bar, Bambino's is open 8 a.m. to 2 a.m., with the kitchen serving from 11 a.m. to 9 p.m. They are closed on Sundays.
Sue and Ron have enlisted friends for additional help to get through the surge that took their average 40 burgers a week served to 1,400 in the first week alone.
"It's amazing how far people will drive for a burger," says Sue. They've had guests from all across the state, with one party driving four hours each way in a burger destination trip.
Meanwhile, the tourism traffic is keeping Ossianians entertained. "Sometimes people come uptown just to check out the license plates and see where people are coming from. Sometimes they come inside just to check people out."
Sue enjoys the newcomers as much as anyone. "The best part of my job is when I get to come out from behind the grill and talk to people, and make a connection with someone."
The idea of community support goes both ways. Bambino's makes every effort to purchase as many of their foodstuffs and supplies locally as possible. They hire the local repairman for their HVAC needs. They shop at the hardware store across the street. "If you don't support them, they won't support you," says Sue.
Iowa's Best Burgers are nominated by customers and county beef producers associations. Once narrowed down to the Top 10, entries are judged by a team of experts to determine the winner.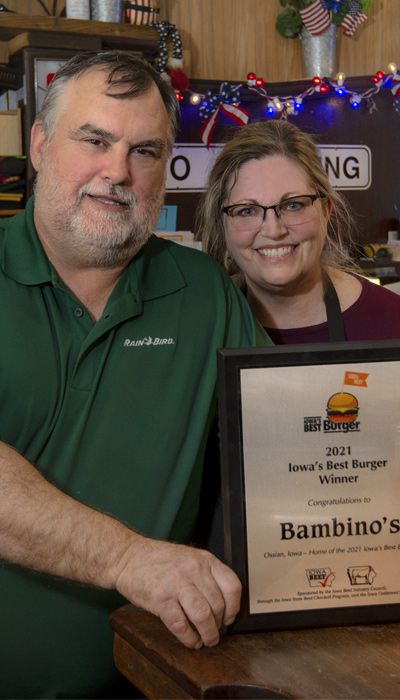 (Photo above: Owners Sue and Ron Lienau opened their small town bar and restaurant in 1983.)
Sue and Ron can be found flipping their Bambino's award-winning burger Friday, Aug. 13, at the Cattlemen's Beef Quarters at the Iowa State Fair.
Other finalists in the 2021 Iowa's Best Burger Contest were Troy's Bar and Grill in Earling, #DutchFix in Pella, Moo's BBQ in Newton, Murph's Creamery & Grill in Toledo, The Map Room in Cedar Rapids, Arty's Ice Cream & Grill in Wilton, Fishback & Stephenson's Cider House in Fairfield, Foodle Garage Eatery in Dubuque and Saucy Focaccia in Cedar Rapids.
Queck-Matzie is a freelance writer from Greenfield.
Want more news on this topic? Farm Bureau members may subscribe for a free email news service, featuring the farm and rural topics that interest them most!