Oats in Iowa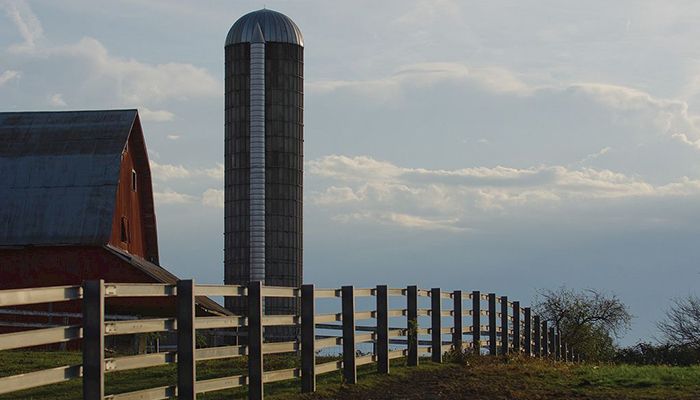 Crop production in Iowa is primarily corn and soybeans. But about 40,000 acres of oats are still raised in Iowa.   
In 2021, the U.S. harvested 890,000 acres of oats, producing 57.7 million bushels, with average yield of 64.8 bushels per acre. Most U.S. oats are grown in the north central states. Minnesota, North Dakota, South Dakota, and Wisconsin are the top four oat producing states in the U.S., typically accounting for over 50% of all U.S. oat production. Iowa typically follows as the fifth largest producers of oats in the U.S., though Pennsylvania and New York occasionally jump ahead of Iowa in the rankings.  
In 2022 Iowa harvested 40,000 acres of oats for grain, producing 3.2 million bushels, resulting in yield of 80 bushels acres. Iowa accounted for 5.6% of U.S. oat production in 2022.  
In 1960, Iowa harvest over 4 million acres of oats, this decreased to just over 1 million acres by the 1980s and to below 200,000 acres by 2000. Over the past two decades acres continued to decrease, most recently siting around 40,000 acres (Figure 1).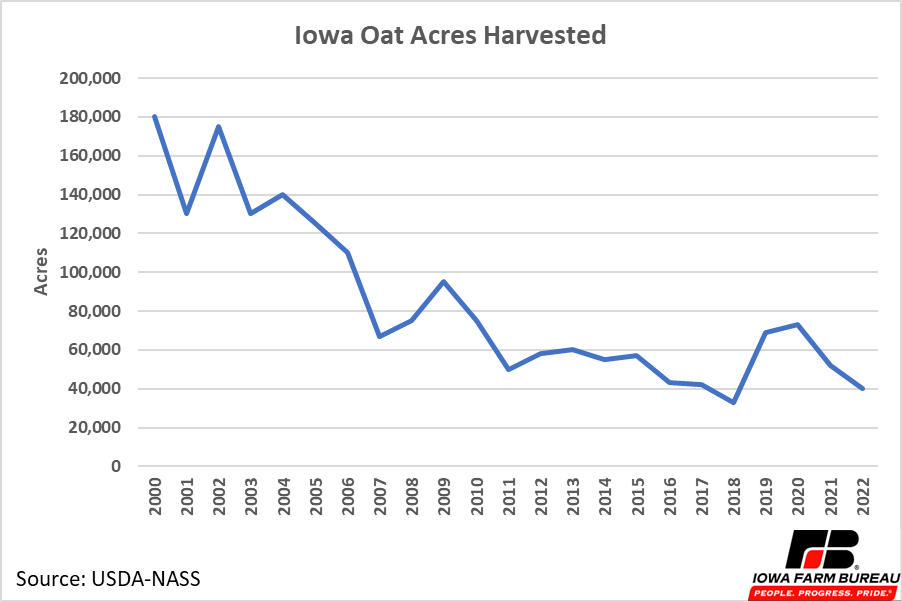 Figure 1. Iowa Oat Acres Harvested 
Though yields trended upward prior to 2000, state yields have remained relatively consistent over the past two decades, with slight fluctuations up and down year to year (Figure 2). Since 2000, Iowa annual oat yields have averaged close to 71 bushels per acre.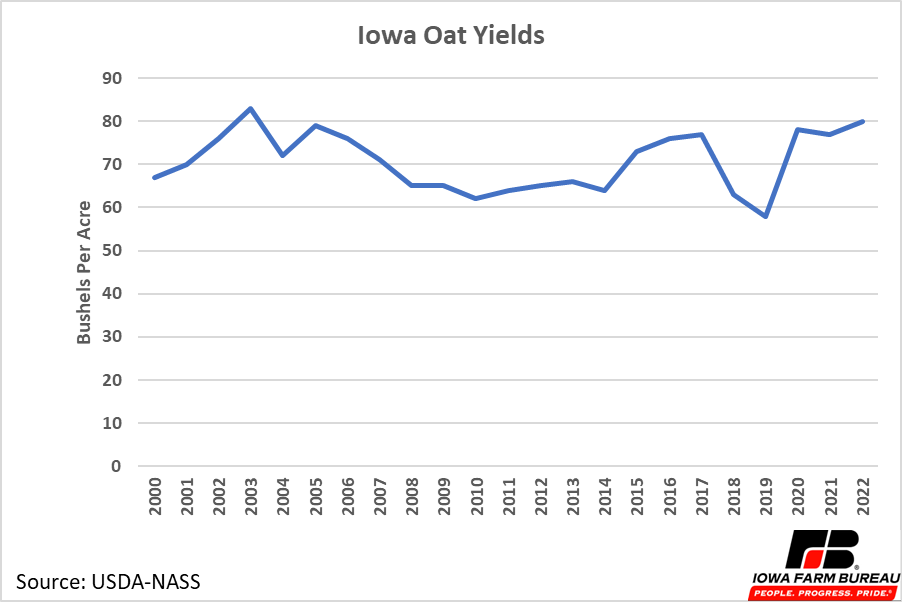 Figure 2. Iowa Oat Yields 
Due to relatively constant yields and decreasing acres, Iowa oat production has decreased over the past two decades (Figure 3).  Iowa production put in a recent low in 2018 when both total acres and yields were down. Production rebounded to a recent high in 2020, primarily due to a large increase in yields in 2020 relative to 2018 and 2019.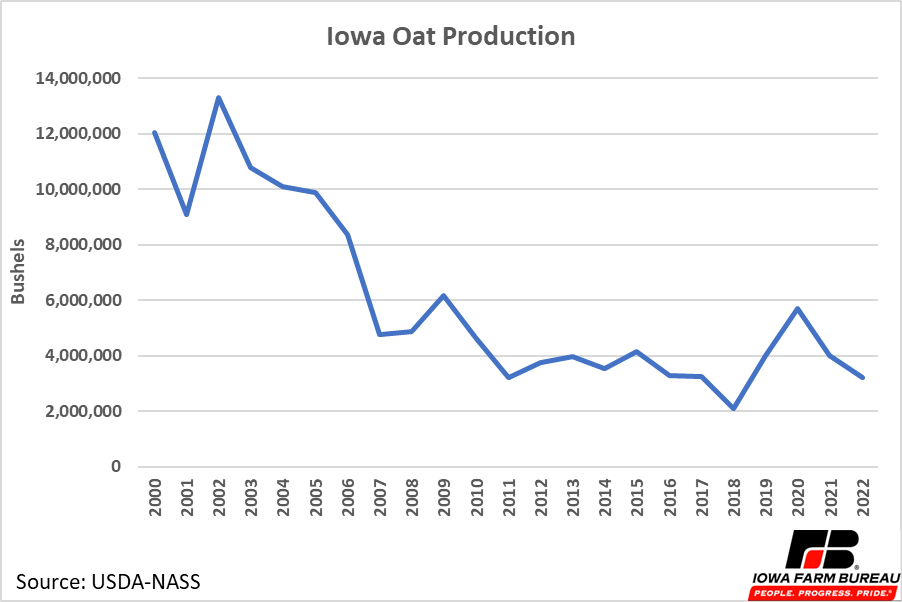 Figure 3. Iowa Oat Production 
The prices of many commodities increased over the past year as inflation became prevalent and oats are no exception. Both U.S. and Iowa prices began increasing rapidly in the middle of 2021 and put in highs over $6 per bushel between February and June of 2022 (Figure 4). Oats prices have since cooled off dropping back below $6 per bushel.  
The average reported price received by producers in Iowa over the 2021 marketing year (June 2020 to May 2021) was $4.25 pre bushel, up 33% from $3.19 per bushel last year. Iowa producers historically received higher oat prices than the U.S. average, but over the past year prices in other parts of the country rose even faster than prices in Iowa. The U.S. average price received in the 2021 marketing year was $4.55 per bushel, up 64% from $2.77 per bushel in 2020. Iowa prices have sat below U.S. over the past 3 months.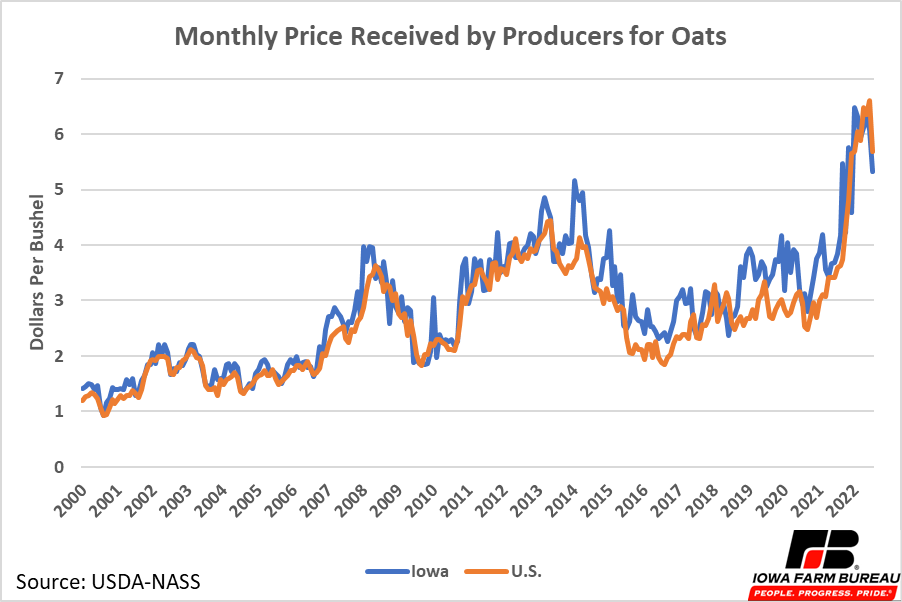 Figure 4. Monthly Price Received by Producers for Oats 
Oats are a cool season grass and as expected, most Iowa oats are growth in the northern portion of the state. The northeast region of the state and the north central have the most oat acres.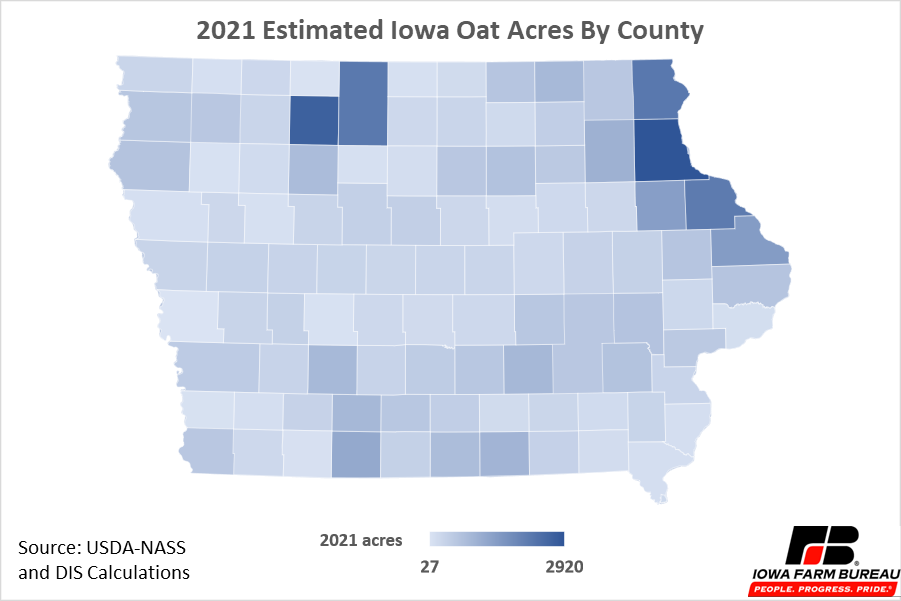 While some oat production still occurs in Iowa, Iowa is not a major player in oat production. Iowa oat acres are extremely small relative to corn and soybeans. In 2022, over 12 million acres of corn and 10 million acres of soybeans were planted in Iowa. This compares to only 40,000 acres of oats that were harvested.   
At the national level, while U.S. oat production is not insignificant, there are other countries who produce a lot more oats than the U.S. The U.S. has produced between 3-4% of world oats over the past 5 years. Russia and Canada are the largest oat producing countries, accounting for around 35% of world oat production.  
The U.S. is a net importer of oats, importing between 1.4 and 1.6 million metric tons of oats every year and only exporting between 20,000 to 50,000 metric tons. Almost all U.S. oat imports come from Canada (Table 1). Sweden is consistently the second largest U.S. supplier, accounting for around 2% of U.S. oat imports over the last 5 years. After the market share of other countries becomes extremely small.  
Table 1. Percent of U.S. Oat Imports from Selected Countries 

Economic analysis provided by Aaron Gerdts, Research Analyst, Decision Innovation Solutions on behalf of Iowa Farm Bureau. 
Want more news on this topic? Farm Bureau members may subscribe for a free email news service, featuring the farm and rural topics that interest them most!