No two years are the same for cover crops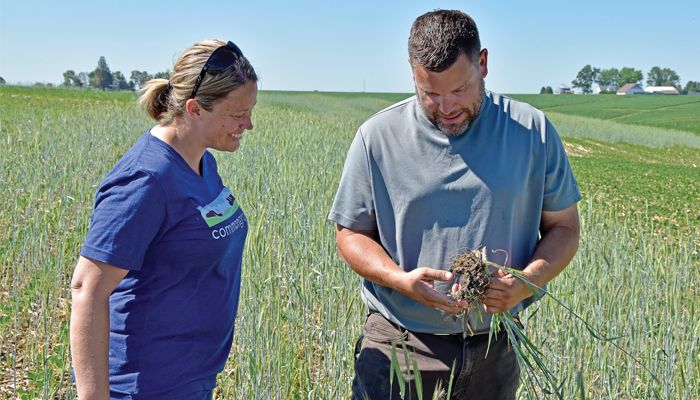 Focus on the biology of the soil — instead of the chemistry of farming — and find the most efficient equipment for seeding cover crops. That's the advice Jasper County farmer Will Cannon gives to Iowa corn and soybean producers who are struggling to establish cover crops on their farms.
Cannon, who grows mostly corn and soybeans on about 1,400 acres with his wife, Cassie, has been farming full-time since 2013. Cannon said he has learned that you can't manage two years the same way. 
"Many farmers are more familiar with applying 'X' amount of chemicals and expecting 'Y' result," he said.
Variables such as weather, soil types, equipment and available help on the farm impact successfully growing and terminating cover crops, says Cannon. 
"You have to focus on soil conditions. This is about biology," he said.
Cannon says the cover crop planting process has evolved over the last decade through a lot of brainstorming, creativity and thinking outside the box. 
"There were three years where we experimented with cover crops on (a landlord's) farm, and it was hit and miss," he said. "We started by aerially seeding turnips and cereal rye."
Cannon has experimented with different methods to find the easiest, most efficient way to plant cereal rye as soon as possible after harvest. 
He says his most recent cover crop success is due to a little ingenuity. 
After some years of using vertical tillage, he built a faster, more effective tool. 
He purchased a 40-foot rolling harrow soil conditioner with two sets of rolling baskets that have serrated edges. He retrofitted the harrow with a Hiniker air seeder box originally used to plant soybeans and mounted that on the tongue with air lines running out.
"Now we have a tool that we can run across every acre, without the tillage before it," said Cannon. "This seeder is faster, less expensive to run, uses much less horsepower and goes through corn and bean stubble much easier. If you're going to plant cover crops, you have to do it right."
Cover crops may not produce immediate financial benefits, says Cassie Cannon. "It takes a while to build up that organic matter in the soil," she says.
Cannon says the most obvious soil improvements are in the eroded areas. 
"Since using cover crops, we've noticed a change in color on some of the eroded side hills," he said, "but the biggest change is that my bad spots are shrinking more every year."
He's also noticed that his crops are less stressed during dry conditions, compared to fields that have been tilled. 
"We also use less nitrogen — typically 0.6 or 0.7 units per bushel — compared to 1 or 2 that a lot of farmers use," said Cannon.
The Cannons admit the harvest season is still hectic, trying to plant cover crops on all 1,400 acres in about 15 different locations across the county. They hire seasonal help to plant the cover crops for a few hours each evening after harvest.
"It gets stressful to get it all done in the fall, but the long-term benefit is worth it because we're preserving ground for our kids," said Cassie Cannon. "You have to keep that in mind during the hard times because it's not easy."
The process of seeding cover crops isn't the only thing that has changed in the past 10 years. Cannon says he felt like he was on his own in the beginning, trying to figure out how to best plant, establish and terminate cover crops. "Now, there is more of a community out there," he said. "And there is more information out there."
For producers who are trying cover crops for the first time, Cannon's recommendation is to plant cereal rye before soybeans. "It's simple, the beans are forgiving, and cereal rye is easier to manage," he said. "We've put cereal rye on as late as December, and in the spring, it's there and growing."
Johnson is a state public affairs specialist at USDA-NRCS, based in Des Moines.
Want more news on this topic? Farm Bureau members may subscribe for a free email news service, featuring the farm and rural topics that interest them most!