New season, healthy changes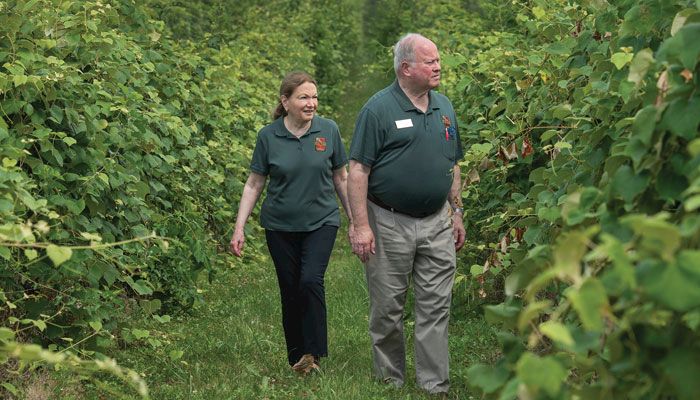 Iowa wineries, orchards and pumpkin patches are adopting social distancing precautions to continue offering outdoor family fun this fall.
There are more than 200 vineyards in Iowa, and nearly 100 wineries. They account for $41 million dollars annually in wine-related spending. Wineries have become a staple of Iowa tourism.
Like nearly everything else, the wine business has been affected by COVID-19. The grapes are good this year. The tourism is iffy.
Tassel Ridge Winery near Leigh­­ton normally hosts live ev­­ents every Friday, Saturday and Sunday throughout the summer. Wine tastings and tours are part of the experience.
This year, they are hosting wood-fired oven pizza to go the first Friday of every month. You can get pasta or calzone on the third Friday. There are no tours. There are no tastings. There is no food served on site. Indoor seating is not an option.
"You order your pizza and pay by phone, and staff will bring it to your car," says Bob Wersen, Tassel Ridge Winery owner and manager. "You are welcome to come inside and shop for a bottle of wine to go. Our staff will be there to help you choose."
Masks are required.
"Our main concern is the safety of our guests and our staff," says Greg Walter, Tassel Ridge tasting room manager.
Wersen says the pizza nights bring in roughly the same number of people they did before — when there were other activities the rest of the weekend.
Walter says folks are still stopping in to pick up a bottle of wine for the weekend at home or camping. The retail area is open every day until 6 p.m. And they are shipping more wine to fulfill online orders. "People just aren't traveling," he says.
Wersen says the wholesale market has remained strong. Tassel Ridge is one of the largest wine wholesalers in the state. They sell through several retail outlets including Hy-Vee and Fareway stores, and their wine is offered in multiple restaurants across the state.
Still, overall revenue is down, staff hours have been cut, and the prospects look sketchy for next year.
"To be realistic, we're assuming this pandemic is going to be with us through 2021," says Wersen, who, in some ways, appreciates the down time. "It's allowed us to review some things. For instance, we think we can do a better job with wine tastings, making them more interesting and informative."
They've also used the time to develop new products. New wines will hit the market this fall, including a red blend known as a picnic wine. Two new types of grapes were planted this year. They will be made into more new wines for next year's release. A holiday catalogue is also under construction, to buy wine for shipping.
"It's been kind of fun to slow down and do those sort of things," says Wersen. Still, he misses the people and popular activities like murder mysteries.
He's banking on the idea of meaningful tourism going forward, where tourists target places that interest them rather than stopping anywhere and everywhere along their route.
"Those people will expect a high quality experience," says Wersen. "If we want them to come and enjoy themselves, then come back again and tell their friends, we need to make sure we are making wine people want to buy and offering environment they enjoy. And we need to make sure people stay safe."
Stan Olson at Penoach Winery near Adel is getting used to smaller crowds. Their live, outdoor concert series is always a summer hit. In past years, they brought in upwards of 600-700 folks per show.
Now they limit attendance to 300. Tickets must be purchased in ad­­vance to secure the number.
"We're substantially limited on what we can do," says Olson. No one is allowed inside other than to use restrooms. Even wine sales take place outside.
Penoach offers around 1.5 acres for people to spread out while enjoying the music and Iowa summer evening, ample space for groups to social distance.
Masks are not required, but are requested when interacting with staff for purchases and other needs.
Olson says their priority is keeping people safe, and according to feedback he has received, the effort is appreciated. "We've heard from several people they feel safe here," says Olson. "One nurse said it was the first time she had been out and it felt good to be somewhere she felt safe."
Penoach no longer offers wine tastings. To-go orders can be called in and will be delivered to your car.
Olson says their wholesale business has suffered slightly, due mostly to sales staff's inability to meet in person with liquor department managers.
The season got off to a rough start. The first two events were cancelled, as was the Downtown Des Moines Farmers Market, one of Penoach's primary outlets. In normal years, they also depend on the Sweet Corn Festival in nearby Adel to bring in around 1,000 people. That didn't happen.
Olson says weekend traffic at the winery has been decent. He sees a lot of people traveling from Omaha to Des Moines who stop in en route, and Iowans who want to do something close to home.
Every show in the concert series has sold out.
The final event of the season is the Apple Festival scheduled for September 19. It will be without craft vendors and the traditional tractor ride, or cider making activities.
Olson is counting on there still be plenty of people who want to come out and enjoy and beautiful fall day, and plenty of folks who still want to pick up a bottle of wine to drink at home.
"After the festival, we'll likely go to just selling carryout this fall like we did last spring," says Olson, adding that April 2020 was one of their best Aprils ever. "A lot can change in 6-7 months. We're hoping next year will be more normal."
Iowa wineries aren't the only ag tourism sector dealing with COVID. Apple orchards are approaching their busy fall season with trepidation and preparedness.
Chris Deal, part of the fourth generation at Deal's Orchard near Jefferson, says they are playing out scenarios and looking at ways they can insure guest safety and fun.
"We're looking at some changes," says Deal, "like should we spread the bales further apart on hayrack
Want more news on this topic? Farm Bureau members may subscribe for a free email news service, featuring the farm and rural topics that interest them most!