New conservation field days announced the week of 11/30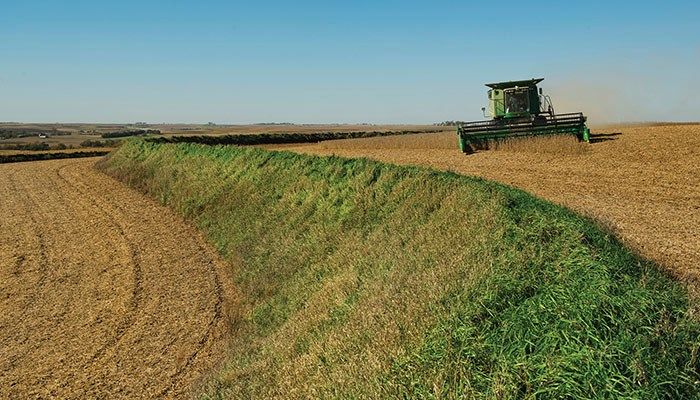 There were 5 field days announced during the week of November 30. For more details about these and 2 more field days, visit here.
Recently Announced
December 3 | Iowa State Extension and Outreach: Fall Grazing Cover Crops Tours
Establishing cover crops following grain production is a proven tool to protect soil, reduce erosion, improve water quality and enhance soil health. It also provides opportunities to extend the grazing season; one month of extended grazing can reduce the cost of production in the cow herd more than 5%. But, fall grazing cover crops have more challenges due to weather risk. The window for fall growth and grazing may be more limited than in the spring due to the timing of grain harvest, seeding method, species selection and available nutrients – all coupled with weather. $5 for meal and is payable at lunch. Pre-register with Lora Wright, ISU Extension Sac County, at either (712) 662-7131 or ldwright@iastate.edu.
December 11 | Design of Drainage Water Quality Practices Workshop
The design and layout of new practices currently being considered for water quality improvements of farmland drainage will be the focus of a workshop scheduled for Dec. 11 in Fort Dodge. The day-long program will be held at the Iowa State University Extension and Outreach Webster County office at 217 South 25th St., Suite C12, Fort Dodge. It will provide information essential for designing and planning new water quality practices such as bioreactors, controls structures, saturated buffers and wetlands. While the economic benefits of tiling are well recognized, there are also environmental impacts from drainage. These new technologies can be useful in minimizing negative environmental impacts. Register by contacting the ISU Extension and Outreach Webster County office at 515-576-2119 or lcline@iastate.edu; or by completing and mailing the registration form in workshop brochure. Registration is $150 and includes morning refreshments, lunch and workshop materials. Registration cost increases to $175 if done after Dec. 7.
January 15 - 16 | Iowa Ag Water Alliance: Soil Health Partnership Summit 2019
Get the Latest Soil Health Strategies, Data Insights and Business Impacts! The Soil Health Summit is a one-of-a-kind event, uniting U.S. farmers, agronomists, environmental groups, consumer companies, and other partners like never before. This Summit is proudly hosted by the Soil Health Partnership. The Summit fosters making soil health research relevant to operational success, and facilitates discussion on the adoption of data-driven practices such as cover crops, reduced tillage and nutrient management on farms. For directions to the event location, please click here.
January 17 - 19 | 2019 Practical Farmers of Iowa Annual Conference
Practical Farmers' Annual Conference has been the backbone of PFI's organization since its founding, when farmers looking to improve diversity on their farms gathered to share their knowledge openly with others. From the days when farmers hosted these informal get-togethers at someone's farm and when farmers knew this as the Annual Meeting. For more information about being a sponsor or exhibitor, please email Kathy Eastman at keastman33@gmail.com.
January 23 - 24 | Iowa Agriculture Water Alliance: The 2019 Iowa Pork Congress
This event showcases products like nutrition services, property solutions, swine lightings and many more etc. in the Meat, Poultry & Seafood industry. Please register here for this year's Iowa Pork Congress.
Upcoming
December 6 | Growing Farm Returns Through Soil Health
Agenda:
Soil Health Partnership Overview: John Stewart, SHP
Interseeding Cover Crops: Ryan Haden, ATI
Soil Cation Balancing: Steve Culman, OSU Extension
Lunch immediately following presentations
Lunch provided for registrants. To register call Lynn at (330) 235-6806 or email lvogel@portageswcd.org.
Want more news on this topic? Farm Bureau members may subscribe for a free email news service, featuring the farm and rural topics that interest them most!