Neighborly attitude spans generations on Vittetoe farm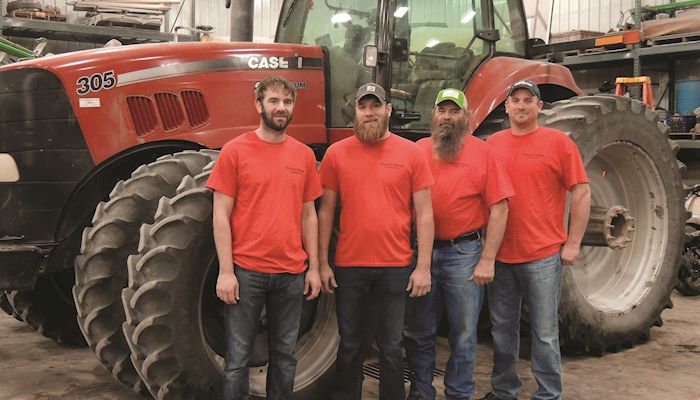 A multi-generational farm family in Washington was recognized last week for their efforts in raising crops and hogs.
Tom Vittetoe and his wife Tammy farm with their sons Joshua, Jonathan and Joel. They also have three grown daughters Jenahlee, Jacayla and Johannah. They were recognized last week with the Wergin Good Farm Neighbor Award.
The Vittetoe family custom feeds hogs for Tom's brother and sister-in-law, Jerome and Heidi, and grows corn, soybeans and wheat. They were nominated for the award by Mike Hora, a neighbor since Mike moved there in 1974.
"The Vittetoes are excellent, hard-working neighbors and true friends," Mike wrote in his nomination. He cited several examples of the family pitching in to help: gathering up cattle that got out through an open gate at dark, providing space for Mike to work on equipment after breakdowns, help with planting and harvesting crops and their willingness to help at a moment's notice.
"Their dedication to doing an excellent job with their crop and livestock operation are very evident and soil conservation through it all is a paramount goal," he said.
Conservation has been a strong focus on the Vittetoe farm. They have been practicing no-till on their acres for 30 years.
"Tillage is not an option here. We just don't till," Tom said.
The family has experimented with cover crops for several years, trying tillage radishes before discovering that cereal rye was a better fit for their farm. Today, one-third of their acres are covered in cereal rye.
"The rye captures the nitrogen and other nutrients and reduces soil erosion," Tom said.
That's important to Tom, a Washington County Soil and Water Conservation District Commissioner.
The family also handles the manure from the family's hog buildings in a responsible way, Hora noted.
"Their hog buildings are well kept, neat and orderly. The odor is minimal, the grass mowed and all of the manure is injected to minimize odor and maximize soil fertility and minimize fertilizer purchases," Hora said.
The Vittetoe family grows corn, which is mostly sold to Jerome and Heidi for feed for their hog operation. They've been successful in the National Corn Growers Association's (NCGA) corn yield contest, but say they're always looking to improve their yields.
"Every year brings the hope of bringing in an even bigger crop than the last year," Tom said.
They also raise seed soybeans for Pioneer. Continuing a family tradition, the family is now in their 30th year of raising and selling sweet corn locally.
In recent years, all three sons have become part of the family's farm operation. They've even started renting ground of their own.
Tammy says it's great to work with family on the farm.
"They all have their talents, so it's been interesting for us to sit back and watch them find their place (on the farm)," she said.
Tammy said receiving the award and knowing their sons are also great neighbors has been "humbling."
"We expect to help our neighbor. It's how we were raised," she said. "It's humbling to know the boys do what they're supposed to do. They just know it's the right thing to do. That somebody actually noticed (their efforts), that's what's really humbling to me," she said.
Tom said the neighbors-helping-neighbors mentality was instilled in him when he was growing up.
"In your mind and in your heart, it's just the right thing to do," he said.
The Wergin Good Farm Neighbor award recognizes Iowa livestock farmers who take pride in doing things right, and go above and beyond as environmental stewards and animal caretakers. The award, presented by the Iowa Department of Agriculture and Land Stewardship and Iowa Ag Radio Network, is made possible through the financial support of the Coalition to Support Iowa's Farmers. It's named in memory of Gary Wergin, a long-time WHO Radio farm broadcaster who created the award.
To nominate a family for the Wergin Good Farm Neighbor award, go to www.supportfarmers.com.
Want more news on this topic? Farm Bureau members may subscribe for a free email news service, featuring the farm and rural topics that interest them most!