Naig praises conservation progress, says more to come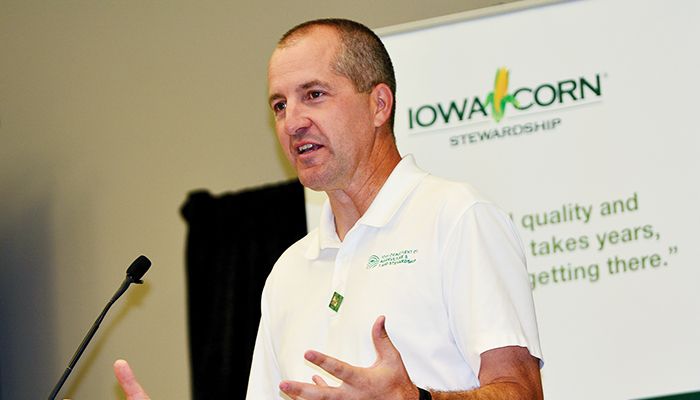 Iowa farmers continue to take seriously their efforts to boost water quality and soil health as the state takes a more accelerated approach to promoting conservation efforts to include everything from edge-of-field practices like saturated buffers and bioreactors to cover crop initiatives.

Iowa Secretary of Agriculture Mike Naig visited the Farm Progress Show in Boone last week and praised farmer successes while also suggesting there's a long way to go.

"We have seen record engagement in conservation work getting done," despite the challenges of a derecho, drought, supply chain issues and inflationary concerns, Naig said.

"There's never been more awareness, more resources, more partners or more actual work done in the state of Iowa than there is today. But there's more to be done."

The Iowa Nutrient Reduction Strategy, a coordinated effort by the Iowa Department of Agriculture and Land Stewardship (IDALS), the Iowa Department of Natural Resources and Iowa State University adopted in 2013, outlines guidelines and efforts to reduce nutrients entering Iowa's waters and the Gulf of Mexico.

One of the success stories includes the use of cover crops, which have proven to increase soil quality, increase biomass and encourage moisture retention while also trapping nutrients in the soil, thus mitigating runoff.

In 2010, Iowa farmers grew cover crops on roughly 10,000 acres, an effort that has ballooned to 3 million acres today with an end goal of 17 million acres, said Naig.

It will take more seed, customer applicators and drills, and aerial efforts to meet that goal, explained Sean McMahon, executive director of the Iowa Agriculture Water Alliance (IAWA), an organization that partners with IDALS to work with farmers and partners to promote conservation practices.

"In order to successfully implement the nutrient reduction strategy, we need between 12 to 17 million acres of cover crops," McMahon said. "Even if we had unlimited amounts of money, there's not enough cover crop seed produced in all of the U.S. to meet the needs of Iowa's future demands."


Bioreactors, buffers
Bioreactors, saturated buffers, wetlands and prairie grasses are among other practices expected to build momentum over the next few years as farmers implement more conservation programs.

"We'll build more of those practices in the next three years than we've built to date," Naig said.

All of those practices are proven very effective at reducing nitrogen loss, said McMahon.

It also will take public and private partnerships to meet their goals, added McMahon. While the state already has fostered public partnerships, officials are working to collaborate with the private sector as well.

"We need more than public sector cost-share programs," said McMahon. "We need agribusinesses involved, we need ag associations involved, we need to harness economic drivers and create market-based solutions to improve water quality."
Naig said, "We need to bring more partners into the mix."


Scaling up
IDALS and IAWA are scaling up educational efforts and resource availability.

They plan to bring increased awareness to farmers about re­turn on investment and the value of keeping soil in place, which includes improving soil health and the infiltration of rainwater, compaction reduction, enhanced weed control and reduction in crop protection costs.

"That's a return on investment that, frankly, the more people learn about, the more adoptions you're going to see," said Naig.

While conservation efforts are increasing, Naig said they're not yet satisfied and plan to pick up the pace — identifying sites for edge-of-field practices, designing projects and securing funding and contractors for the work.

"We have not learned the last thing we're ever going to learn about how to protect water and to build soil health in this state," Naig said.

Want more news on this topic? Farm Bureau members may subscribe for a free email news service, featuring the farm and rural topics that interest them most!