More than 140 years later, Wilcox family keeps their dairy focus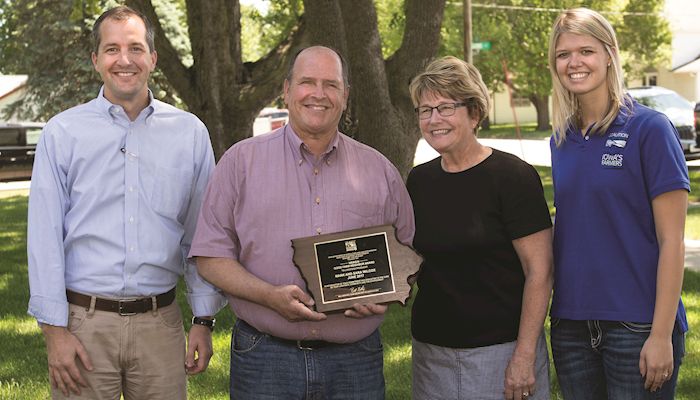 Mark Wilcox is keenly aware of the history that helped his family's 141-year-old dairy farm survive the ups and downs of the milk market, farm economy and unexpected life events.
At the same time, the 63-year-old stands ready to embrace the direction fast-changing technology might take the farm in the future, whether it be embryo transplants for genetic improvements or robotic milkers.
Five generations of the Wilcox family have milked cows on the farm settled among the rolling hills of western Cherokee County.
"I find some comfort in the stability of it," said Wilcox. "I was fortunate enough that — when I was deciding what to do — there was something to come home to. Hopefully, that same thing holds true for my son and the next generation."
The Wilcox dairy remains a family affair with Mark and his wife Sara recently welcoming their son Joe back to the farm. Joe, the third of their four children, graduated from Iowa State University in 2012 and worked for three years in Wisconsin before returning home to farm. Joe said he always had a desire to come back to the farm and was able to make it happen after finding some farmland to rent in the area.
"It was just waiting for the right time," he said. "Mom and Dad didn't want me to come back right away. They wanted me to work somewhere else first."
Turbulent times
The 1970s were a critical time for the Wilcox dairy. Mark's dad passed away at the age of 58 in 1976.
Mark, then fresh out of college, continued to farm with his uncle. His mom died in 1979, just five weeks after he and Sara married, leaving the newlyweds to raise Mark's younger brother.
The dairy farm remained solid during the turbulent 1970s and '80s farm economy, thanks to sound decision-making, Mark recalls. The family stayed away from high-dollar farmland and instead reinvested in the dairy, building a curtain-sided freestall barn in 1987 and a double-8 parallel milking parlor in 1992. Both buildings are still in use today.
"I couldn't have done any of that without my uncle," Mark said. "He treated me better than a lot of guys treated their own sons."
He said his wife was also integral to the farm's success over the past four decades. The couple raised four kids: Emily, Zach, Joe and Anna.
"She's 51 percent of this. Nothing happens without her approval," Mark said. "If she wanted to travel or do something else, the cows would be gone."
Enhancing cow comfort
The freestall barn, measuring 96 feet wide and 80 feet long, was designed using plans modified from a Michigan dairy farm, Wilcox said.
"It was the first curtain-sided freestall barn in this part of the country," he said. "This configuration gives cows more room to eat."
The curtains raise and lower to create airflow and sprinklers also help keep cows cool on hot days. Sand bedding in the loafing area aids comfort.
The double-8 parallel milking parlor replaced a tie-stall setup, allowing more comfortable surroundings for the family on a day-to-day basis as well as part-time employees.
"The parlor has been great for us," said Joe, who was a toddler when the parlor was built. "It's allowed Dad to go on more family vacations."
The family milks 70 head of registered Holsteins twice a day, at 5:30 a.m. and 5 p.m., with each family member helping out.
"Mom is the first one in here every morning," Joe admits. "We're in there every day, four hours a day."
Pride in dairying
The herd averages about 90 pounds of milk per cow per day.
Cow comfort and cleanliness is exemplified by an extremely low somatic cell count, a measure of milk quality recognized by the Dairy Farmers of America's "Milk Drop" award.
"We've won that award three of the last five years. That's a point of pride," said Mark.
The cows eat a diet of corn silage, earlage and haylage grown on the family's crop ground, which includes a little over 800 acres of corn, soybeans, alfalfa and pasture. The ration also includes minerals and supplements, including cottonseed, but no hormones or rBST.
With 70 milking cows, Wilcox acknowledges that his dairy herd is on the small side in western Iowa. The farm includes about 160 head through all life stages, includng bred heifers and calves.
As a founding member of the Western Iowa Dairy Alliance, Wilcox welcomes the area's larger dairies, noting that they help support input suppliers and milk buyers that he needs to stay in business.
"By having these larger dairies, it allows me to get supplies without waiting for it to get shipped. It allows me to have someone to pick up my milk," he said.
New technology
The family isn't planning to expand the size of its dairy herd, but is utilizing new technologies.
They use sexed semen for first-calf heifers, which reduces calving problems, and this year had their first calf born from an embryo transfer. A milking robot may also be in their future.
"Everybody in (my) position with 80 to 100 cows is saying the exact same thing," Wilcox said. "They will invest in technology. The technology will milk the cows. That's the next wave of the dairy industry."
Sharing their farm story
The Wilcoxes are also outspoken advocates for agriculture, including hosting area 5th graders on their farm for tours every year.
"When you're in rural Iowa, you've got to be able to communicate," said Mark, who serves on the Cherokee County Farm Bureau board. "There are misconceptions with owning livestock. Dairymen have to tell their own story. If you can't, someone will tell it for you and it might not be the way you want it told."
The family was honored earlier this month with the Wergin Good Farm Neighbor Award. The award recognizes Iowa livestock farmers who take pride in doing things right, and go above and beyond as environmental stewards and animal caretakers.
"(Mark is) a perfect example of what the Good Farm Neighbor Award stands for," said Western Iowa Dairy Alliance executive director Jenna Riediger, who nominated Wilcox for the honor. "They go above and beyond in taking care of their animals and the land. They're also very involved in the community and in making sure everyone knows farmers are doing a good job."
Want more news on this topic? Farm Bureau members may subscribe for a free email news service, featuring the farm and rural topics that interest them most!