Midwest Cover Crops Adoption Rate is Increasing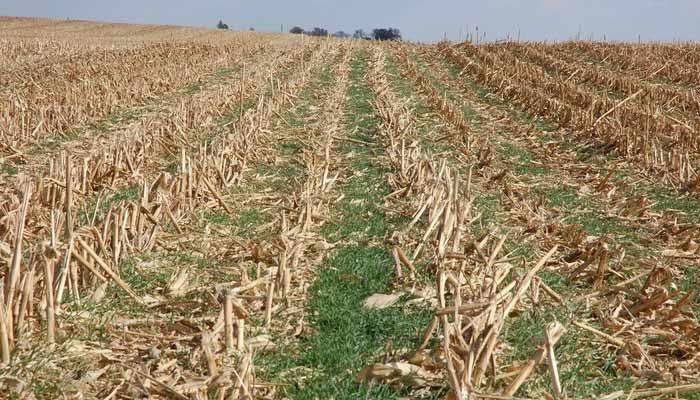 Midwest Cover Crops Adoption Rate is Increasing
Cover crops typically grow after cash crop harvesting and before the following season's planting of cash crops, and can bring benefits to agricultural sustainability. To stimulate cover crop adoption in the U.S. Midwest, the U.S. and several state governments have made financial and technical support to farmers for cover crops. Through the use of multi-source remote sensing data and ground truthing of the data, researchers[1] headed up by the Agroecosystems Sustainability Center of the Institute for Sustainability, Energy, and Environment at the University of Illinois have looked at the growth of cover crop adoption across the midwestern states of the U.S. The researchers found that cover cropping acreage has  increased by four times from 2011 to 2021.  They also found the increase in cover crop adoption is highly correlated to the funding from federal and state conservation programs. These  and similar incentive programs could play an important role in promoting the expanded adoption of cover crops.
Cover crops, grown between cash crop harvestings and planting of the next cash crop, can bring significant benefits to soil conservation, nutrient management, weed control, adaptation to climate change, and mitigation of adverse weather conditions on agroecosystems. Cover crops are an integral part of the Iowa Nutrient Reduction Plan and increased use of cover crops is a major goal of many conservation and sustainable agriculture plans. To stimulate the adoption of cover crops, efforts have been made at both federal and state governments to provide financial and technical support to farmers for cover cropping. National conservation programs such as the Environmental  Quality   Incentives  Program  (EQIP)   and  the  Conservation   Stewardship  Program  (CSP)   have  significantly  increased   the  proportion  of   funding  toward  cover   crop  cost-share  programs . Similar  cost-share   programs  have  also   been  launched  at   the  state  level,   for  example,  the   Iowa  Department  of   Agriculture  and  Land   Stewardship  (IDALS)  provides   a  $25  per   acre  cost-share  for   first-time  cover  crop   farmers . Besides   cost-sharing,  farmers  who   plant  cover  crops   are  also  eligible   for  a  $5   per  acre  premium   discount  under  the   USDA  Risk  Management   Agency  (RMA)  Pandemic   Cover  Crop  Program   and state-level counterparts.
As shown in the following graphics from their research report, there has been a significant increase in the upward slope of the adoption of cover crops during the period of 2011 through 2021. During the base period of 2000-2010, cover crop adoption rate was increasing at 0.05% per year. During the period of 2011-2021, the cover crop adoption rate has increased to 0.39% per year, thus cover crops are now on 4 times the acres compared to a decade ago. The center panel of the graphic shows the comparison of average cover crops acres across the Midwest in 2000-2010 versus 2011-2021. Notice that much of the deep red shading has disappeared. Many areas such as eastern Iowa, northern Missouri, and Wisconsin, Indiana, and Ohio are green-shaded indicating 6% to 16% adoption of cover crops at the county level. Panel (d) shows that across the Midwest, in the most recent decade the average change in cover crop adoption rate is 4% to 6% higher than what it was in the prior decade.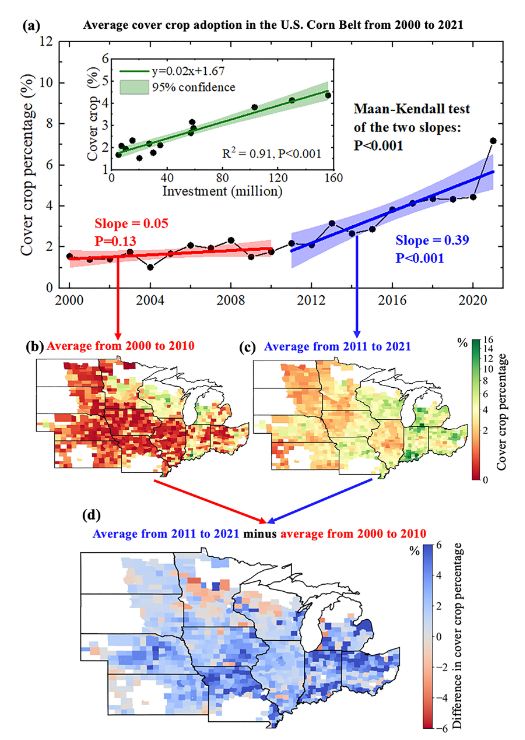 Enrollment Period for 2023 IDALS Program is Open
The IDALS cover crop program which provides a $5 per acre discount on crop insurance is now open for enrollment through January 13, 2023. The Iowa Department of Agriculture and Land Stewardship and partners worked with the USDA Risk Management Agency (RMA) to establish a project aimed at expanding usage of cover crops in Iowa. Through this project IDALS will provide up to $5/acre for cover crops to eligible applicants. Funding will be provided through USDA-RMA as an additional insurance premium discount through normal crop insurance processes. The premium reduction will be available for fall-planted cover crops with a spring-planted cash crop. Some policies may be excluded, such as Whole-Farm Revenue Protection or those covered through written agreements. Participating farmers must follow all existing good farming practices required by their policy and work with their insurance agent to maintain eligibility.
Farmers are encouraged to wait to apply until their cover crop seeding has been completed. Those interested in applying can access the program at the following link: https://apply.cleanwateriowa.org/
Economic analysis provided by David Miller, Consulting Chief Economist, Decision Innovation Solutions on behalf of Iowa Farm Bureau. 
[1] Zhou, Q., Guan, K., Wang, S., Jiang, C., Huang, Y., Peng, B., et al. (2022). Recent rapid increase of cover crop adoption across the U.S. Midwest detected by fusing multi-source satellite data. Geophysical Research Letters, 49, e2022GL100249. https://doi.org/10.1029/2022GL100249
Want more news on this topic? Farm Bureau members may subscribe for a free email news service, featuring the farm and rural topics that interest them most!