Meier innovates with cutting-edge conservation efforts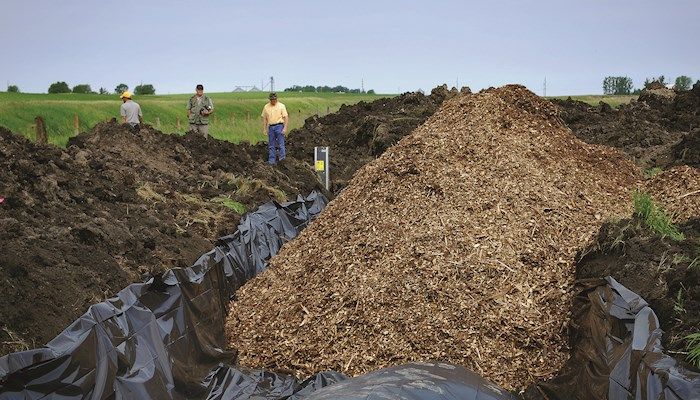 Nick Meier's lifelong passion for conservation and water quality has led to his use of a range of conservation practices on his farm near La Porte City, including some that are still on the cutting edge.
"I'm very conscious about conservation. After I started farming, as time went on and I saw field erosion, it really bothered me," says Meier. He said that farmers should be proactive about water quality or else they may be forced by regulations.
Meier, 61, started farming in 1983 when he took over his uncle Ed Meier's farm five miles west of La Porte City when Ed retired from farming. He inherited his conservation ethic from his uncle and father, Othmar, who was one of the first farmers in the area to chisel plow.
Nick started no-till farming 26 years ago. Twenty-two years ago he started strip-tilling, which he says really helped with corn, but he still no-tills his beans.
"I had some bumps with no-till and had to change some things," recalls Meier, who farms 935 acres plus 400 acres of custom farming. The "bumps" he refers to were poor emergence, uneven emergence, getting the chaff from the combine to spread evenly to avoid uneven emergence and learning not to set the planter's trash wheel too deep.
Meier attributes his ability to overcome these challenges to his father and his crop scout, Shannon Gomes of Cedar Basin Crop Consulting in Decorah, who has been consulting with him for nearly his entire farming career. "Between the two of them, we would talk things out and figured out what we needed to change," said Meier.
Other conservation practices Meier uses are filter strips along creeks and waterways, contour planting and nutrient management with the Adapt-N program. The program was developed by Cornell University and helps prevent over applying nitrogen by taking into consideration the amount of rainfall, previous crop, soil organic matter and soil tests.
Meier also started planting cover crops two years ago. "The first year did not go so well, but I've learned a lot," he says. Last year, he seeded 600 acres, some of which was flown on and planted before harvest, and it worked well.
His main goals with cover crops are controlling erosion, weed control, and maintaining good soil health and nutrient levels. He would like to have the cover crop pay for itself someday, but he feels that is four to five years down the road.
In the last year, Meier implemented two new water quality and conservation practices: a saturated buffer strip and a bioreactor (being constructed in the photo above) to filter tile drainage runoff.
He pattern tiled an 80-acre field, with one-half of it draining in one direction and the other half draining the opposite direction. Half of the field's drainage filters through the saturated buffer strip, while the other half goes through the bioreactor.
The saturated buffer strip is a research project in conjunction with Iowa State, so it was no cost to Meier. He received cost-share from the Environmental Quality Incentives Program (EQIP) for the bioreactor, which paid for 75 percent of the project.
"Nick was selected because he has been very active working with the Black Hawk NRCS," said Shane Wulf, who is the Black Hawk County Natural Resources Conservation Service (NRCS) watershed coordinator where the saturated buffer strip and bioreactor are located. "He's always willing to try new things."
Wulf is monitoring the nitrogen content of water coming out of the saturated buffer strip and bioreactor, but says it is too early to discuss any results.
Meier serves on the advisory board for Black Hawk County Conservation and the Miller Creek Watershed, and he is a past soil commissioner for Black Hawk County. He is involved in the Conservation Stewardship Program (CSP), a program that provides financial incentives to do conservation practices. In 2014, he received the Iowa Environmental Leadership Award presented at the Iowa State Fair. Meier and his wife Nancy have three sons and one daughter.
Steve Meyer is a freelance writer from Garrison.
Want more news on this topic? Farm Bureau members may subscribe for a free email news service, featuring the farm and rural topics that interest them most!