Making their own way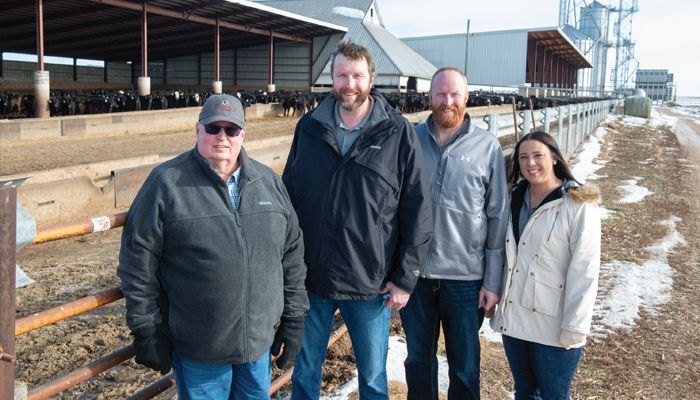 While the rest of the world struggles to fix supply chain issues caused by the COVID-19 pandemic, the Naeve family of Clinton County decided to go ahead and build their own supply chain.
The family raises black Angus cattle, about 6,500 head annually. Soon, the beef from those cattle and others will be processed and sold from their own plant in Camanche, set to open March 1.
"Offering our own product has been a dream for a long time," said Andrew Naeve, president of Naeve Family Beef. He operates the company along with his brother Adam and their dad, Ray. 
Once up to full speed, the 15,000-square-foot facility will process about 60 head a day. The family's herd will take about 60% of that capacity; the rest will be sourced from other farmers with branded programs who wish to produce and sell their own packaged beef products.
Integrating innovation
The family's vertical integration doesn't stop with the processing plant, the herd or even the trucking. 
On the farm, the Naeves grow corn, soybeans, wheat and alfalfa, which account for about 70% of their animal feed needs. They also spread manure from their cattle back onto their fields, cutting back on commercial fertilizer costs.
And once the carcasses start rolling through the plant, analysis of meat quality will be fed back out to the farm to inform decisions regarding nutrition and housing improvements.
"Right now, we're expecting to produce more meat than (we) can sell in our immediate community," Naeve said. "We recently hired someone to handle sales and marketing for us. We're looking out to the whole region for opportunities to sell our beef."
The Naeves built the new processing plant from the ground up. It will employ between 50 to 60 workers, providing new, good-paying jobs to the region.
"The community has been very supportive," Naeve said. "I've heard nothing but positives."
The plant offers a variety of innovative systems to help produce the best quality meat possible, beginning with a spray chill system, which helps keep the beef fresh and moist through the rest of the processing and packaging routine.
A blast freezer can quickly chill the beef down to almost negative 10 degrees Fahrenheit. This allows the meat to be packaged in a way that is more appealing to the consumer.
Tackling food safety
Food safety is also hugely important. The Naeves will deploy a sophisticated computer-based tracking system. Every animal and all products derived from that animal will be tracked using a barcode. 
The plant includes its own wastewater processing equipment, allowing the Naeves to monitor the quality of water coming into the facility from the city and clean wastewater from the plant before sending it into the city's wastewater system.
"We basically have our own, small version of a municipal water plant here," Naeve said.
Family business
The Naeve family farm dates to 1895. Ray Naeve and his dad, Allan, started the family's beef herd in 1978. 
Ray, along with Allan and his brother Russ, also started a trucking company, Naeve Inc., in 1994. In addition to transporting their own cattle to market, and eventually the processed beef in newly purchased refrigerated trailers, Naeve Inc. works with local manufacturers to haul various other products. 
"I think what we've built here is good for the family and good for the community," Ray Naeve said. 
Ray said his dad, who is now in his 80s and still helps around the farm, is excited to see how the plant works out.
"Dad's all for it. He just worries about its success," Ray said. 
To help secure that success, Andrew Naeve is building an experienced team to help manage the facility. That includes Plant Manager Rhonda Wulf, who has helped build and launch three other small or mid-sized beef processors.
"This operation is unique be­cause it is run by a cattle family," Wulf said. 
She, like the Naeves, was raised on her family's beef farm, Wulf Cattle of Minnesota.  After working as a consultant for new plants, Wulf was excited to be part of a family business again.
"The Naeve family is really well respected in this community," she said. "In fact, several applicants I've spoken to about jobs here said they applied because they knew the family or had worked for one of their businesses in the past. That has really helped with recruiting."
Hiring all shifts, positions 
The plant is hiring for all shifts and positions. "We'll train you. If you want to work at the plant, even if you don't have experience, you should apply," Andrew Naeve said. 
He expects it will take a few months for the plant to get up to full speed, even after its March 1 opening. 
To learn more about the plant, or the Naeve family, visit naevefamilybeef.com.
Want more news on this topic? Farm Bureau members may subscribe for a free email news service, featuring the farm and rural topics that interest them most!