Making cooking outdoors a fun family event this July 4th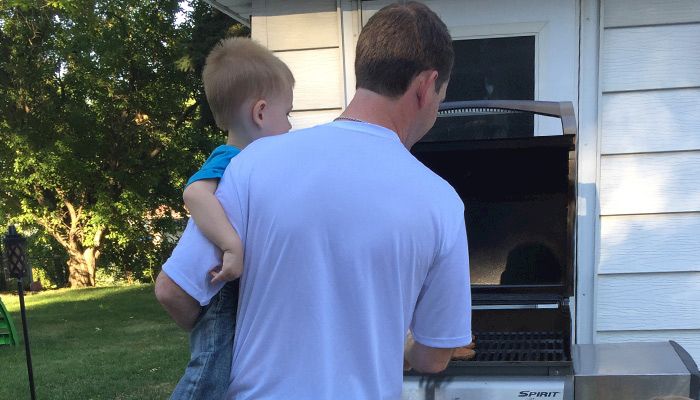 Finding ways and time to bond and connect with family can be a real challenge, especially with working parents and children involved in countless activities. For many, the upcoming 4th of July holiday presents a great opportunity to gather with family and friends and enjoy some quality time outdoors and share a hot, fresh meal from the grill. For my family, it's our tradition.
For as long as I can remember, I have loved cooking outdoors. I thank my parents for that, because they each made grilling a fun family activity and included me. I remember standing over the grill with my parents and the pride I felt as a kid being handed the tongs to flip the burger or pork chop or turn the hot dog or brat.
Today, with children of my own, I get a similar sense of pride when it's time to eat and I see the excitement on my kids' faces because they helped play a small role in preparing our dinner. At four and two-years old, their tasks are simple, like sprinkling some seasoning on the meat or veggies or dropping the slice of cheese on a hot burger. I try to include them while grilling and make it fun for them, and I think it's working.
In fact, grilling is so popular at our house, the kids' favorite toy this summer is the Little Tikes plastic toy grill, with all the plastic utensils, that sits right beside mine. The kids love to 'grill' their food right beside me and then yell out, "Supper is ready from the pot, come and get it while it's hot!" I love the look on their faces as I'm presented a plastic plate of random food, 'made' by them.
Outdoor cooking is an activity that any family can do together. Grilling and smoking outdoors is something that appeals to families of all sizes, backgrounds, and budgets. While the menu and tools used to cook the meal varies from family to family, the opportunity to bond around the grill and enjoy some family time is always there.
If your family is like most, you watch your grocery expenses to stay within a budget. Earlier this week, the American Farm Bureau Federation's (AFBF) 2017 Summer Cookout marketbasket survey found this year's 2017 summer cookout for a gathering of 10 people would cost $55.70, or less than $6 per person, down slightly from the 2016 survey.
The summer cookout menu includes popular 4th of July picnic staples such as hot dogs, hamburgers, pork spare ribs, potato salad, baked beans, chips, watermelon, and chocolate milk and lemonade. For less than $6 per person, it's more affordable than a drive-thru meal and healthier, too.
In addition to the good news about the affordable 4th of July picnic, Dr. John Newton, AFBF Director of Market Intelligence, noted that stable, and possibly lower prices, are expected at the grocery store moving forward.
If you're like me, you've noticed huge growth in the size and options at the meat and cheese cases at the grocery store. Dr. Newton noted that the increased competition in meat options has translated to discounted prices for consumers, certainly welcome news.
Newton also noted that the cheese industry is growing, and reserves are at an all-time high. That means consumers are demanding a wide variety of cheeses, and dairy farmers are producing at record levels, and passing along price savings to the consumer. In fact, American cheese was down eight percent from the 2016 survey and represented the largest price drop on the menu from last year.
It's not just the Independence Day marketbasket that presents a great value. Iowa farmers lead the nation in pork production, and that means an abundance of lean pork options for a great price at the grocery story. My local grocery stores usually have butterflied pork chops for $1-2 each, and it makes for a quick and easy healthy option from the grill.
One of my family's favorite dishes is a slow smoked pork shoulder that after eight hours or so just falls apart and makes the best pulled pork sandwiches. This amateur home cook knows I nailed it when I four and two-year old food critics shout, "Yummy in my tummy!" At $2-4 per pound, a $10 package will make a dozen or more sandwiches.
There are endless cuts of lean beef which make great grilling options. Depending on the cut, a decent steak can be found for $3-10. If you're looking for an easy way to add veggies into your meal, consider one of the beef or chicken kabobs from the meat counter at $6-8 each. Chicken breast may be one of the easiest and healthiest cuts of meat to prepare on the grill, and affordable for the whole, hungry family at just $4-6 for a package of grilled chicken breast, which works great for sandwiches or in a salad or wrap.
And, if it's equipment that's holding you back, you don't need a big Traeger smoker that costs more than your monthly mortgage payment to turn out a good meal. For $25, you can get a small charcoal grill that does the job, or starting around $100, you can purchase a propane gas grill. With regular maintenance and cleaning, even an entry-level model of grill can last several years. The cheap grill I took to college lasted well into my 20s and produced hundreds of great meals.
Thanks to my mom and dad, I still enjoy cooking for friends and family, and I think that enjoyment has been passed down to my kids, and I'm loving every minute of it.