Little farmers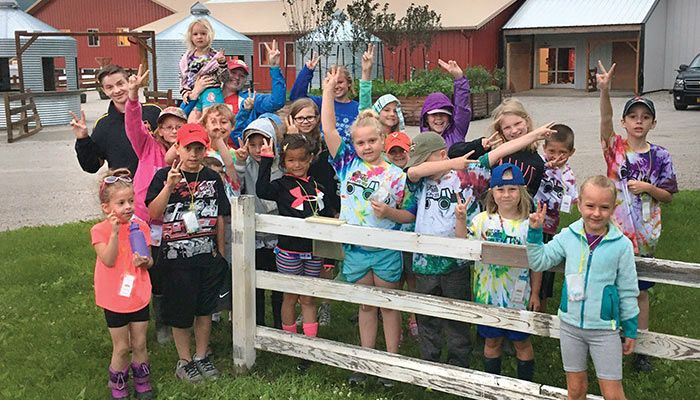 For three weeks each June, kids come to Center Grove Orchard near Cambridge for a taste of life on the farm.
The one-week day-camp sessions for kids age 6-11 offer a hands-on educational experience that combines science, history, math and creativity with lessons in responsibility and good old-fashioned fun.
"The orchard was our playground growing up," says camp counselor and Director of Fun Deanna Black. She and her siblings inherited the orchard and the legacy. Brother Steve Black now manages the orchard full-time, while Deanna, who lives in Cleveland, Ohio, spends summers there working the camp and preparing for the busy fall season.
"I get the best of both worlds," says Deanna. "I get my city life and the beginning of summer and fall season on the farm."
Center Grove Orchard was opened in 1994 by their parents Larry D. and Pat Black. The first of 6,000 apple trees were planted in 1986.
Larry came from Iowa farm stock. His father, Clyde Black, was a prominent central Iowa farmer and seed corn grower.
Pat Black, grew up near Wauconda, Illinois, where her family owned and operated an apple orchard with a bakery, tours, harvest festival and pick-your-own apple opportunities.
"Center Grove is a perfect blending of my parent's families," says Deanna. Larry's untimely death in 1999 left the younger generation (Steve, Deanna and siblings Trisha and Bruce) to help their mom until she shifted into retirement. At age 103, Pat's father, Dick Breeden, still stops in to check on them from time to time.
During the fall harvest season, Center Grove Orchard is a buzz of activity. There is a store, a café and a coffee shop. "We kept seeing people walk in carrying their Starbucks cups," says Deanna. "So we decided there was opportunity there."
There is a corn maze and a hay maze, two jumping pillows and peddle tractors for the kids, as well as a farmyard full of animals. Deanna, a yoga instructor, offers goat yoga and goat cuddling. And of course, there are 20 acres of apple trees to roam.
"We want people to play," says Deanna. "Unplug, get out in the fresh air, and have fun."
Inspired by the response from a school group tour, the Blacks started Farm Camp in 2018, bringing in a family friend for assistance and expertise.
Lindsey Page grew up visiting the orchard. By age 14, she was working there, making fudge in the candy kitchen and working the cash register in the store. She worked as a Farm Camp counselor last year, and now about to complete her naturalist studies at Iowa State University, she has taken on the role of camp director.
"My ultimate goal is to connect people with natural resources," says Lindsey. "I want to inspire people to learn more about the surroundings that connect them to each other and to nature. This is the perfect place and time to do that. And I love the orchard. And working with kids."
Center Grove Orchard Farm Camp teaches an understanding of nature, farming and farmers.
"So many kids have so little understanding of the farm," says Deanna. "We had one youngster ask why we didn't buy our eggs at the store like everybody else." Most kids come from small towns near the orchard, with some from nearby Ames, Ankeny and Des Moines.
Each day of the Farm Camp week has a specified theme.
Day 1 starts with soil and bugs. "It just makes sense we would start with the ground. That is the base," says Lindsey. The mini-agronomy lesson teaches the importance of insects to soil health, crop production, erosion control and water quality.
Day 2 focuses on corn and soybeans – identifying the plants and plant anatomy. Kids get to see and touch corn and beans and end products, and spend some time in the corn maze.
There is an apple day, of course, and a pumpkin day. (Center Grove Orchard also has a pumpkin patch.) Kids learn about the different types of apples and how they are produced and marketed. They learn the parts of the apples and pumpkins, and the importance of pollinators. Pumpkin day includes a visit from Spookley the Square Pumpkin with an anti-bullying message.
The camp wraps up with a day focused on Farming and Me with lessons on why farmers are important and why we should care about them and the land.

"I want to inspire people to learn more about the surroundings that connect them to each other and to nature. This is the perfect place and time to do that."
Lindsey Page, Center Grove Orchard camp director
Along with organized teaching sessions, crafts and plenty of playtime, kids take care of the farm animals. "Through the farm animal chores, they learn responsibility, compassion and a connection to the animals," says Deanna.
It's all about having fun and broadening horizons. "We encourage kids to get dirty, to jump in that puddle," says Deanna. And every experience is a learning experience. "Look at that water pooling," says Lindsey. "Is that a good place for it? Where is it going? Why do we need water?"
They learn how to behave in nature and leave minimal impact, when not to disturb the natural state and how sustainable farm practices protect the environment.
It all provides an opportunity for kids to explore and question, and for those who know more to share with others. "Sometimes adults forget how to talk to kids," says Lindsey. "Other kids can do better at getting the message across."
Kids also share with their families. "We overhear them at the end of camp, or in the fall when they come back to the orchard," says Deanna. "They're teaching their parents."
For Deanna and her siblings, the Farm Camp is a natural continuation of the orchard's legacy. "Agriculture and education go together," she says. "We were left this amazing legacy, and now we're able to give something back and see a new generation take home a love of the farm and an appreciation of its resources."
Queck-Matzie is a freelance writer from Greenfield.
Want more news on this topic? Farm Bureau members may subscribe for a free email news service, featuring the farm and rural topics that interest them most!