Latest Farm Bureau survey shows price tag for classic Thanksgiving dinner is a bargain for the ages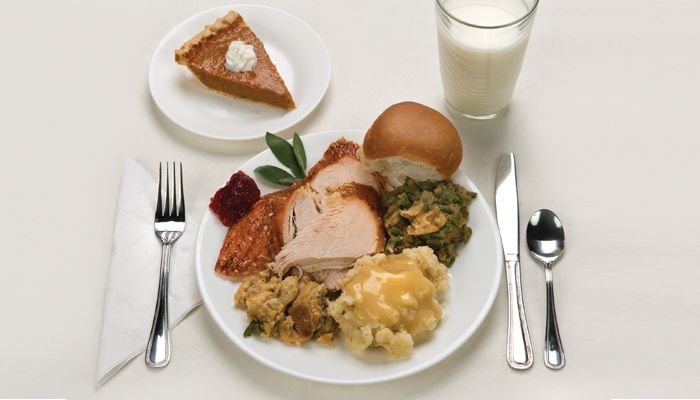 Efficiency of Iowa farmers contributes to holiday meal affordability in 2016
Iowans preparing to shop for their annual family Thanksgiving dinner feast can be glad the efficiency and diversity of today's livestock farmers is working in their favor to keep their traditional meal affordable. According to the annual American Farm Bureau Federation (AFBF) Thanksgiving Dinner Price Survey, a holiday meal today comes in at just under $5 a serving for a family of 10; that means the entire family can feast for a total of $49.87, compared to last year's cost of $50.11.
The AFBF price survey of the classic staples of a Thanksgiving meal showed a 24 cent decrease from last year.
"Prices for turkey spiked last year because turkey farmers were hit hard by the Avian Flu virus, which devastated flocks and reduced fresh and frozen turkey stocks nationally. That's not the case this year," says IFBF Director of Research and Commodity Services Dave Miller. "In addition to turkey, ham is also quite a bargain this time of year since inventory is robust nationwide."
Turkeys in all sizes, cuts and choices line grocery store shelves today, for less than 50 cents a pound, thanks to improvements in farming, livestock nutrition and crop science.
It wasn't always that way; back in 1915, farming challenges meant turkeys were much smaller and not as readily available, which meant that adjusted for today's prices, they would've cost customers $6.59 a pound! But it's not just the Thanksgiving turkey that's a bargain today. This year's survey revealed price relief for consumers for pumpkin pie mix, milk, a veggie tray and miscellaneous items needed to make the meal.
The continued affordability of the Thanksgiving staples is a testament to the advances and ingenuity of the American farmer. "We see that in nearly every aspect of farming today," says Miller. "From 1860 to 1930, there was very little change in yields or technology, but now, with the advent of enhanced seed technologies, better equipment and knowledge, Iowa farmers today can produce substantially more, on substantially less land. For example, today's modern combine can harvest 150 times more than farmers of the turn of the last century. Back in those days, bringing in a corn harvest meant someone was out there, pulling a horse-driven wagon, hand-picking a crop. Today's corn crop is 600 percent more productive and labor is probably 100 times more productive than when the gathering of this kind of data began."
The survey shopping list includes turkey, bread stuffing, sweet potatoes, rolls with butter, peas, cranberries, a relish tray of celery and carrots, pumpkin pie with whipped cream, and beverages of coffee and milk, in quantities sufficient to feed 10 people. The average cost of turkey this year is $22.74 for a whole bird, or $1.42 per pound, which is a decrease of 30 cents per whole bird. Turkey production is up about 8 percent this year nationally, rebounding from the Avian Flu crisis. Rolls increased the most in this year's holiday meal, up 9 percent, (21 cents) from last year.
This year's Thanksgiving survey was the 31st annual study conducted by AFBF. Every region of the country was represented in the annual AFBF Thanksgiving Price Shopping Survey, with 148 volunteer shoppers participating in 40 states.
Want more news on this topic? Farm Bureau members may subscribe for a free email news service, featuring the farm and rural topics that interest them most!