Kroul makes transition from football to farming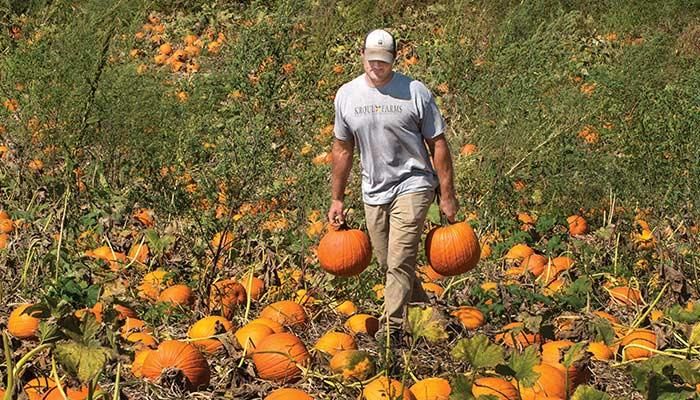 On a farm just south of Mount Vernon, there's a field full of white pumpkins that sit so heavy and huge, you would need the strength of a football player to lift them off the ground.
Fortunately, the farmer who grew those pumpkins happens to be former NFL player Matt Kroul. Once a lineman for the New York Jets and a standout player for the Iowa Hawkeyes, Kroul has returned to his family's farm in Linn County.
Instead of the football field, Kroul now spends his days working in the farm fields, where his family grows a wide variety of crops, vegetables and livestock.
"There are so many parallels with football and sports to business and farming," Kroul said. "I've said it a million times: You get out what you put into it. With working out and sports and this kind of (farm) business we run, if we don't get a hay rack of pumpkins picked, we aren't going to make any money. If we don't get anything planted, we aren't going to make money. Obviously, that doesn't always work out when you are dealing with Mother Nature, but you try your best."
Kroul's parents, John and Kaylene, bought the family farm back in the mid-1980s. To diversify their income, the Krouls started growing sweet corn and pumpkins.
Today, the family grows more than 25 acres of pumpkins and squash in all sorts of shapes, sizes and colors. They pile the pumpkins up in the front yard of their farm, located south of Mount Vernon on Highway 1.
Drivers can't resist pulling over to pick out a favorite pumpkin. Families are also invited to explore the farm's corn maze, see the chickens and pot-bellied pigs, and check out the fall décor and mums for sale at the on-farm store.
Back to the farm

Kroul returned to Iowa after playing for the New York Jets from 2009 to 2011.
Kroul said he always planned on coming back to the family farm when his football career ended.
He and his wife, Nicole, who grew up in Calamus, wanted to raise their kids in rural Iowa after living in big-city New Jersey. Their daughter, Leighton, is almost 1 year old, and the Krouls are expecting a second child in January.
Now with Kroul back on the farm, the family is focused more on tapping into the growing demand for locally-grown foods.
"We saw the peoples' demand for the pumpkins and sweet corn, so it just seemed logical to jump into the produce side of things too," Kroul said.
In addition to pumpkins, the Krouls grow about 8 acres of sweet corn and 4 acres of vegetables, including tomatoes, onions, green beans, peppers and potatoes.
Kroul Farms sells the produce at the popular Cedar Rapids and Mount Vernon farmers markets in the summer. Kroul also started a CSA (community supported agriculture) business, offering a weekly box of farm-fresh produce to about 50 "subscribers" who buy a share of the farm's harvest.
This summer, the Krouls constructed a new processing warehouse so they could wash and package their produce according to Good Agricultural Practices (GAP) standards.
Diversified farm
Yet it's not all pumpkins and tomatoes at Kroul Farms. The Krouls rotate their acres between pumpkins and traditional row crops, including field corn, soybeans and hay to help control weeds. The family also raises about 140 head of beef cattle, and they sell firewood from their 500 acres of timber and pasture ground.
In addition, the Krouls raise about 150 egg-laying hens, and they sell annual garden flowers grown in their greenhouses each spring.
And as if that didn't keep him busy enough, Kroul is also a seed dealer for Beck's Hybrids.
"It's challenging at times. But it's always fun to see what else you can do on your acres and just trying to maximize the acres that we do have, trying to get the most out of it," Kroul said. "But it's also needed if we wanted to continue to be a small- to medium-sized farm. In our mind, with only 300 acres of corn and soybeans, diversification is pretty needed. That's what we believe in."
The Krouls don't charge admission for guests to visit the farm or to explore the corn maze. However, Kroul emphasizes that his family wants to keep it a working farm, which is why they don't offer the bounce houses and zip lines like other pumpkin patches.
"We want to keep this place educational. Keep the grain bins and run the cattle herd (for visitors) to see where beef comes from," he said. "You would be surprised how many kids don't know where an egg comes from anymore or where their McDonald's hamburger is coming from."
Check out www.americaneedsfarmers.org to see why Kroul and other Iowa Hawkeye football greats have joined the America Needs Farmers (ANF) campaign to recognize the hard-working farmers who feed and fuel our nation.
Want more news on this topic? Farm Bureau members may subscribe for a free email news service, featuring the farm and rural topics that interest them most!