#KeeptheStubble during No-Tillage November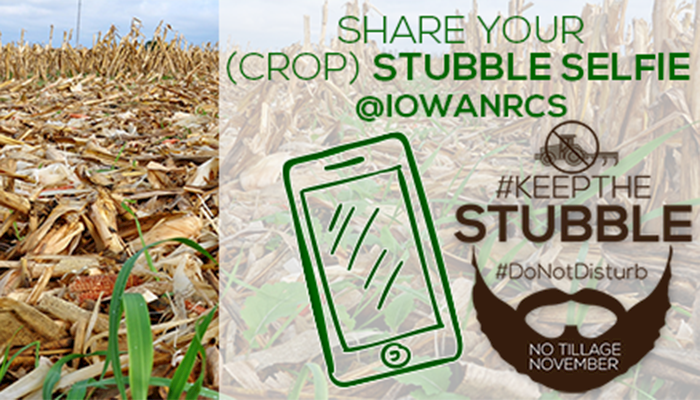 We've all heard of "No Shave November", a campaign launched to raise awareness of health issues specific to men. But this year Iowa's agricultural world will hear more about "No-Tillage November", a spin-off created by NRCS to encourage farmers to adopt a no-till system. Clever hashtags like #DoNotDisturb and #KeeptheStubble paired with images of full beards, untouched fields and farmer selfies will be shared across Twitter. The key points NRCS hopes to drive home with farmers is that bypassing tillage helps farmers save money, time, improve soil health and provide wildlife habitat.
The 2016 Iowa Farm and Rural Life Poll, which surveys more than 2,000 Iowa farmers on a variety of conservation topics, showed 42 percent of respondents used continuous no-till while 19 percent of respondents increased their use of this management practice. USDA surveys show the same type of trend as more than 7 million acres in 2012 were no-tilled, compared to 800,000 no-till acres in 1987. The 2012 Ag Census also shows Iowa leads the U.S. in "conservation" tillage, a system which leaves about one-third of land covered with leftover "stubble" from the harvested crop, with 8.8 million acres.
During a field day this past fall, a USDA researcher said when ground is not broken up by tillage, water is retained in the pores of the soil created from root systems and earthworms. This can be very beneficial, especially when we think about the dry growing season we had this year. By choosing not to till cropland, soil is more likely to stay in place, reducing the risk of erosion into streambanks or being carried away by the wind. Iowa's rich soil is the state's most valuable resource, and one that needs protection for future generations to come. The Iowa Nutrient Reduction Strategy, completed in the spring of 2013, offers additional information on the benefits of no-till.
Wildlife is something many Iowans enjoy watching, and I do know how much critters appreciate vegetative cover or grassed ditches—I can attest to being startled when I've scared up pheasants while running on our rural road! By leaving bean stubble and corn stalks, these critters have added cover from predators (or runners) and the elements.
Farmers interested in learning more can visit the Natural Resources Conservation Service, Iowa website. You don't have to grow a full beard, but perhaps test out the "moustache" version with some conservation tillage. Who would have thought abstaining from practices like not shaving or not tilling, could have such a big impact?
Farmers using no till, show us your "stubble" by using #KeeptheStubble on social media!
By Caitlyn Lamm. Caitlyn is Iowa Farm Bureau's public relations specialist.
Want more news on this topic? Farm Bureau members may subscribe for a free email news service, featuring the farm and rural topics that interest them most!