Bringing physicians to rural Iowa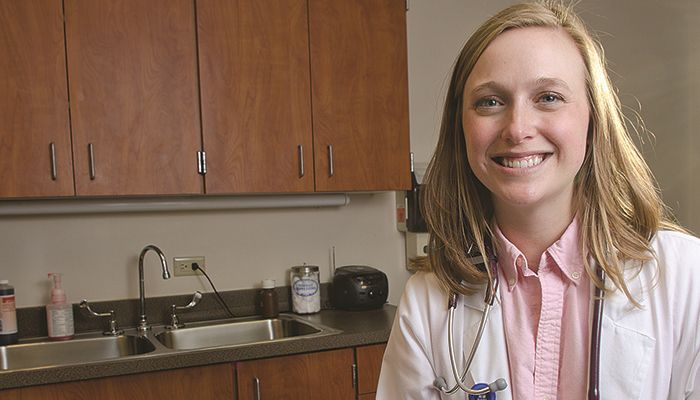 Rural Iowa has an abundance of so many things: friendly people, wide open spaces or historic Main Streets, where one can shop in boutique businesses or enjoy a slice of pie so good it seems to stop time while you eat it. Sure, you can find all those things and more, but too often what you won't find is a doctor.
Did you know nearly 73 of Iowa's 99 counties have doctor shortages? It's something even urban folks worry about, if they're like me, a former farm girl with a daughter studying Pre-Med. I'd like to see my daughter find a job here in Iowa, rather than succumb to the lure of the coasts.
One reason so many of our talented youth leave for greener pastures is the cost; the road to study medicine isn't cheap. They need to know there are reasons to stay and people who support them along the way. That's where it pays to be part of 'The Village.'
The Village in this story is the Iowa Farm Bureau. As we celebrate Iowa Farm Bureau Week (December 4-10), did you know Iowa Farm Bureau supports young Iowans in their pursuit of a medical degree? The Rural Physician Scholarship program encourages young Iowa residents to complete their studies in Iowa, and after they graduate, to practice in rural Iowa. Of the 90 physicians who have received scholarships over the last few years, 68 of those young physicians are still practicing in rural Iowa.
Doctor Jennifer Davis-Haden is one of them. Haden, who grew up on a livestock farm in northwestern Iowa, knew she wasn't going to farm, but she did want to stay in rural Iowa. "From day one of medical school, the only reason I went into medicine was to go to a rural area, where I understand the population and I want to work with them," said Haden, a Des Moines University (DMU) graduate. Haden says what helped her meet her goals was the medical scholarship she got from the Iowa Farm Bureau Foundation's Rural Family Medicine program, in partnership with the Iowa Academy of Family Physicians Foundation.
The scholarships are worth $2,500, and they come at a time in a medical student's life when every penny counts. The scholarships are designed to encourage residents to not only complete their studies in Iowa, but to practice in small Iowa communities.
It's a start. It's a helping hand to those who will one day help us on our healthcare journey. Isn't that worth celebrating, not just during Iowa Farm Bureau Week, but year-round? It goes to show that even Iowans who don't farm can benefit from an organization that pledges to 'Believe, Lead, Achieve' on behalf of us all.
By Laurie Johns. Laurie is Iowa Farm Bureau's Public Relations Manager.
Want more news on this topic? Farm Bureau members may subscribe for a free email news service, featuring the farm and rural topics that interest them most!