Iowa's best tenderloin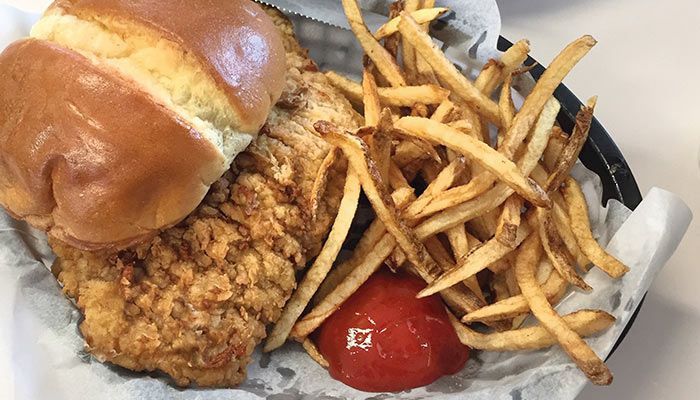 Three C's Diner in Corning is an unassuming place. Parked along Highway 148 as it rolls through town, the small brick building with the welcoming patio offers only a hint of what lies within.
The restaurant's food creations are outstanding. So outstanding that the Iowa Pork Producers Association named Three C's Diner, owned by Steve and Missy Sanson, this year's Best Breaded Pork Tenderloin Contest winner in all of Iowa.
"We're thrilled to have this honor," says Missy. The Sansons welcome the business rush that comes with it. Steve has gone from ordering two cases of pork loin per week to 14, and that is barely enough.
Three C's breaded tenderloin sandwiches start with an 8- to 10-pound loin. Hand trimming removes 80 percent of the fat before it is cut into 8-ounce segments. Twice a day, pieces are hand-tenderized into a loin slice that could never dream of fitting inside a bun. Loins are then treated to an egg wash and breading that is loaded with "secret seasonings."
The sandwich comes with the usual array of condiments, and those wanting a special treat can have it topped with hand-breaded onion rings. Three C's also offers a grilled loin and both breaded and grilled options in a wrap, one of their original creations.
"Our daughter came up with the wrap," explains Missy. "We also have a bacon cheeseburger wrap she created."
Three C's is a family affair.
Even the name has Sanson roots. The "C" stands for Missy and Steve's children Cody, Courtney and Cassidy. The "s" is for granddaughters Serenity and Scarlett.
Their daughters and oldest granddaughter help out in the restaurant part-time, alongside 14 other employees.
It was daughter, Cassidy, who instigated the family adventure. While working for the previous owner, she passed along a tip the establishment was for sale.
"I was 49 and at a point I was thinking of slowing down," says Steve, "not speeding up."
"But I saw what kind of business they had here," says Missy, "and thought it would be fun for the family to run." Three months later they both decided to give it a try and bought the diner.
It was not only fun, but successful. Within two weeks they were hiring outside employees.
The Corning eatery had been through several owners since it opened in the early 1970s featuring broasted chicken, still a popular menu item today. It draws customers from a broad swath of Southwest Iowa, as well as campers at nearby Lake Icaria, and, of course, faithful locals.
"We're proud to be Southwest Iowa's first winner of the Best Tenderloin Award. Come see us, and check it out!"
Missy Sanson, owner of Three C's Diner in Corning
In Corning, a town of 1,400, businesses support other businesses, and Steve and Missy find themselves providing food for events at Corning Winery and Vineyards, the Corning Opera House Cultural Center and area factories. They keep take-out menus at the nearby motel.
While Steve continues to work as maintenance supervisor for Bunn-O-Matic in nearby Creston, Missy handles most of the day-to-day management of what has become an all-consuming business. "We even bought the house next door so we could see the grandkids when they come to visit," says Missy.
They had some idea what they were getting into. Missy came with fond childhood memories of her grandmother's restaurant. Steve spent his high school years working at A&W in Creston.
They also came with knowledge of pork. After many years as a nurse, Missy decided to spend less time with people and took a job working for Iowa Select Farms. "It was great. It was just me and the pigs. I loved it."
Steve mans the grill and smoker on weekends, producing steaks, Iowa chops and BBQ, featuring brisket, baby back ribs and pulled pork. Customers rave about his secret recipe steak butter, as well as the smoked Italian sausage and ham balls.
Back in the kitchen, Missy and the staff work to hand-bread the loins and onion rings, along with jalapeno poppers and fried mushrooms. The burgers are also hand-pattied. And the French fries are homemade.
The Sansons are excited about the opportunity to promote pork via their award-winning loins. They were named runner-up in 2015. And they're anxious to take on beef next. They've set their sights on Best Burger.
"We're proud to be Southwest Iowa's first winner of the Best Tenderloin award," says Missy. "Come see us and check it out!"
Queck-Matzie is a freelance writer in Greenfield.
Want more news on this topic? Farm Bureau members may subscribe for a free email news service, featuring the farm and rural topics that interest them most!